Sticky keys is one of the accessibility features in Microsoft Windows that makes it easier for users to enter keyboard shortcuts. These keys allow you to hold down one key at a time instead of all at once such as "Ctrl Alt Delete" or "Alt F4".  Though it is a useful feature, it may be annoying in certain situation if you have enabled it accidentally. In this article, we will guide you on the easiest and quickest methods to enable and disable sticky keys in Windows 11.
Note: Do not confuse sticky keys with Sticky Notes. They are two different things and check separate article to learn more about using Sticky Notes in Windows.
Uses of Sticky Keys
Before proceeding further, here are some of the reasons where sticky keys feature will be useful.
The sticky keys feature is very useful for all those people who are unable to hold all the modifier keys at a time due to some sort of impairment. With sticky keys, you need not to use a combination of keys anymore. For example, to turn off your PC or close any program, you need to hold Alt and F4 at the same time. But if you enable sticky keys, you can press Alt key and then F4 key without holding them together.
It is also helpful when you want to type with only one hand and want to use the other hand for doing some other tasks.
Sticky keys also helps in increasing the typing speed.
However, sometimes sticky keys are not needed anymore. Especially if you are a gamer and during the game you get to see the popup message of sticky keys again and again, it becomes very annoying. So, enabling or disabling sticky keys completely depends upon your need.
1. Using Keyboard Shortcut
The easiest method to turn on/off the sticky keys is by using the Shift key. Simply press shift key five times and Windows will show you the following pop-up. Select "Yes" to enable sticky keys. You can disable the sticky keys by again pressing the shift key five times and selecting "No" option.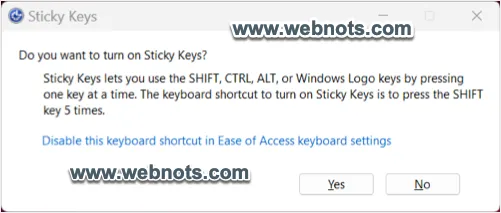 However, if you really press shift 5 times for any other reason and get annoyed with this pop-up, then click on "Disable this keyboard shortcut in Ease of Access keyboard settings" to turn off this function. The link will take you to Windows Settings app and click on "Sticky Keys" option (just click on the option without turning on the switch).
On the next page, turn the toggle switch to the off position for the "Keyboard shortcut for Sticky keys" option.
2. Toggle Sticky Keys from Settings App
If you have disabled keyboard shortcuts, then you can go to Settings app and toggle the sticky key settings directly. Here is how you can use Settings app for this purpose:
Right-click on Start menu icon and select "Settings" from the menu list that appears.
When you are in Settings app, select the "Accessibility" option from the left sidebar. Scroll down on the right pane and click on the "Keyboard" option.
Toggle "Sticky keys" switch to enable or disable sticky keys in your computer.
2. Enable and Disable Sticky Keys from Control Panel
If you are still using old Control Panel app, then you can still use that app in Windows 11 to toggle sticky keys.
Right-click on Start menu and select "Run" option to open Run prompt.
Type "control" in the box and hit "OK" to open Control Panel app.
When you are in Control Panel, view the items by "Large icons" and go to "Ease of Access Center" option.
Scroll down on the page and click on "Make the keyboard easier to use" link.
To enable the sticky keys, tick the option "Turn on Sticky Keys" and press "Apply".
To disable the sticky keys, uncheck the option "Turn on Sticky Keys" and do not forget to press "Apply" button.
4. Toggle from Sign-in Menu
There is another method that is used to enable or disable sticky keys before signing into your system. Let's see how to do it:
Restart your PC and on the Sign-in page, you will see the Accessibility icon at the bottom right of the screen.
Click on it and switch the toggle to On or Off position to enable or disable the sticky keys.
5. Enable or Disable Sticky Keys from Action Center
Next method is using the system tray on the taskbar. This section provides quick access icons to several apps including "Accessibility".
First, click on the battery icon located on the system tray of the Taskbar to open Action Center.
Now click on the "Accessibility" icon. Scroll down a little and turn the toggle of Sticky keys to the on position to enable the sticky keys.
And if you wish to disable the sticky keys, toggle the switch to Off position.
Final Thoughts
Sticky keys is a useful feature in Windows 11 as it is making the use of keyboard shortcuts more convenient especially for users with impairment or limited mobility. It is super easy to enable or disable these keys using any of the above-given methods. The easiest among all is the use of the Shift key to enable and disable sticky keys.