Google continuously releases updates and patches for their iconic Chrome browser. The browser app will automatically update to the latest version in the background when you are connected to internet. Though many Chrome follow some tricks to disable automatic update, we strongly recommend getting the latest version. This not only helps to use new features but also protect your computer and browser from security threats.
Updating Google Chrome
First, launch Google Chrome and open "chrome://version/" URL. This will show you the current Chrome version you are using along with other details like user agent, JavaScript version, OS and executable path.
Now, go to Chrome releases Google blog to find the current version details. Alternatively, visit the Chrome version history page from Wikipedia to get the complete details of the current stable desktop and mobile versions.
With these details, you can understand whether your browser is up to date or not. If you browser is not updated automatically to the latest version, follow one of the below methods to do the manual update.
1. Relaunch with Update Button
It is a good habit to close all the apps and shutdown your computer when you are not using it. Because apps like Chrome will trigger the automatic update check whenever you launch the browser. If you do not close the browser app for many days, then the automatic update will not work. In this case, you will see an "Update" button on the top right corner of the browser screen if there is an update available.
The button will show in green, orange or red color indicating the update was released in last two days, in last four days or more than a week ago respectively. Save all your work, click on the "Update" button and select, "Relaunch to Update Chrome" option.

Confirm the action by clicking on "Relaunch" button in the pop-up to close the browser and launch again with the latest version.
After relaunching, Chrome will open all previously opened tabs and "chrome://whats-new/" page. You can check if any feature is introduced and start using the latest updated version.
2. Using Chrome Help Menu
Next method is to update Chrome from the help menu.
Launch Chrome and click three vertical dots icon showing on top right corner. When you hover over the icon, it will show "Customize and control Google Chrome".
This will open the list of menu items and go to "Help > About Google Chrome".
Now, Chrome will check for available updates and install them on your computer.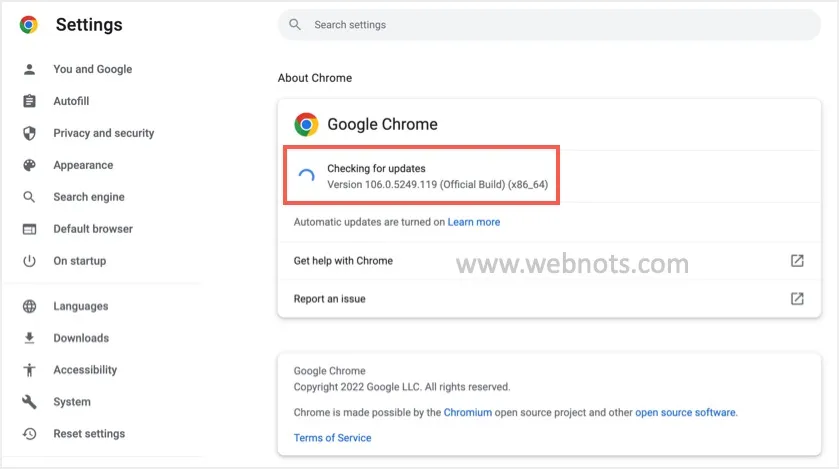 After successful update, you should see a notification saying, "Chrome is up to date".
3. Update Directly Accessing the Settings Page
This is same as the previous option where you can directly access the settings page instead of going through the menu. Launch Chrome and open "chrome://settings/help" URL from the address bar. This will open the same "About Chrome" page and get the latest updates for you.
4. Update Chrome on iOS App
On your iPhone, open App Store and tap on your Apple ID profile icon showing on top right corner of the screen. Scroll down and check if there are any updates available for Chrome app. If yes, tap on "Update" button to get the latest version.
You can also check whether Chrome is up to date or not directly from the app. Open Chrome app and tap on three horizontal dots icon showing on bottom right corner. Select "Settings" and go to "Safety Check" option. Here, tap on "Check Now" to find whether your app is up to date or need an update.
5. Update Chrome Android App
Similar to iOS, you can update Chrome Android app from Google Play Store. Tap on your profile icon and select "Manage apps & device" option. From there, tap "Updates available" and then tap on "Chrome" app. Finally, tap on "Update" button to get the latest version in your Android phone.
In addition, from the app you can tap on three vertical dots icon and select "Update Chrome" option on Chrome version 76 or later.
Chrome Not Updating?
If your browser is stuck at older versions in desktop, then most probably your network administrator might have disabled the update feature in group policies. In this case, you have no other option other than contacting the administrator to get the latest version. The other problem could be that Google services are blocked by your internet service provider. For example, counties like China completely blocks all Google services and you will never be able to update the browser without connecting to VPN or proxy. In all such cases, you will see error when visiting "chrome://settings/help" page from your browser.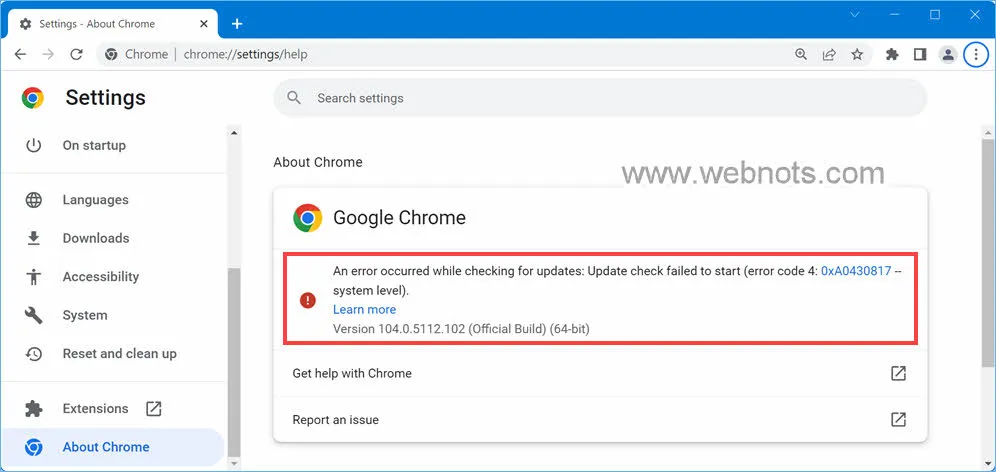 Check out our article on various reasons why Google Chrome update fails and how to fix them easily.