Sticky Notes is a popular app to create notes and tasks for tracking. You can use Sticky Notes in both Windows and Mac. However, the problem is that notes with different colors will show all over your screen. If you get lost with Sticky Notes or the physical Post-It notes, here is another option for you to try within Microsoft Outlook. Yes, Outlook app has Notes option and we will explain how to create Notes in Microsoft Outlook and manage them.
Accessing Notes in Microsoft Outlook
By default, Outlook navigation on the sidebar hides "Notes" menu. Launch your Outlook app and click on the three dots button near the bottom left sidebar. It will show you additional options like "Notes".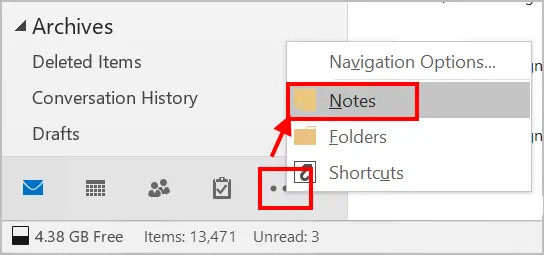 If you feel the Notes option is hidden, click on "Navigation Options…". In the pop-up, move the Notes option up so that you can quickly access it.
You will see the Notes section similar to mails and calendars.
Creating Notes in Microsoft Outlook
There are multiple ways to create a new note in Outlook.
Press "Control + N" shortcut keys.
Right click on the empty area on the right panel and select "New Note" option.
Click on "New Note" button on the "New" group under "Home" tab.
This will show a stick note pop-up where you can type your notes content.
You can drag to resize the notes text area and simply close the notes after finished typing. Outlook will automatically save your content and you will see a notes added in the Outlook pane.
Related: How to fix slow Outlook and improve your productivity?
Editing Notes
You can double click any of the notes to open and edit the content. You can create as many as notes within Outlook and view them when needed. Good part is that you can leave the notes open while working with other applications. Finally, Outlook will save all notes and you can view them under "Notes" section.
Assign Proper Titles for Notes
As you see in the above screenshot, Outlook will assign the first line of the notes as the title. Sometimes this may not meaningful and you want to have a proper title for each notes. In this case, make sure to type the first line of each notes as your title. When you have multiple notes, it will look like below with proper titles.
Changing View of Notes
By default, you will see the notes are arranged as icons on the preview pane. However, you can use the menu items to change the view to show them in a list. In addition, you can customize the view to show the notes from only last 7 days.
Related: How to take quick notes in your favorite browsers?
Assigning Categories for Notes
When you have multiple notes, it makes sense to categorize them for easy management. Select the notes and click on "Categories" menu item. Choose the color or your custom category and assign it to the item.
For example, when you assign the orange color as a category, Outlook will change the color of the notes to orange. When you open the notes for editing, Outlook will also show it in the color of the assigned category.
Forwarding Notes in Email
It is also easy to send notes content in an email. You right click on the notes and select "Forward" option. This will create a new email with the selected notes as an attachment.
Notes in Outlook for Mac
Similar to Windows Outlook app, you can also create notes and manage in Mac Outlook as part of Office 365 package. However, there are few differences that you can provide a title on notes in Mac version instead of the first line is considered as a title.
In addition, you can click on the "Email" menu icon to send the content of the notes as an email content. In Windows version, you have only the "Forward" option which will add the notes in email as a message attachment.
Final Words
We find this notes function in Outlook very useful compared to the Sticky Notes app. You can manage all notes inside Outlook app and keep your desktop clutter free. This will also help you to categorize email and calendar related notes so that you can easily manage them within Outlook app.