TextEdit is the default text processing app in Mac. Though you do have Pages app, TextEdit is the quick way to create plain text document. Unlike Notepad app in Windows, TextEdit comes with plenty of in-built features. If you have purchased a new Mac or creating lot of text documents in Mac, here are some tips to use TextEdit app like a pro.
TextEdit App Tips
You can launch the app by using Spotlight Search or from the Finder's Applications folder. It is also available in "Other" folder in Launchpad.
1. Change Character Encoding
Sometimes you may want to use special characters or see junk characters in the file. In these cases, the best option is to use correct encoding to make the content readable. You can change the character encoding in TextEdit when creating or saving a file. If you want to permanently change the setup, then go to "TextEdit > Settings > Open & Save" and change your settings in the app.
2. Text Case Change
Wanted to change the text case quickly in TextEdit app? Select the text content and go to "Edit > Transformations" menu. You will have three options to change the selected text to upper case, smaller case or capitalize the first letter of each word.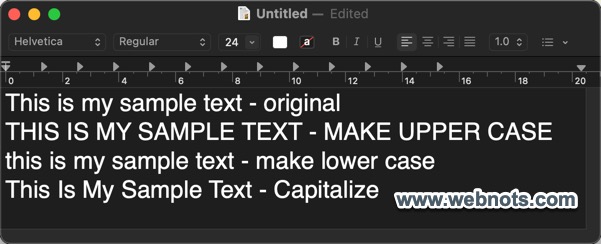 3. Use Vertical or Horizontal Layout
TextEdit also allows you to work with both vertical and horizontal layouts. You can go to "Format > Make Layout Vertical" to change the layout in vertical direction. The entire text content will be changed to vertical direction from top to bottom. You can any time go to "Format > Make Layout Horizontal" and change the layout back to horizontal.
4. Convert TextEdit File to Word Document
By default, the app will save the file in plain text (.txt) or rich text (.rtf or .rtfd) formats. If you want to convert your text file to Word document, then go to "File > Save or Save As" menu. Select the "File Format" as "Word 2007 (.docx) Document" and save your file as a Word document.
5. Convert Text File to PDF
If you want to convert any text file to PDF format, simply open the file in TextEdit app. Go to "File" menu and select "Export as PDF…" option. On the save as dialog box, you can paper size and orientation to save the file in PDF format.
6. Prevent Accidental Content Editing
Sometimes, you may have lot of content in the file and want to avoid accidental editing. You can do this by going to "Format" menu and enable "Prevent Editing" option. This will disable the controls and you will not be able to edit or delete the content. However, you will be still able to select and copy the content from your file with this option enabled. For removing the document protection, go to "Format" menu and select "Allow Editing" option.
7. Plain Text or Rich Text Format
You can create plain text as well as rich text using TextEdit app. All you need is to go to "TextEdit > Settings…" and set the "Format" as "Rich text" or "Plain text" as you need. Rich mode supports features like font controls, formatting, image attachments, tables, lists and link insertion. Plain mode supports features like document properties and character encoding.
Warning: You can easily convert rich text document to plain text document by simply pressing "Command + Shift + T" keys and toggle the interface. However, you will lose all the formatting and attachments in the file. The app will also warn you about this when changing the format. Clicking "OK" will permanently convert the document and you can't undo this action. Again, toggling to rich text mode will NOT bring your original document's content.
8. Change Default Font Settings in TextEdit
If you do not like the default font settings in the app, it is possible to customize as per you need. Go to "TextEdit > Settings…" menu and make sure you are in "New Document" tab in the app's settings. Click the "Change" buttons against "Plain text font" and "Rich text fonts" and select the style that you like to use in the app.
Also, learn more about changing font settings in Notepad app in Windows 11.
9. Change or Add Document Properties
By default, TextEdit app does not store any document properties for plain text documents. On rich text documents, you can either setup the personal details at document level or permanently add in the app's setting so that it will be applied to all new documents.
For all documents – go to "TextEdit > Settings…" and add the details in "Properties" section under "New Document" tab. Here you can only fill author/organization names and copyright details.
For the current file – go to "File > Show Properties" to open "Document Properties" window and fill the required details. Here you have additional options like title, subject, comment and keywords.
10. Spell Check and Smart Quotes
Though Notes and Stickies apps are there for note taking, you can also use TextEdit app for that purpose. In this case, enabling spelling and grammar checker options will allow you to write the content without errors. In addition, make sure to disable smart quotes when you are writing codes in TextEdit. Go to "TextEdit > Settings… > New Document Tab" and enable or disable these settings under "Options" section.
If you want to change the plain quotes to smart quotes in a document, go to "Edit > Substitutions > Show Substitutions". Check "Smart Quotes", select your preferred format for single and double quote styles and click "Replace All" button to convert all plain quotes to smart quotes in your document.
Final Words
TextEdit app has lot of useful functions that many users are not aware of. Hope the above tips helped to customize the settings and use TextEdit app in Mac like a pro.