Parallels Desktop is a simple and productive way to create virtual machine setup in Mac. The app supports both Intel based as well as Apple M1/M2 chips and you do not need to restart the system for switching between operating systems. You can install Windows ARM, Linux or any other OS in the virtual machine. If you are looking for purchasing Parallels Desktop for Mac, here are the coupon codes with up to 50% discount.
Parallels Desktop Coupon for Users
Parallels Standard edition will cost you $99.99 and Pro edition will cost $119.99. Depending upon your situation you can use one of the following coupon codes to get the discounted price in both editions.
Special Promo Code for individuals – 20%
Students Discount – 50%
Discount for Charity, Non-Profit, Government and Military personnel – 25%
1. Special Promo Code for Individuals – 20%
Parallels frequently offers special promo code for individuals. Though the code will be valid for a week or specified duration, you can always apply the code and check the validity. At this moment, you can try this code ECJ-J1P-PLM to get 20% discount.
Select "Individual" tab click on the "Buy now" button below Standard or Pro edition that you want to purchase.
Below the details box, check the box that says, "Check to enter coupon code".
This will open a box where you can enter the coupon code and click "Apply" button.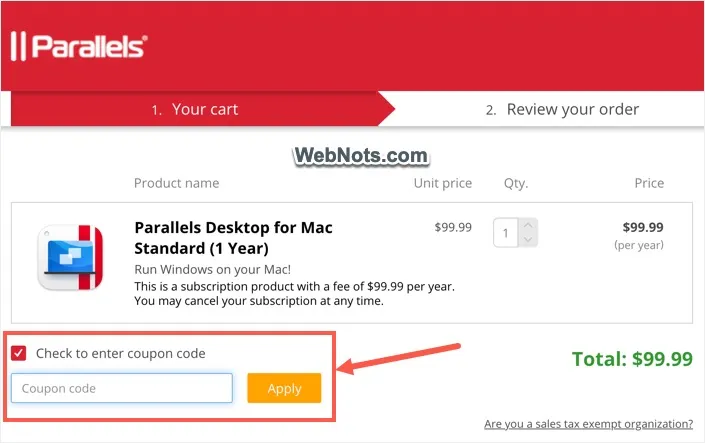 Now, check the discount is applied in total price and finish the purchase using PayPal or credit card.

2. Students Coupon – 50%
If you are a student, you can get up to 50% special discount when purchasing Parallels Desktop app. Simply go to Students and Educator page in Parallels site and check the discount is applied in the price. You can get the Pro edition for $59.99 or the Standard edition for $49.99.
Click on the "Buy now" button and you will be prompted to verify your student status. You can login with your institution email/password or get an email verification code if your college or school is not in the list. If you do not have college/school email, click on "click here to submit proof" link to submit the proof and get 50% discount in price.
3. Coupon for Charity / Government / Military Personnel – 25%
You can get 25% discount if you are working in charity, non-profit, military and government organizations. Like student purchase, you should verify the status to get the discount.
Go to Parallels website and click on the "Buy now" button.
Select "New License" option from the dropdown.
When you are in the pricing page, go to "Special Offers" tab. You will see "Military", "Government", and "Nonprofit" buttons and click the one applicable for you.
Check the price is discounted 25% and click the "Buy now" button below "Standard Edition" or "Pro Edition" that you want to buy.
Verify your status with email, ID or other proof.
After verifying the status, corresponding discount will be applied automatically in the price and complete the checkout using PayPal or credit card.
Testing Parallels with Free Trial
As mentioned, Parallels Desktop is the best option for creating virtual machine in Mac. If you want to test it yourself before purchasing, you have a free trial version available for that purpose.
Go to Parallels website and click on the "Try free" button.
This will take you to the download page and click on "Download trial" button.
After downloading, install the app in your Mac and setup the virtual machine you need.
The free trial version will work for 14 days and after that you should purchase a premium version to continue working with the app.