DEP is an acronym of Data Execution Prevention which is an in-built security feature in Windows computers that many users are not aware of. As the name indicates, it helps to prevent the execution of malicious code in your system. By default, DEP is enabled in Windows 11 and you can manually disable it completely or disable only for certain programs.
Why to Disable Data Execution Prevention in Windows 11?
What DEP does is to protect the data only memory pages in your system by making them as non-executable. The protected portion will still store the data as normal but will not allow to run the code. If a malicious app tries to run a code from the protected data only memory, DEP will stop and kill the app. In this way, your computer is much safer and protected from hackers and viruses.
However, sometimes DEP can cause problems by blocking the normal apps. It could be due to compatibility of the app with DEP or the app needs access to protected memory for some reasons. In such situation, Windows will show memory exploitation issue and will not allow you to open the app. The recommended solution is to update the app, driver or contact the developer to fix the issue. You can also find an alternate app to work with DEP enabled in Windows 11. Otherwise, make sure to check the app is legitimate and manually exclude it from Data Execution Prevention. The final option is to completely disable DEP which is not an ideal solution.
Remember, both your system hardware and software should support using DEP. You can learn more about DEP, compatibility and other details in this official Microsoft learning page.
1. Exclude Apps from DEP in Settings App
Follow the below instructions to check DEP status and exclude executable apps/programs. It is not possible to completely disable DEP from Settings section, if that is what you wanted to do, then go the next section of this article.
Press "Windows + I" shortcut keys and open Windows Settings app.
Navigate to "System" section, scroll down to the bottom on right pane and select "About" option.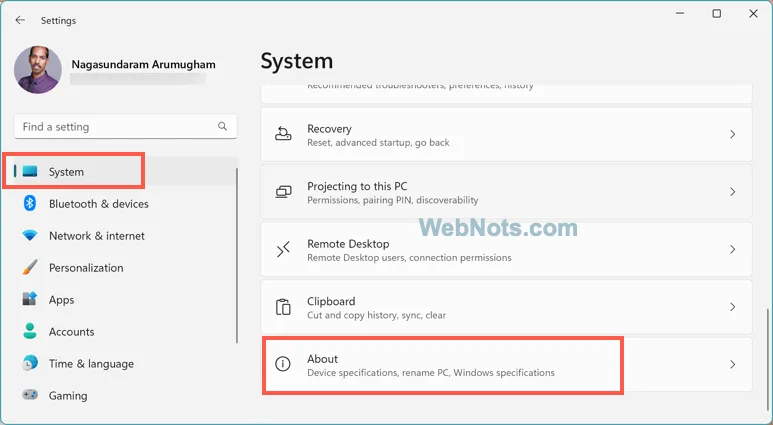 Expand "Device specifications" section and click on "Advanced system settings" link showing against "Related links" section.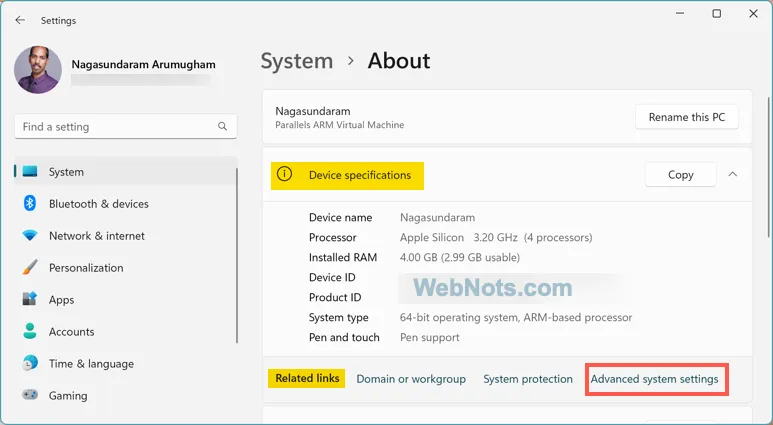 This will open "System Properties" dialog box and go to "Advanced" tab.
Click on the "Settings" button showing under "Performance" section.
This will open "Performance Options" dialog and go to "Data Execution Prevention" tab.
Here you will have two options:

Turn on DEP for essential Windows programs and services only.

Turn on DEP for all programs and services except those I select.
By default, system will use DEP protection for essential Windows programs and services. However, if some apps are not working with DEP, select the second option and then click "Add…" button. Search and select the executable program file to add it in the exclusion list.
Click "Apply" button to save your changes. You will be prompted that the changes will be applied after restarting your system. Click "OK" button to closes the prompt.

Save all your work and restart your system. Now, you can check the excluded app is working fine without DEP protection.
2. Completely Disable DEP from Windows Security App
As mentioned, discuss with the developer or try to find an alternate when your app is not working. It is not recommended to completely disable DEP in Windows 11 as it will downgrade your system's protection and may result in damaging the data. Follow the below steps if you know what you are doing:
Click Start icon and then click "All apps" to see the list of installed apps in your system. Scroll down in the list to "W" section and open "Windows Security" app. alternatively, you can simply click on the shield icon showing in the taskbar system tray (generally it will be hidden behind the small up arrow).
Click on "App & browser control" option under "Home" tab or go to that section from the sidebar.
Click "Exploit protection settings" link showing below "Exploit protection" section.
Go to "System settings" section where you can see the "Data Execution Prevention (DEP)" option is enabled with "Use default (On)" option.
Click the dropdown and select "Off by default" option. You should be an administrator for doing this change in your system.
System will show a notification saying, "This change requires you to restart your device". Restart your computer and check if everything is working fine.
Final Words
Since DEP is inbuilt protection in Windows 11 computers, it is not recommended to exclude apps or disable it. If you have done that for troubleshooting or temporarily, follow the same steps as explained above to remove the apps from exclusion list in Settings app. Similarly, you can enable DEP back in Windows Security app any time after fixing your app issues.