This is a digital era and every one of us have at least one mobile phone. However, desktop computers are still popular in organizations and educational institutions. Unlike smartphones, keyboard is the primary component you need while working on desktops. Many people also connect longer keyboard as an external device to their laptops which normally come with a smaller compact keyboard. Whether you have a Mac or Windows based PC/laptop , using a longer keyboard can easily improve your productive work and make things easier for you.
Types of Computer Keyboards
There are various types of keyboards available in the marketplace and selecting the best one depends on your need and creative use. In addition, choosing the layout like QWERTY or AZERTY can also impact your decision. Having a longer keyboard with separate number pad also helps to make use of thousands of alt code key keyboard shortcuts for making symbols.
1. Mechanical Keyboards
As the name indicates, mechanical keyboards are meant for harder usage. The keys are placed conveniently on switches generally called spring-activated switches. Below the switches, there will be an electric circuit which will give signals to the computer for the pressed keys. Mechanical keyboards will make louder noise compared to the rubber membrane keyboards used commonly on the desktops/laptops. Gamers and people who learn typing look for using mechanical keyboard as it reduces the possibility of mistakenly pressing a different key.
2. Wireless Keyboards
Nowadays, wireless keyboards are popular due to its versatile usage. Wireless keyboards can use either Bluetooth or USB Radio frequency (USB-RF) to connect to computers without any wires. Bluetooth models are widely available and compatible with multiple devices. You need to insert a small connector on your computer's USB port, turn on Bluetooth on your computer/keyboard to start using the wireless keyboard without additional wires. The advantage of wireless keyboard is that you can use the same keyboard on Windows, Mac or even with mobiles/tablets. This helps to provide seamless user experience when using different devices.  
3. Membrane Keyboards
Membrane keyboards are quite opposite in nature compared to mechanical keyboards. The keys are tightly packed and sometimes covered with a transparent membrane. This helps to avoid key movements and key pressing sounds. They are lightweight and protected from accumulating dust between keys. However, membrane keyboards are not widely used due to error prone nature while typing. In addition, people those like key sound may not like the quiet key movements.
4. Flexible or Foldable Keyboards
Flexible keyboards are foldable in nature that you can roll and move easily by keeping in your pocket. These keyboards are water and dust resistant and typically made with rubber like material. Flexible keyboards are mostly Bluetooth keyboards that come with a connector. Though it is easy to use, flexible keyboard needs a hard surface to place and type. In addition, they can be easily damaged and you can't keep it on the lap or use conveniently like mechanical keyboards.
5. Ergonomic Keyboards
As per Oxford dictionary, the word ergonomic means "designed for efficiency and comfort in the working environment". Ergonomic keyboards are designed in such way to avoid wrist and arm problems. The shapes of ergonomic keyboards differ and generally have curves to accommodate your palms for offering relaxed experience. Combined with ergonomics monitor and mouse, you can get a complete comfort while using your computer for longer time. Though generic ergonomic keyboards are much cheaper, you may need to go for a custom design when needed for medical reasons.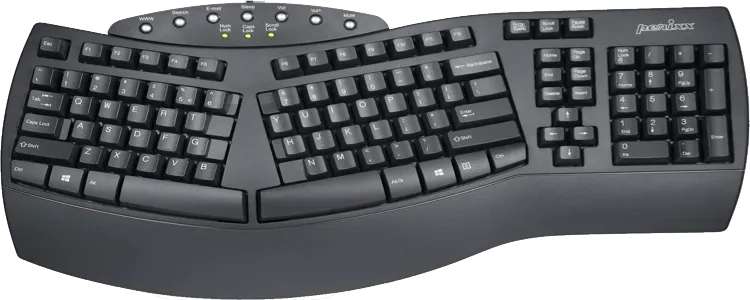 6. Multimedia Keyboards
Apple keyboard on Mac, by default comes with multimedia keys for play/pause, rewind, froward and volume adjustments. However, most other desktop/laptop keyboards do not have dedicated multimedia keys. If you have the habit of frequently watching videos or listening songs on your PC, then multimedia keyboard with special keys can be handy for you. Multimedia keyboard replaces the controls on the video/audio player apps in your computer. You can use the keyboard keys as a quick control instead of using the media player app in your device. Multimedia keyboards are generally mechanical keyboards with bright backlit display. Some multimedia keyboards also come with gaming controls which you can use along with normal audio/video controls.
8. Projection Keyboards
Computers come with default onscreen or virtual keyboard which you can use in case your physical keyboard is damaged. It is also useful with touch screen monitors thus avoiding the need to have a physical keyboard all the time. Projection keyboards are similar to onscreen virtual keyboards and do not have physical components on the layout section. However, the projection of keyboard layout needs a small handheld device which you need to connect with computer using Bluetooth or USB cable.
Once switched on, the device will show a laser projection of keyboard layout. You can simply type on the projected keyboard layout like normal keyboard. Projection keyboards are costlier compared to other models and you need a flat solid surface for projecting the layout. In addition, the data accuracy may not be perfect leading to errors and the projection may not be convenient for all users.
Final Words
The above listed are the major types of keyboards available for your computer. As mentioned, some keyboard models may also fall into multiple categories. For example, a multimedia keyboard can be a wireless or mechanical type. In addition, there are special keyboards for gaming which are generally considered under mechanical or multimedia category. Therefore, make sure to understand the basic types and check the available features compatible with your device before purchasing an external keyboard for your device.