We have explained the importance of paid hosting in our previous article. But it is not easy to choose the correct hosting unless you know some basics. There are many types of web hosting available for different purposes. Companies price the plans based on different criteria like number of CPU, RAM, number of visits and bandwidth.
General Types of Web Hosting
Hosting is generally classified into the following categories.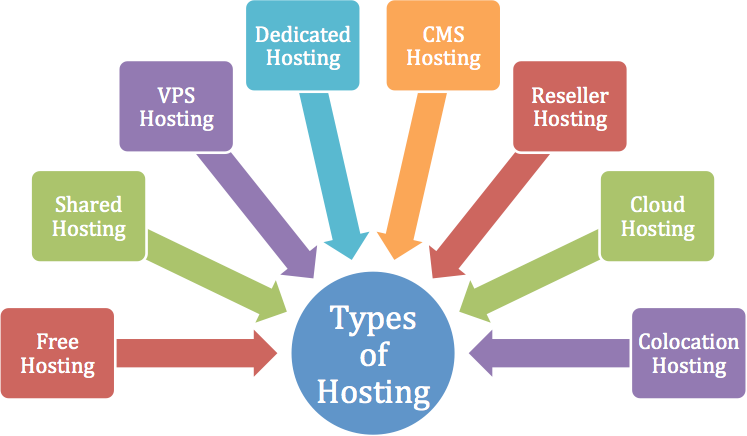 1. Free Hosting
Free hosting is definitely not an option for you, when you want to build larger site and run it for a long term. We strongly recommend not wasting your time in building sites with those free site builders providing free hosting. Example of free hosting providers include Weebly, Blogger and Wix.
2. Shared Hosting
This is an initial option every small site owners generally start with. There is hardly any difference between free and shared hosting other than paying money for the later. We explain this here with Weebly and WordPress.org site. Weebly offers free hosting and charge for upgrading to use additional features like search box, video player, etc. WordPress in other way is a free open source platform but needs a paid hosting service. At the end of the day, you need to pay for building a site with nominal features in both platforms.
Free and paid shared hosting servers have one big difference. Shared servers hosts around 1000 sites on each single server. When one of the hosted site has problem or having illegal content then you will also get affected without any issues from your side. It is difficult for you to change the server under free services. Though the same situation can happen with paid services, you can quickly get support to change to alternative server.
The problem with paid shared hosting is the slow page speed due to slow server response time. If you are planning to build your dream site loading quickly to provide best user experience then shared hosting is not an option to start with.
Related: Get Bluehost shared hosting offer.
3. VPS Hosting
Virtual private servers (VPS) also known as virtual dedicated server offers improved speed, storage and memory to your site which help your site load instantly. In this type of hosting a single server resource is allocated to many virtual server spaces and the users will have root directory access on their allocated virtual space.
VPS will cost you heavily compared to the shared hosting servers. Below is the pricing plan details of SiteGround VPS hosting.
4. Dedicated Hosting
Here user can have a dedicated server from the hosting company with two options – managed and unmanaged. Managed dedicated hosting servers are controlled by the hosting company like a leasing model. The server is leased to a user with limited access and the hosting company manages most of administrator tasks like server configuration. Under unmanaged hosting the entire control over server is given to the user including administration and configuration so that the user can maintain and apply improved security measures.
5. Special CMS Hosting
Hosting companies also offer special hosting services for famous content management systems (CMS) like WordPress. The hosting service is offered as a package to manage everything for a site from security, CDN, backup, dedicated IP, etc.
6. Reseller Hosting
Reseller hosting is service that allows the client to provide his own hosting services to others. You can buy the hosting plan as a reseller and provide a white labelled hosting to your clients like the parent hosting company and offer their own supporting model. This is most suitable for web development agencies who charge clients for website creation and hosting the content.
7. Cloud Hosting
Cloud hosting is the popular and latest hosting model where the virtual servers resources can be dynamically controlled to improve the performance. This is considered as more reliable with the hardware of one server going down can be compensated with other servers in the cloud environment. Since cloud hosting is decentralized it is also more safer even during natural calamities.
Some companies like SiteGround offers VPS on cloud. The advantage of using cloud server is that you can autoscale the server resources based on your need.
8. Colocation Hosting
This is the most expensive hosting service in which the user owns the server and the hosting company only offers infrastructure to run the server. User will have full control over the server and hosting company generally does not involve in any other services other than providing space.
Conclusion
Since site speed is one of the important factors for Google and other search engines, choosing a coorect hosting plan is essential for your online survival. As mentioned, we don't recommend to use free hosting even when you start a small personal blog. First prepare to start with shared hosting companies like Bluehost. This will help you to learn and play around till the time you start getting traffic. Later when you have decent traffic, migrate your site to VPS or dedicated server.