There was a time mobile phone calls were super expensive and the companies charge based on the airtime. This means you need to pay both for incoming and outgoing calls making this a costly affair. Especially making international calls is a pain that you need to plan for budget every month to manage your phone calls. However, things are completely different now with increased internet usage thanks to smartphones. If you are still making costly international calls, here are the top 10 free international calling apps for Android that you can try.
Free Calling Apps for Android
When smartphones became popular, everything shifted to text chatting. People were increasingly using SMS and IM apps for communication. This was primarily due to the limited internet bandwidth in early 2000s and hence voice calling over the internet was still tricky. However, since 2010, internet speed has increased significantly with the introduction of 3G, 4G and 5G. This created the shift in phone usage by making internet-based audio and video calling easier.
There are different types of international calling apps available for Android.
App to app calls need both caller and recipient needs to install the app. Though it is easier to call anyone using wireless, you can't call someone not using the app or call a landline number.
Apps offer local number – this type of app allows you to create a local phone number based on your country. You can then use this to call anyone in that country as a local call. Since many service providers offer free local calls, you only need to pay the app for creating local number.
Low fare international calling apps allow you to directly call any number with reduced rate using VoIP or without internet.
Though some apps do not need internet connection, you need to have wireless internet connection for using most of the apps. The possibility of using mobile and desktop for calling completely depends upon the app.
1. WhatsApp
WhatsApp is one of the most download Android apps available in almost all countries. With more than 2 billion monthly active users, you can easily download the app and call anyone using it. You can make voice and video calls to other WhatsApp users over wireless connection. The service is encrypted end-to-end to make the calls safe and secure.
WhatsApp introduced a controversial privacy policy allowing to share to share data with parent company Facebook (now called Meta). Though this policy was withdrawn and the app is free to use, the privacy concerns when using the app is prevalent. WhatsApp also limits the maximum group call size to only 8 participants though the group size can be up to 256.
End to End encryption with backup on Google Drive
Easy to migrate the chat to another phone
WhatsApp Business for businesses
No calls to landline or mobile phone numbers
2. Telegram Messenger
Telegram is a high-quality messaging and calling app available for all platforms, including Android. Many users came to know about Telegram app thanks to the controversial privacy policy of WhatsApp. Telegram features end-to-end encrypted audio and videos calls with messaging and file transfer features. You can also make group video calls with Telegram app.
Open source, fast and secure with simple user interface
Possible to use on multiple devices at the same time
Screen sharing and noise cancellation are the notable features
3. Skype
Skype is the best choice for those interested in making calls to landline or mobile phone numbers. It is a Microsoft owned service and offers apps for all platforms like Android, iOS, Windows and Mac. You can use Skype for chatting, file transfer and for making free Skype to Skype audio and video calls. However, for calling a phone number, you have to purchase a Skype credit. The pricing depends on the country of calling with the calls to US starts from $3.59 per month. This is around 0.18 cents per minute for unlimited calls to any mobiles and landlines in US. You can also try the service for one month free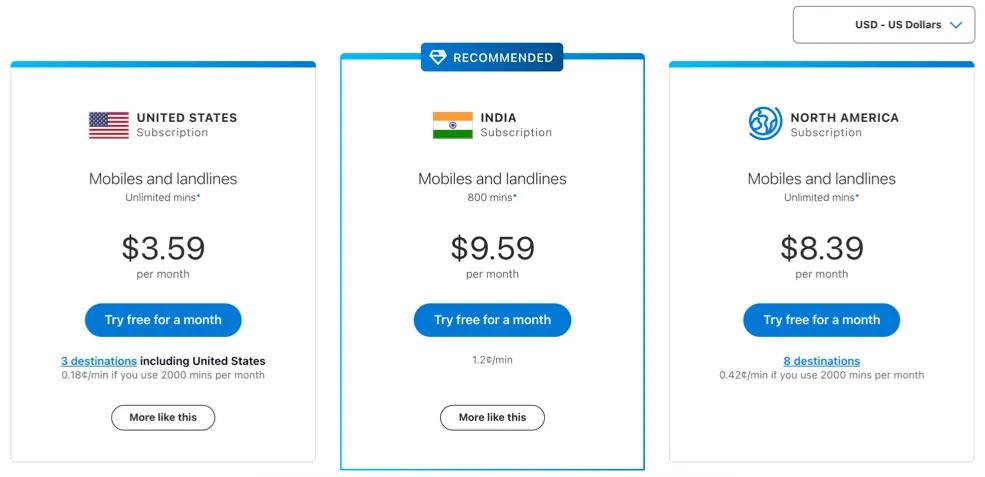 Call quality on Skype is generally good with the ability to record the call and share the screen. However, you do not have any noise filter and is common to have interference with other nearby devices.
Skype offers to host a meeting with your family or colleagues with the possibility to send/receive SMS to any mobile phone number globally.
You do not an existing mobile phone number to sign up for Skype.
You can get a local phone number from anywhere globally with the skype app.
Remember, you can't use Skype for making emergency calls.
4. Signal
Signal is another state-of-the-art messaging app focusing on privacy and security. It is free for everyone and features encrypted stickers. You will enjoy clear voice and video no matter wherever you are. Its interface is too simple and does not provide many features.
Open-source Signal Protocol encryption
Simple interface without many attractive features
Signal is not widely used hence you may find difficult to call a new colleague or friend
5. Viber
Viber is a Japanese calling app that enables you to make clear free calls between Viber users. You can make a group call up to 20 people with multiplatform support. The Viber Out premium subscribers can enjoy unlimited VoIP calls to landline or mobile phone numbers in 60 countries. A variety of plans are available to suit your need based on the country you want to call. For example, calling to any mobile and landline number in US will cost you just $1.99 per month for unlimited minutes.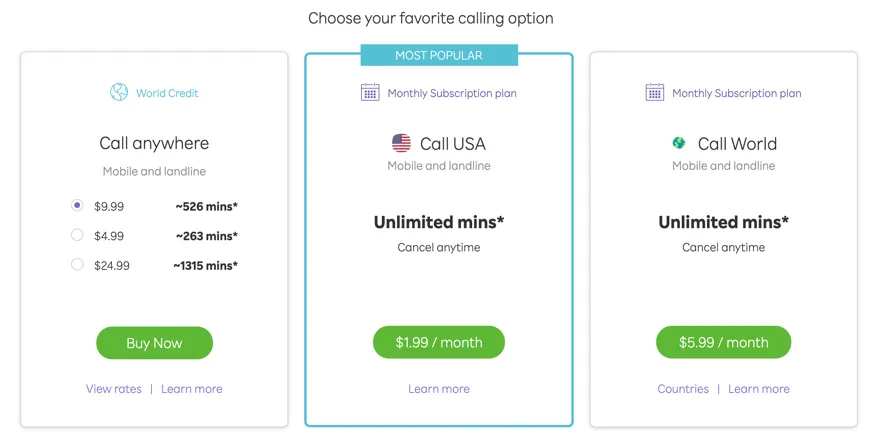 One of the lowest prices for landline and mobile numbers.
App available for all platforms, however, you need an active mobile account to use desktop apps.
6. TalkU
TalkU is a low-profile calling app that offers cheap calling to landline and mobile numbers. Calls between the app users are free and you can also make a free call to USA and Canada. The app occasionally offers free minutes for international calls. There is also a feature called Walkie Talkie which will turn the phone into a real walkie-talkie where you can push a button to talk.
Conference calls for up to 8 people are supported without any charge.
You can record the calls for free and possible to get a new local phone number from the list of countries.
You can use your mobile phone number or email to sign up.
7. Dingtone
Dingtone provides premium quality calling experience between the app and landline or mobile number. It gives you a local phone number from a list of countries and you do not need a mobile phone to sign up. Features like email signup, Walkie Talkie, live video, conference call, fax, and call recorder make Dingtone one of the best apps for calling and texting.
Provision of a second actual phone number.
Cheap international calls.
Only issue with the app is the annoying pop-up ads and games to earn free credits.
8. Google Voice
Google Voice is phone service from Google primarily for USA users. You can make and receive phone calls with call forwarding and voicemail features. To call and text using the app, you have to get a Google Voice number. You can use your own number if you are in US using personal Google account. For countries like United Kingdom, Canada and few others, users can use Google Workspace account to get Voice number.
It is free to make calls within USA. Calls to international landline or mobile numbers are cheap, for which you need to purchase credits.
It is surprisingly simple to set up and you can use from phone or desktop.
Check this call rates guide to find the charge for making call to your country using Google Voice.
9. Rebtel
Rebtel is one of the apps that does not need internet connection for making call to any phone number in the world. It works by offering you a local number and connecting through local phone network. You can make free calls within United States while need to purchase a premium plan for making global calls. The pricing plan starts with $10 per month with unlimited calling to 50 countries around the world.
App is available only for Android and iOS and no desktop apps are available.
You need a phone number to register before using the service.
It is not available in all countries and check whether calling to your country is available.
10. WeChat
The last app in our list is WeChat which is popular among Chinese speaking users. However, you can use the app for calling any other WeChat user. The app offers simple interface and need a registration with your mobile phone number before start using. You can send short audio messages or make an audio and video calls to other users. You can get additional features like WeChat Pay (only available in limited countries), social sharing and live streaming.
This is the must use app when you are travelling or living in China, Taiwan or Hong Kong.
WeChat is not available in some countries like India while banned and made available again US.