There are many applications available to take quick notes in Windows. Even you can use Microsoft Edge browser to take a full-page web capture and add notes on the webpage. However, Microsoft OneNote is the popular application for taking notes and sharing with your team members and friends. You can easily insert tables, embed Excel spreadsheet, and manage a note with multiple authors. Microsoft OneNote app comes as part of Microsoft 365 subscription along with other popular apps like Word, Excel, and PowerPoint. In this article, we will explain how to insert emoji and symbols in Microsoft OneNote to make your notes attractive.
Using Emoji and Symbols in Notes
You can easily take a plain text note, but it will make the readers bored quickly. This is especially true when you want to share a long topic with your vast number of audiences. You can insert beautiful emoji to make your notes expressive, interactive, and interesting for the readers. In addition, you may also need to insert special characters and symbols as part of your notes which super easy with OneNote app.
Microsoft OneNote app allows you to insert different types of text and graphical elements:
Unicode emoji symbols to express your feelings
Special characters like mathematical symbols
Accented letters part of many languages
Arithmetical equations containing different symbols
Stickers and GIF images to add fun element to your notes
Kaomoji or text emoticons to make complex symbols with characters
There are different options to insert these items in OneNote and we will explain all those options in the following sections.
Insert Emoji Using Windows Emoji Panel
The first and easy option is to use the in-built emoji panel app that is hidden in Windows. You can simply press "Win + Dot" or "Win + Semicolon" shortcut keys to invoke the panel. You can navigate through thousands of emoji and symbols available under various categories to find your favorite ones. However, you can also simply type the name to filter relevant symbols which makes it easier. For example, type "smiling" in the emoji panel's search box to filter all face emoji, GIF, and other symbols. Once you find the emoji, GIF, or symbol, click on it to insert in your note.
You can close the emoji panel and invoke any time when needed to insert the symbols. Note that emoji panel is available in Windows 10 onwards and not on the earlier versions like Windows 8 or 7.
Using Special Characters and Symbols
As mentioned, the emoji panel includes special symbols which you can access by clicking on "Symbols" icon.
After that you can navigate through the list of available symbols and insert in your notes. Unfortunately, the search box will only filter emoji and GIF and no other symbols. However, after inserting a symbol it will start appearing under "Recently Used" group under "Symbols" section to make it bit easier to find them.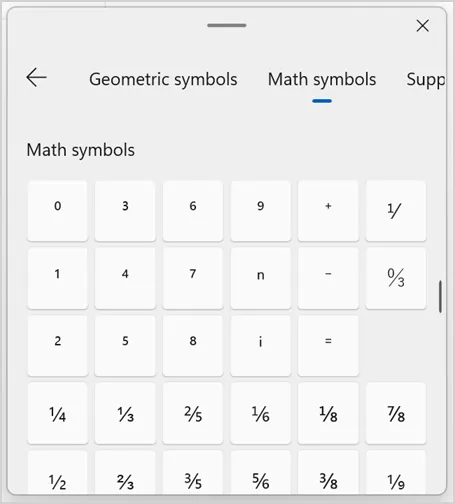 In addition, you can go to "Insert > Symbol > More Symbols…" and open the default Office Symbol utility.
When you see "Symbol" utility, select the font like "Webdings" or "Wingdings" to view different symbols. Double click on any symbol or select a symbol and click "Insert" button to insert in your note. The advantage of using "Symbol" option is that you can search here using Unicode hexadecimal value or equivalent decimal value to find the symbols which is not possible with emoji panel.
Note: Windows also offers a Character Map app which will look like Symbol utility with additional options. Character Map is an independent app which you can search and open using Run or Search box.
Typing Mathematical Equations
If you are a teacher, student or researcher need to type equations within OneNote, you are covered to certain extent. First, we recommend using dedicated apps for typing equations instead of Microsoft Office apps. However, you can still use OneNote to inert math equations on your notes. Go to "Insert" menu and click on "Equations" button in the ribbon. Select the type of equation you want to insert from the dropdown or select "Insert New Equation" to start with a blank equation.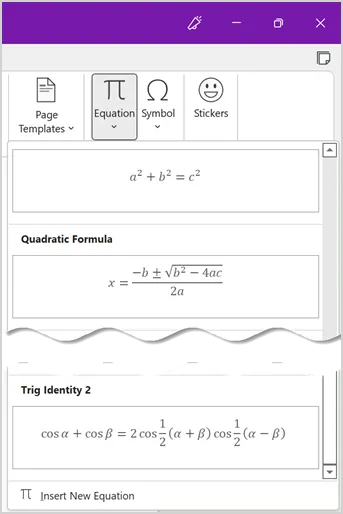 Now that you will see a new "Equation" item added to the top menu and click on it. You can select the required equation symbol from the groups under fraction, script, symbols, integral, bracket, accent, function, matrix, operator, etc.
Insert Stickers in OneNote
Instead of inserting GIF image from emoji panel, you can also use stickers that looks native to OneNote app. Go to "Insert" menu and click on "Stickers" button to view all available stickers. Navigate through various categories and insert the one you like in your notes. As you can see, unlike GIF images stickers will align with the content nicely without any intruding background.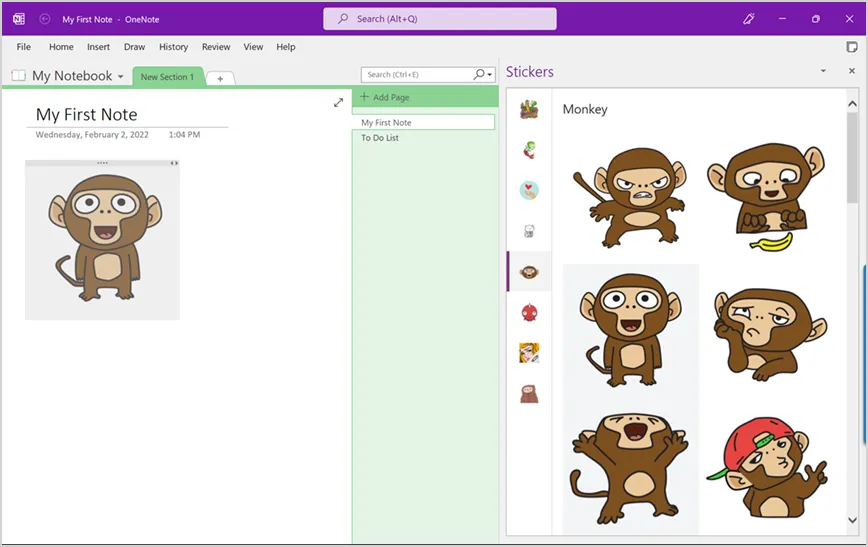 Alt Code Shortcuts for OneNote
Though all the above options are easy to insert symbols in OneNote, you need to either navigate through menu items or search and find them. Alternatively, you can use alt code to insert emoji and symbols using keyboard shortcuts. For example, hold one of the alt keys in your keyboard and type 233 to make the acute small letter e like é.
The only need to use this method is that you should have a keyboard with separate number pad. Check out different ways of using alt code in your computer and alt code keyboard shortcuts for 600+ symbols.
Customizing Symbols in OneNote
OneNote supports symbols that show as line diagram or solid emoji. Good part is that you can apply text effects to inserted symbols in OneNote like any other text characters. Though you can only change the font size of solid emoji, it is possible to apply background and change the color for other line symbols.