We have many small interpolations in Word. In English we call them Hyphen and Dash. Even those who uses Microsoft Word for long time also use these hyphens and dashes in wrong ways. Let us explore more on how to use proper hyphens and dashes in Word.
Related: How to insert dividers in Word?
Hyphen and Dash
Word gives us three types of hyphens and two types of dashes. Knowing the difference between them can help you to make use of them in a better way. You can find them by going to "Insert > Symbol > More Symbols" section under "Special Characters" tab.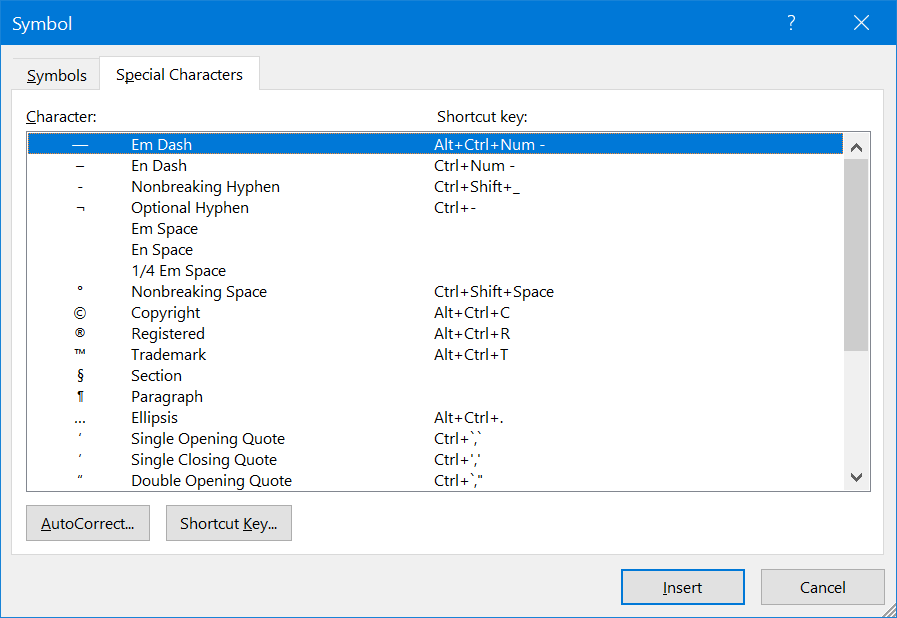 Keyboard Shortcuts for Hyphens and Dashes
As you can see in the symbol dialog, you can type hyphens and dashes using keyboard shortcuts.
| Symbol | Description | Shortcut |
| --- | --- | --- |
| – | Regular Hyphen | Hyphen Key |
| ­ | Option Hyphen | Control + – |
| ‑ | Nonbreaking Hyphen | Control + Shift + _ |
| – | En Dash | Control + Num – Alt + Num 0150 |
| — | Em Dash | Alt + Control + Num – Alt + Num 0151 |
Num indicates you should use the keys from the number pad after enabling number lock on your keyboard.
Let us see how to use these hyphens and dashes when typing documents in Word.
1. Regular Hyphens
You can type this hyphen with the regular hyphen key. This hyphen is available between 0 and = keys on the top number row of a standard keyboard layout. Some people mistakenly use it as a dash key. You can use regular hyphen when typing compound words in English. For example, long-term and short-term are hyphenated compound words using regular hyphens.
When a hyphenated compound word comes at the end of a line, Word will keep the first word and hyphen in the same line and move the second word to the next line. However, you have to apply regular hyphens on the words manually or as per the spelling check suggestions.
2. Optional Hyphen or Soft Hyphen
Optional or soft hyphen is an invisible symbol that you cannot see. Word sometime misinterpret jargons and non-standard words and apply wrong hyphenation when the word falls at the end of the line. This can cut the word in a wrong place and affect the readability. In order to avoid this, you can manually apply optional hyphen to show it correctly.
Related: How to insert emoji in Microsoft Word?
You can type optional hyphen by pressing Control + Regular Hyphen keys. However, you can view the optional hyphens only with hyphenation tool enabled in Word. If you enable hyp­henation tool, Word will automati­­cally apply optional hyphens for those words at the end of each line. The optional hyphen will get printed only if you apply manually.
3. Non-breaking Hyphens
Non-breaking hyphens work opposite way to optional hyphens and avoid breaking a hyphenated word. When a long hyphenated phrase comes at the end of sentence, Word will break the phrase and show half in next line. Word works this default way and you can stop breaking the phrase by applying non-breaking hyphens. Press control + shift and the hyphen key to apply non-breaking hyphen and move the entire hyphenated word to next sentence.
4. En Dash
This is a symbol for typing dash. It is named as it occupies the space like the letter n. It is commonly used to write a number range like 3–7. In order to use this dash sign you have to press control and – key in the numeric keypad. Alternatively, you can use alt with numeric keys 0150. When a range with en dash falls at the end of a sentence, Word will split the number after the en dash to next line. This means en dash is visible always with the preceding number.
5. Em Dash
It is called em dash because it occupies the space like letter "m". However, this may vary based on your font settings. Usually it will be looking double size than en dash. You can use em dash in connecting two different sentences that have different meanings. You can type em dash by pressing control, alt keys and – in the numeric pad. Alternatively, press the alt key and then type 0151 on numeric keypad. Similar to en dash, Word will always split the word preceding the em dash to next line.
Final Words
We hope this article helped you to understand different hyphens and dashes available in Microsoft Word. Henceforth, you can apply these symbols properly on your documents.