Microsoft Office is a huge package that comes with many hidden features. One such feature is Math AutoCorrect. Probably you would have heard of AutoCorrect shortcuts and in this article let us explain how to use Math AutoCorrect shortcuts in Microsoft Office. You can use these keyboard shortcuts on Word, Excel, Outlook, PowerPoint and all Office applications.
Inserting Mathematic and Other Symbols
There are many ways to insert symbols on your Office documents. The basic way is to use alt code shortcuts with the use of decimal numbers of Unicode symbols. However, this will work only on keyboard with a separate numeric keypad. Therefore, you cannot use alt code on most of the laptops, as they do not come with separate numeric keypad.
Other options are to use symbol utility, Character Map app or emoji keyboard. Again, you need to search the symbol on these utilities and you will not find mathematical symbols easily.
Using AutoCorrect
AutoCorrect is a feature in Office applications that help to convert the text into predefined format setup in the backend. For example, typing hyphen and pressing space will convert it into a bullet point. Other examples include, (c) will change to © and (r) to ®.
What is Math AutoCorrect?
Math AutoCorrect is exactly similar function like normal AutoCorrect. However, you can use this for inserting complex mathematical symbols in equation editor.
Enable Math AutoCorrect Shortcuts
Launch Word, Outlook or PowerPoint and navigate to "File > Options" menu. Go to "Proofing" tab and click on the "AutoCorrect Options…" button.
It will open "Auto Correct" dialog box where you can enable or disable the settings. Click on the "Math AutoCorrect" tab that will show you hundreds of pre-defined math function shortcuts. Enable the checkboxes against the options "Use Math AutoCorrect rules outside math regions" and "Replace text as you type".
Click "OK" to save your changes.
AutoCorrect Vs Math AutoCorrect
There are difference between normal AutoCorrect and Math AutoCorrect functions in Office.
You cannot add new replacements in Math AutoCorrect like normal Auto Correct. You only need to use the existing setup comes by default with your Office installation.
Math functions is for using in equation editor while normal replacements are for using in text editor.
When text replacement happens, the application will show you AutoCorrect options as an icon. However, you will see almost invisible bar with math functions. You can still click on that to adjust the settings when typing.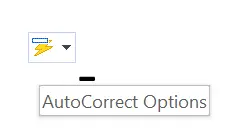 In both cases, you can press space for replacements and use "Control + Z" to undo the auto correction to retain the original text.
How to Use Math AutoCorrect Shortcuts?
After enabling the Math AutoCorrect, you can use those text replacement shortcuts on your document. As mentioned, you can use math replacements in equation editor by enabling the option "Replace text as you type".
Go to "Insert > Equation" option under "Symbols" group. Inside the equation editor, you can use the shortcuts and press space to convert it into a symbol. For example, \sqrt will change to √ and \cbrt will change to ∛.
However, these shortcuts will not work outside the equation editor. In order to use them on text area, you should enable the option "Use Math AutoCorrect rules outside math regions". Remember, the symbols may look different in the equation and text editor. Below are some examples of the replacements in both editors to show how it will look.
How to Use Math AutoCorrect in Excel?
Again, Excel is a different type of application in which these Math AutoCorrect symbols will not work on the cells. When you look into the Auto Correct settings, Excel will not have an option to use the replacements outside math region (that is equation editor).
The only option for you is to copy and paste the Math AutoCorrect text replacements under normal AutoCorrect tab. For example, you can add \alpha in the "Replace:" text box and α in the "With:" text box.
Click "OK" to save your settings. Henceforth, you can type \alpha inside any cells to convert it into α symbol.
Complete List of Math AutoCorrect Shortcuts
There are 400+ text replacement shortcuts available under Math AutoCorrect section. It has two problems:
You need to search the shortcut manually by scrolling for using.
You cannot download from Math AutoCorrect tab and upload in AutoCorrect tab. You manually need to add one by one for using in Excel cells.
In order to help our readers, we have consolidated a complete list of Math AutoCorrect shortcuts. On Word and other Office applications, you can simple enable the option in the backstage and use these shortcuts. In Excel, you can copy and add your favorite shortcuts in the AutoCorrect section to use inside cells.
| Replace Text | With Symbol |
| --- | --- |
| !! | ‼ |
| ... | … |
| :: | ∷ |
| := | ≔ |
| \above | ┴ |
| \acute | ́ |
| \aleph | ℵ |
| \alpha | α |
| \Alpha | Α |
| \amalg | ∐ |
| \angle | ∠ |
| \aoint | ∳ |
| \approx | ≈ |
| \asmash | ⬆ |
| \ast | ∗ |
| \asymp | ≍ |
| \atop | ¦ |
| \bar | ̅ |
| \Bar | ̿ |
| \because | ∵ |
| \begin | 〖 |
| \below | ┬ |
| \bet | ℶ |
| \beta | β |
| \Beta | Β |
| \beth | ℶ |
| \bigcap | ⋂ |
| \bigcup | ⋃ |
| \bigodot | ⨀ |
| \bigoplus | ⨁ |
| \bigotimes | ⨂ |
| \bigsqcup | ⨆ |
| \biguplus | ⨄ |
| \bigvee | ⋁ |
| \bigwedge | ⋀ |
| \binomial | (a+b)^n=∑_(k=0)^n ▒(n¦k)a^k b^(n-k) |
| \bot | ⊥ |
| \bowtie | ⋈ |
| \box | □ |
| \boxdot | ⊡ |
| \boxminus | ⊟ |
| \boxplus | ⊞ |
| \bra | ⟨ |
| \break | ⤶ |
| \breve | ̆ |
| \bullet | ∙ |
| \cap | ∩ |
| \cases | Ⓒ |
| \cbrt | ∛ |
| \cdot | ⋅ |
| \cdots | ⋯ |
| \check | ̌ |
| \chi | χ |
| \Chi | Χ |
| \circ | ∘ |
| \close | ┤ |
| \clubsuit | ♣ |
| \coint | ∲ |
| \cong | ≅ |
| \coprod | ∐ |
| \cup | ∪ |
| \dalet | ℸ |
| \daleth | ℸ |
| \dashv | ⊣ |
| \dd | ⅆ |
| \Dd | ⅅ |
| \ddddot | ⃜ |
| \dddot | ⃛ |
| \ddot | ̈ |
| \ddots | ⋱ |
| \defeq | ≝ |
| \degc | ℃ |
| \degf | ℉ |
| \degree | ° |
| \delta | δ |
| \Delta | Δ |
| \Deltaeq | ≜ |
| \diamond | ⋄ |
| \diamondsuit | ♢ |
| \div | ÷ |
| \dot | ̇ |
| \doteq | ≐ |
| \dots | … |
| \doublea | 𝕒 |
| \doubleA | 𝔸 |
| \doubleb | 𝕓 |
| \doubleB | 𝔹 |
| \doublec | 𝕔 |
| \doubleC | ℂ |
| \doubled | 𝕕 |
| \doublee | 𝕖 |
| \doubleE | 𝔼 |
| \doublef | 𝕗 |
| \doubleF | 𝔽 |
| \doubleg | 𝕘 |
| \doubleG | 𝔾 |
| \doubleh | 𝕙 |
| \doubleH | ℍ |
| \doublei | 𝕚 |
| \doubleI | 𝕀 |
| \doublej | 𝕛 |
| \doubleJ | 𝕁 |
| \doublek | 𝕜 |
| \doubleK | 𝕂 |
| \doublel | 𝕝 |
| \doubleL | 𝕃 |
| \doublem | 𝕞 |
| \doubleM | 𝕄 |
| \doublen | 𝕟 |
| \doubleN | ℕ |
| \doubleo | 𝕠 |
| \doubleO | 𝕆 |
| \doublep | 𝕡 |
| \doubleP | ℙ |
| \doubleq | 𝕢 |
| \doubleQ | ℚ |
| \doubler | 𝕣 |
| \doubleR | ℝ |
| \doubles | 𝕤 |
| \doubleS | 𝕊 |
| \doublet | 𝕥 |
| \doubleT | 𝕋 |
| \doubleu | 𝕦 |
| \doubleU | 𝕌 |
| \doublev | 𝕧 |
| \doubleV | 𝕍 |
| \doublew | 𝕨 |
| \doubleW | 𝕎 |
| \doublex | 𝕩 |
| \doubleX | 𝕏 |
| \doubley | 𝕪 |
| \doubleY | 𝕐 |
| \doublez | 𝕫 |
| \doubleZ | ℤ |
| \downarrow | ↓ |
| \Downarrow | ⇓ |
| \dsmash | ⬇ |
| \ee | ⅇ |
| \ell | ℓ |
| \emptyset | ∅ |
| \emsp |   |
| \end | 〗 |
| \ensp |   |
| \epsilon | ϵ |
| \Epsilon | Ε |
| \eqarray | █ |
| \equiv | ≡ |
| \eta | η |
| \Eta | Η |
| \exists | ∃ |
| \forall | ∀ |
| \fraktura | 𝔞 |
| \frakturA | 𝔄 |
| \frakturb | 𝔟 |
| \frakturB | 𝔅 |
| \frakturc | 𝔠 |
| \frakturC | ℭ |
| \frakturd | 𝔡 |
| \frakturD | 𝔇 |
| \frakture | 𝔢 |
| \frakturE | 𝔈 |
| \frakturf | 𝔣 |
| \frakturF | 𝔉 |
| \frakturg | 𝔤 |
| \frakturG | 𝔊 |
| \frakturh | 𝔥 |
| \frakturH | ℌ |
| \frakturi | 𝔦 |
| \frakturI | ℑ |
| \frakturj | 𝔧 |
| \frakturJ | 𝔍 |
| \frakturk | 𝔨 |
| \frakturK | 𝔎 |
| \frakturl | 𝔩 |
| \frakturL | 𝔏 |
| \frakturm | 𝔪 |
| \frakturM | 𝔐 |
| \frakturn | 𝔫 |
| \frakturN | 𝔑 |
| \frakturo | 𝔬 |
| \frakturO | 𝔒 |
| \frakturp | 𝔭 |
| \frakturP | 𝔓 |
| \frakturq | 𝔮 |
| \frakturQ | 𝔔 |
| \frakturr | 𝔯 |
| \frakturR | ℜ |
| \frakturs | 𝔰 |
| \frakturS | 𝔖 |
| \frakturt | 𝔱 |
| \frakturT | 𝔗 |
| \frakturu | 𝔲 |
| \frakturU | 𝔘 |
| \frakturv | 𝔳 |
| \frakturV | 𝔙 |
| \frakturw | 𝔴 |
| \frakturW | 𝔚 |
| \frakturx | 𝔵 |
| \frakturX | 𝔛 |
| \fraktury | 𝔶 |
| \frakturY | 𝔜 |
| \frakturz | 𝔷 |
| \frakturZ | ℨ |
| \frown | ⌑ |
| \funcapply | |
| \G | Γ |
| \gamma | γ |
| \Gamma | Γ |
| \ge | ≥ |
| \geq | ≥ |
| \gets | ← |
| \gg | ≫ |
| \gimel | ℷ |
| \grave | ̀ |
| \hairsp | |
| \hat | ̂ |
| \hbar | ℏ |
| \heartsuit | ♡ |
| \hookleftarrow | ↩ |
| \hookrightarrow | ↪ |
| \hphantom | ⬄ |
| \hsmash | ⬌ |
| \hvec | ⃑ |
| \identitymatrix | (■(1&0&[email protected]&1&[email protected]&0&1)) |
| \ii | ⅈ |
| \iiiint | ⨌ |
| \iiint | ∭ |
| \iint | ∬ |
| \Im | ℑ |
| \imath | ı |
| \in | ∈ |
| \inc | ∆ |
| \infty | ∞ |
| \int | ∫ |
| \integral | 1/2π ∫_0^2π ▒ⅆθ/(a+b sin θ)=1/√(a^2-b^2) |
| \iota | ι |
| \Iota | Ι |
| \itimes | ⁢ |
| \j | Jay |
| \jj | ⅉ |
| \jmath | ȷ |
| \kappa | κ |
| \Kappa | Κ |
| \ket | ⟩ |
| \lambda | λ |
| \Lambda | Λ |
| \langle | 〈 |
| \lbbrack | ⟦ |
| \lbrace | \{ |
| \lbrack | [ |
| \lceil | ⌈ |
| \ldiv | ∕ |
| \ldivide | ∕ |
| \ldots | … |
| \le | ≤ |
| \left | ├ |
| \leftarrow | ← |
| \Leftarrow | ⇐ |
| \leftharpoondown | ↽ |
| \leftharpoonup | ↼ |
| \leftrightarrow | ↔ |
| \Leftrightarrow | ⇔ |
| \leq | ≤ |
| \lfloor | ⌊ |
| \lhvec | ⃐ |
| \limit | lim_(n→∞)⁡〖(1+1/n)^n〗=e |
| \ll | ≪ |
| \lmoust | ⎰ |
| \Longleftarrow | ⟸ |
| \Longleftrightarrow | ⟺ |
| \Longrightarrow | ⟹ |
| \lrhar | ⇋ |
| \lvec | ⃖ |
| \mapsto | ↦ |
| \matrix | ■ |
| \medsp |   |
| \mid | ∣ |
| \middle | ⓜ |
| \models | ⊨ |
| \mp | ∓ |
| \mu | μ |
| \Mu | Μ |
| \nabla | ∇ |
| \naryand | ▒ |
| \nbsp |   |
| \ne | ≠ |
| \nearrow | ↗ |
| \neg | ¬ |
| \neq | ≠ |
| \ni | ∋ |
| \norm | ‖ |
| \notcontain | ∌ |
| \notelement | ∉ |
| \notin | ∉ |
| \nu | ν |
| \Nu | Ν |
| \nwarrow | ↖ |
| \o | ο |
| \O | Ο |
| \odot | ⊙ |
| \of | ▒ |
| \oiiint | ∰ |
| \oiint | ∯ |
| \oint | ∮ |
| \omega | ω |
| \Omega | Ω |
| \ominus | ⊖ |
| \open | ├ |
| \oplus | ⊕ |
| \otimes | ⊗ |
| \overbar | ¯ |
| \overbrace | ⏞ |
| \overbracket | ⎴ |
| \overline | ¯ |
| \overparen | ⏜ |
| \overshell | ⏠ |
| \parallel | ∥ |
| \partial | ∂ |
| \perp | ⊥ |
| \phantom | ⟡ |
| \phi | ϕ |
| \Phi | Φ |
| \pi | π |
| \Pi | Π |
| \pm | ± |
| \pmatrix | ⒨ |
| \pppprime | ⁗ |
| \ppprime | ‴ |
| \pprime | ″ |
| \prec | ≺ |
| \preceq | ≼ |
| \prime | ′ |
| \prod | ∏ |
| \propto | ∝ |
| \psi | ψ |
| \Psi | Ψ |
| \qdrt | ∜ |
| \quadratic | x=(-b±√(b^2-4ac))/2a |
| \rangle | 〉 |
| \Rangle | ⟫ |
| \ratio | ∶ |
| \rbrace | } |
| \rbrack | ] |
| \Rbrack | ⟧ |
| \rceil | ⌉ |
| \rddots | ⋰ |
| \Re | ℜ |
| \rect | ▭ |
| \rfloor | ⌋ |
| \rho | ρ |
| \Rho | Ρ |
| \rhvec | ⃑ |
| \right | ┤ |
| \rightarrow | → |
| \Rightarrow | ⇒ |
| \rightharpoondown | ⇁ |
| \rightharpoonup | ⇀ |
| \rmoust | ⎱ |
| \root | ⒭ |
| \scripta | 𝒶 |
| \scriptA | 𝒜 |
| \scriptb | 𝒷 |
| \scriptB | ℬ |
| \scriptc | 𝒸 |
| \scriptC | 𝒞 |
| \scriptd | 𝒹 |
| \scriptD | 𝒟 |
| \scripte | ℯ |
| \scriptE | ℰ |
| \scriptf | 𝒻 |
| \scriptF | ℱ |
| \scriptg | ℊ |
| \scriptG | 𝒢 |
| \scripth | 𝒽 |
| \scriptH | ℋ |
| \scripti | 𝒾 |
| \scriptI | ℐ |
| \scriptj | 𝒿 |
| \scriptJ | 𝒥 |
| \scriptk | 𝓀 |
| \scriptK | 𝒦 |
| \scriptl | ℓ |
| \scriptL | ℒ |
| \scriptm | 𝓂 |
| \scriptM | ℳ |
| \scriptn | 𝓃 |
| \scriptN | 𝒩 |
| \scripto | ℴ |
| \scriptO | 𝒪 |
| \scriptp | 𝓅 |
| \scriptP | 𝒫 |
| \scriptq | 𝓆 |
| \scriptQ | 𝒬 |
| \scriptr | 𝓇 |
| \scriptR | ℛ |
| \scripts | 𝓈 |
| \scriptS | 𝒮 |
| \scriptt | 𝓉 |
| \scriptT | 𝒯 |
| \scriptu | 𝓊 |
| \scriptU | 𝒰 |
| \scriptv | 𝓋 |
| \scriptV | 𝒱 |
| \scriptw | 𝓌 |
| \scriptW | 𝒲 |
| \scriptx | 𝓍 |
| \scriptX | 𝒳 |
| \scripty | 𝓎 |
| \scriptY | 𝒴 |
| \scriptz | 𝓏 |
| \scriptZ | 𝒵 |
| \sdiv | ⁄ |
| \sdivide | ⁄ |
| \searrow | ↘ |
| \setminus | ∖ |
| \sigma | σ |
| \Sigma | Σ |
| \sim | ∼ |
| \simeq | ≃ |
| \smash | ⬍ |
| \smile | ⌣ |
| \spadesuit | ♠ |
| \sqcap | ⊓ |
| \sqcup | ⊔ |
| \sqrt | √ |
| \sqsubseteq | ⊑ |
| \sqsuperseteq | ⊒ |
| \star | ⋆ |
| \subset | ⊂ |
| \subseteq | ⊆ |
| \succ | ≻ |
| \succeq | ≽ |
| \sum | ∑ |
| \superset | ⊃ |
| \superseteq | ⊇ |
| \swarrow | ↙ |
| \tau | τ |
| \Tau | Τ |
| \therefore | ∴ |
| \theta | θ |
| \Theta | Θ |
| \thicksp |   |
| \thinsp |   |
| \tilde | ̃ |
| \times | × |
| \to | → |
| \top | ⊤ |
| \tvec | ⃡ |
| \ubar |  ̲ |
| \Ubar | ̳ |
| \underbar | ▁ |
| \underbrace | ⏟ |
| \underbracket | ⎵ |
| \underline | ▱ |
| \underparen | ⏝ |
| \uparrow | ↑ |
| \Uparrow | ⇑ |
| \updownarrow | ↕ |
| \Updownarrow | ⇕ |
| \uplus | ⊎ |
| \upsilon | υ |
| \Upsilon | Υ |
| \varepsilon | ε |
| \varphi | φ |
| \varpi | ϖ |
| \varrho | ϱ |
| \varsigma | ς |
| \vartheta | ϑ |
| \vbar | │ |
| \vdash | ⊢ |
| \vdots | ⋮ |
| \vec | ⃗ |
| \vee | ∨ |
| \vert | | |
| \Vert | ‖ |
| \Vmatrix | ⒩ |
| \vphantom | ⇳ |
| \vthicksp |   |
| \wedge | ∧ |
| \wp | ℘ |
| \wr | ≀ |
| \xi | ξ |
| \Xi | Ξ |
| \zeta | ζ |
| \Zeta | Ζ |
| \zwnj | ‌ |
| \zwsp | |
| ~= | ≅ |
| +- | ± |
| -+ | ∓ |
| << | ≪ |
| <= | ≤ |
| -> | → |
| >= | ≥ |
| >> | ≫ |