Hot corners is the popular feature in macOS that allows you to trigger an action when you hover the mouse over one of the four screen corners. This is super useful to trigger a quick note, show desktop or lock the screen. Though Windows 11 does not have hot corners, you can use third-party apps to bring that feature to your PC.
Show Desktop with Taskbar Lower Right Corner
By default, Windows come with a feature to show desktop when clicking the extreme right corner on taskbar.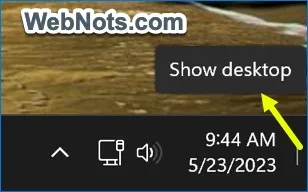 So, you should disable this feature before installing any third-party apps for using the hot corners. Otherwise, the function will overlap and may not work properly when hovering mouse over bottom right corner.
Right-click on your taskbar and select "Taskbar settings" option.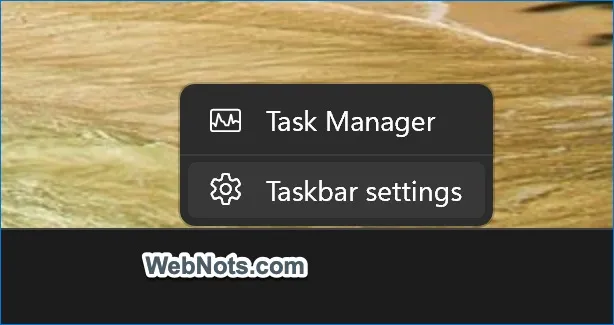 Expand "Taskbar behaviors" section and scroll down to the bottom. Uncheck "Select the far corner of the taskbar to show the desktop" option to disable the feature.
If you do not want to disable this option, then make sure not to assign any other action to bottom right corner with third-party apps.
Step 1 – Install WinXCorners App
GitHub has lot of free and open-source apps to bring macOS like hot corners to your Windows 10 and 11 computers. Go to GitHub and search for "hot corners" to find the list of available apps. In this article, I will use WinXCorners app for enabling hot corners in Windows 11. Though the app says for Windows 10, it also works on Windows 11 PCs.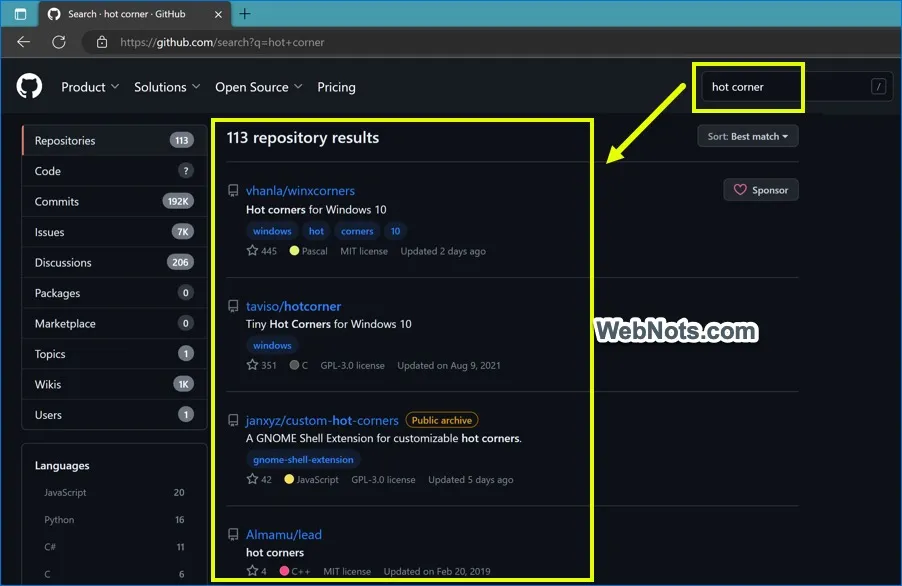 Go to WinXCorners app releases page in GitHub, scroll down to the bottom and expand "Assets" section. Click the WinXCorners zip file (currently it is WinXCorners_1.2b.7z) and download the archive file.
Note that, if you are using Microsoft Edge, the browser will block the download by warning you the file is not commonly downloaded. Hover on that warning and click the three dots "More actions" icon and select "Keep" to continue the download.
Now, open "Downloads" folder and extract the downloaded zip file to get WinXCorners executable file. It is better to extract the file to "C:\Program Files" location or move the extracted application file to your preferred location instead of keeping it in Downloads folder.
Step 2 – Assigning Screen Corners with WinXCorners App
Double click on WinXCorners application file to launch the app. The app does not have any icon or settings page, all what you need is to click the hidden icons arrow in taskbar and click on WinXCorners app icon.
You will see a small pop-up appears showing four dropdown boxes for assigning actions to four screen corners.
Click each dropdown and select one of the desired actions for your screen corners. You have the following actions to select from:
All Windows – this will show the task view
Desktop
Start Screen Saver
Monitors Off
Action Center
Hide Other Windows
Blank – no action
It should look like below after assigning four different actions for all four screen corners.
Anytime you can turn on or off the "Hot corner" switch to disable the feature completely without changing the actions setup.
Step 3 – Checking Hot Corners
Now, move your mouse over any corner of the screen and you will see the assigned action is automatically triggered. For example, moving the mouse over bottom right corner will open Action Center as per the assignment.
Final Words
Using Mac like hot corners in Windows 11 and 10 computers help to make use of your screen corners to trigger the assigned functions. Windows has a default function to show desktop by clicking right corner of the taskbar. However, you can use apps like WinXCorners to assign different actions to all four corners of your monitor screen. The only limitation of the app is that it will not work on multiple displays. When you use multiple monitors, the app will only work on primary screen and not on the secondary screen.