Windows 11 automatically gets the latest updates and install it whenever they are available. Though you can pause the updates up to five weeks time, there are no options available to disable the automatic updates completely. This can easily create problems and result in affecting third-party apps you have installed on your computer. If you face any problem after an update, here is how you can uninstall the updates in Windows 11 and revert back to previous state.
Fixing Windows 11 Update Problems
Nowadays, Microsoft pushes plenty of small and major Windows updates. Therefore, it is common to get sudden problems after an automatic update.
If an app stopped working after update, try to contact the developer to get a fix.
Similarly, use the troubleshooters and try to fix if any default Windows feature stopped working.
Go for uninstall option when you do not have an immediate solution and want to have some breathing time.
As mentioned, after uninstalling the recent update, you can postpone the automatic update up to 5 weeks. You can use this time to fix your problem before updating Windows again.
Uninstall Recent Windows 11 Updates
Press "Win + I" shortcut keys and open Settings app.
Go to "Windows Updates" section from left sidebar.
Select "Update history" option from the right side under "More options" section.
You will all previously installed Windows updates under different categories. Scroll down and click "Uninstall updates" option under "Related settings" section.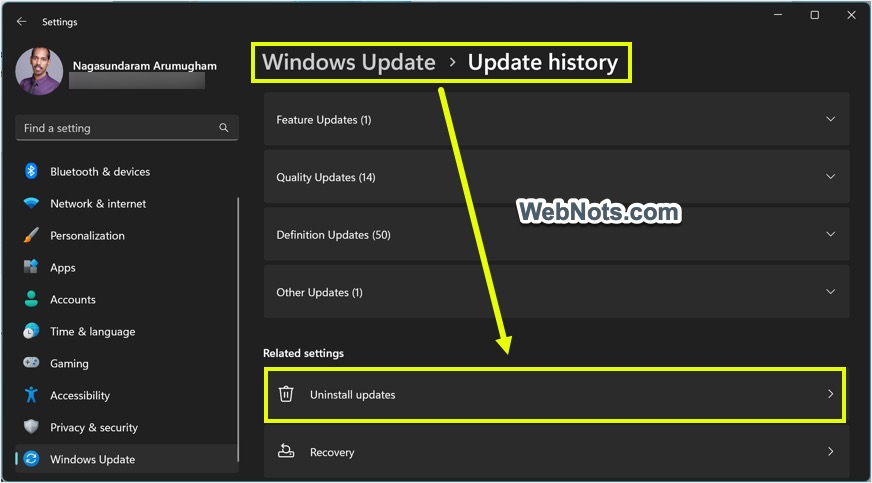 This will show a list of recently installed Windows updates. Check the items, date of installation and click the "Uninstall" link on the top item if you want to revert the last update.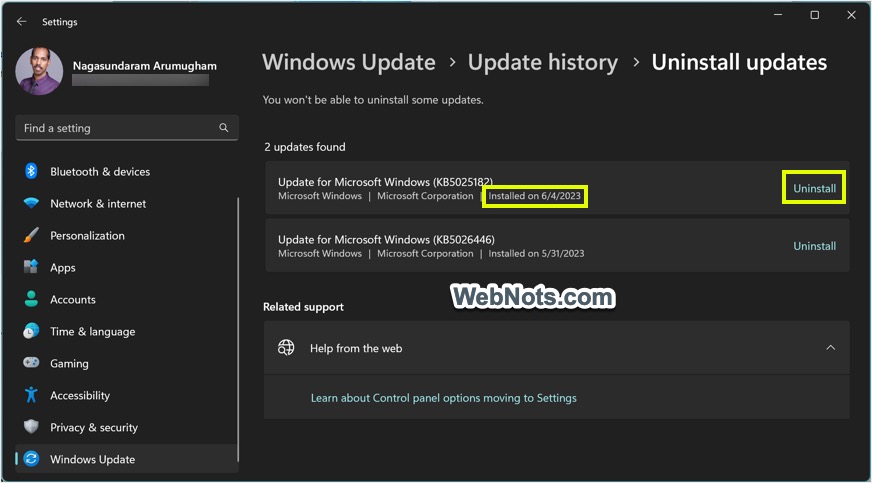 Confirm your action by again clicking on "Uninstall" option.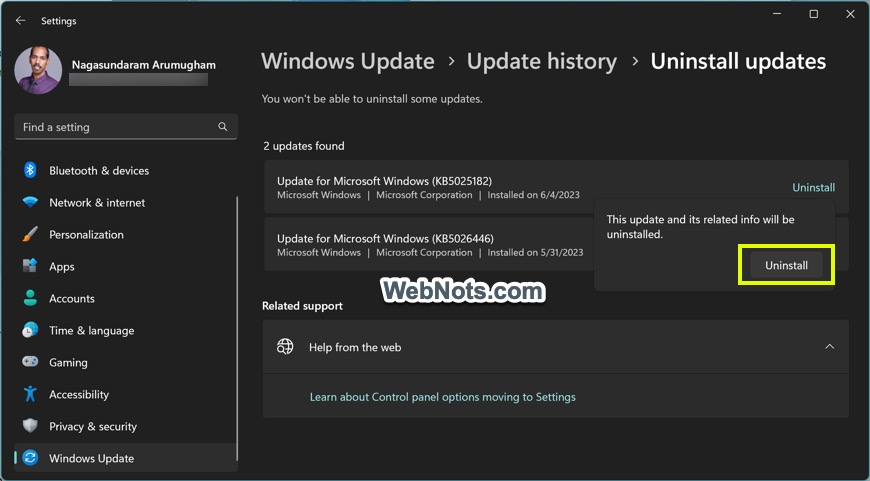 You will see the uninstallation will start instantly and show the progress bar below the update name. system will show "Uninstalled" message after the successful uninstallation.
Note: for troubleshooting, go to "System > Troubleshoot" and "System > Recovery" sections and use the available options.
Using Control Panel
Earlier in Windows 10, the Settings app will take you to Control Panel for uninstalling Windows Updates. However, now it is other way round that Control Panel will redirect you to Settings app. You can navigate to "Control Panel\Programs\Programs and Features" section in Control Panel and click on "View installed updates" link showing in right sidebar. This will take you to "Settings > Windows Update > Uninstall Updates" section. From there you can uninstall the recent Windows Updates on your system as explained above.