WeChat is one of the popular instant messaging and payment platforms in China. After setup, you can use the app on your phone for many years without problem. However, when you buy a new phone or change your phone to other models, you need to transfer the content to your new phone for continuation. In this article, we will explain how to transfer WeChat chat history to new phone so that you can easily migrate all your content. Note, we show here with the screenshots of WeChat iPhone app. However, you can follow the same process on any other phone models.
How to Transfer WeChat Chat History to New Phone?
WeChat allows you to migrate the chat history directly to another iPhone or first backup to your computer and restore to another iPhone.
Related: How to top-up mobile using WeChat app?
Backup History on Old Phone
Launch WeChat app on your old phone and tap on the "Me" option on the bottom.
Select "Settings" option and choose "General".
You will see many options and tap on "Backup & Migrate Chats".
Here you will see two options for migrating to another phone or backing up to your computer.
Migrate Chats to Another Device
The good part is that you can migrate the chat history to any type of phones like iPhone, Android or any Chinese models. Tap on the "Migrate Chats to Another Device" option. WeChat will show you two options:
Migrate Entire Chat History – choose this option to move all the content.
Migrate Partial Chat History – select this to migrate the chat history from specific people. You can choose the contacts to migrate the chat conversations with them.
After selecting one of the above options, you will see a QR code like below.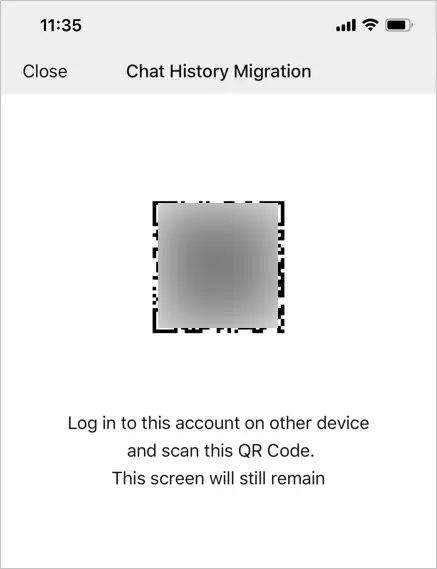 Related: How to transfer money in WeChat account to your friends?
Login WeChat on New Phone
Now take your new phone and install WeChat app. Ensure that you are connected to the same Wi-Fi on old and new phones. Otherwise, you can create personal hotspot to make sure you are on the same network.
Use same account details (phone number or username and password) to login to your WeChat app on the new phone.
Tap on the + icon on top right (on iPhone app) and choose "Scan" option.
Scan the QR code from your old phone to start the transfer.
Transfer Chat History
WeChat will first start transferring all your chat history. This essentially will backup the chat data from each contact. Therefore, it may take long time depending on the number of contacts and the size.
You should be on the same transfer screen on your old phone till the time of completing the transfer.
If you are closing or moving out of the screen on old phone, WeChat will show a warning message like below:
You can go back to chat section and start sending messages on your new phone while the transfer is in progress.
However, you can't leave the WeChat app on your new phone also.
Thus, you need to plan for this activity when you have hundreds of contacts with each contact having large chat history.
Import Chat History
After the completion of transferring, you will see a message on your old phone that "Transfer completed. Import chat history on other device".
You can also see a message on your new phone showing "Transfer completed. Import chat history". Tap on the "Import" button to move the backed up chat history to your new phone.
You can stop the migration by tapping on "Stop Migration" link.
It is also possible to import the chat history any point of time later. However, the backup data is from your previously transferred backup. You will lose the history, if you have done any further conversations on your old phone.
After completion of the import, you will get a success message showing all chats imported.
Delete WeChat App On Old Phone
Since WeChat is also linked to your WeChat Pay account and having financial transactions, we recommend you delete the app on your old phone. WeChat will also logout you automatically on your old phone when you try to login with your new phone using the same account details.
Therefore, the only option for you is login using one phone at a time. This will ensure your account is safe and you are the only person logging into your account.
Related: How to send red envelope in WeChat app?
Backup Chat History to Computer
This is another option where you can first backup the chat history to your computer and then restore to any new device. However, you need to install WeChat for Desktop app on your PC or Mac.
First, download and install WeChat for Desktop app on your PC or Mac.
Login to your desktop app by scanning the QR code from your phone app.
Once logged in to your account, go to "Backup and Restore" option by clicking on the settings icon on the lower left corner.
Now follow the similar process as explained above, to backup and import the chat history to your new phone. Remember to connect your new phone and computer on the same network for the transfer to work.
Final Words
Unlike WhatsApp, WeChat does allow you to backup your chat history to cloud. Therefore, you can't backup the chat daily or any predefined schedule. The only option you have is to migrate to phone as explained above. Alternatively, you can use your computer for the migration while the process is almost the same.