Many of us close apps in PC or Mac by clicking on the close button and think it is done. However, in many situations, the apps once opened will continue to run in the background. This will help you to get the updates without delay and keep you posted instantly. For example, Google Chrome will run in background by default even you close the browser. You can get notifications from Chrome even though you closed it as the services will run in background. Sometimes, Chrome also will open in background when launching your PC or Mac. In this article, we will explain how to stop Google Chrome from running in background.
Why You Should Stop Background Apps?
There are many good reasons to disable unnecessary apps from running in the background.
Background apps will consume battery and internet bandwidth.
Similarly, it can consume CPU and RAM while you want to focus on some other tasks.
You may suddenly receive a notification distracting your work even though Chrome browser is not open.
Startup apps can delay the booting time and slow down your computer.
How to Disable Google Chrome from Running in Background?
You can disable Chrome running in background both in Windows and Mac.
Disable in Windows
Here is how you can disable Chrome running in background in Windows PC.
Launch Google Chrome and click on the three dots button that shows "Customize and control Google Chrome".
Select "Settings" option from the menu to go to Chrome settings page.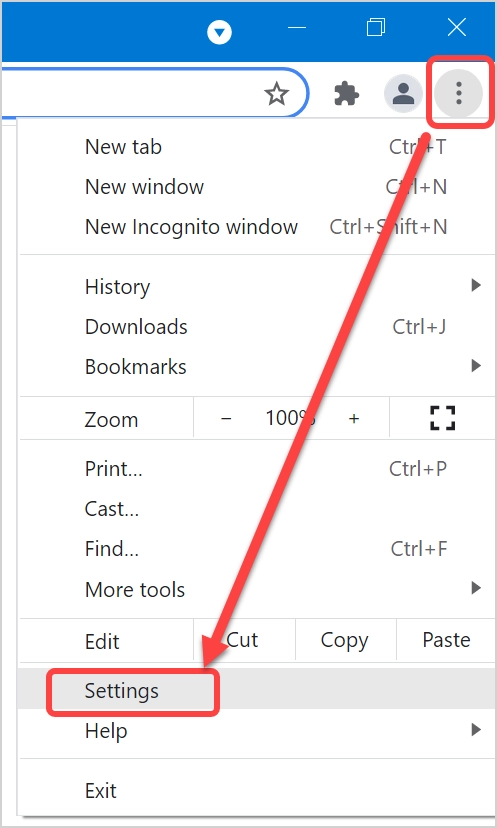 Scroll down and click on "Advanced" option to advanced settings.
Again, scroll down to "System" section.
Disable "Continue running background apps when Google Chrome is closed" option.
Stop Chrome Running in Windows Startup
By default, Google Chrome also runs in the background when you start Windows. You can disable Chrome in startup as explained below:
Turn off the button against Google Chrome.
Stop Chrome from Running Background in Mac
Unlike Windows, Chrome will still run in the background after you close all the active tabs. Unfortunately, Chrome system settings to disable apps running in background is not available in Mac version. The easy way to find an app running or not in Mac is by checking your dock. The apps running in background will have a small dot under the app in your dock. If you see Chrome is running, click on it to open the app and press "Command + Q" to completely quit.
Alternatively, you can open Activity Monitor and close all Chrome related services running in the background.
Press "Command + Shift" keys to open Spotlight Search.
Type "activity monitor" and open the app.
Find Chrome services and click stop button to kill them.
Confirm the pop-up by pressing "Quit" button.
Note that you will find plenty of Google Chrome Helper services, make sure that you are not using Chrome if you stop them from Activity Monitor.
Disable Login Item in Mac
Similar to Windows, you can check whether Chrome is part of startup apps and disable it in Mac also.
Click on the Apple logo on top left corner and select "System Preferences…" option.
When you are in preferences pane, click on "Users & Groups" and navigate to "Login Items" tab.
Check if Google Chrome app is available in the list and disable it.
Remember, you need to be an administrator to unlock and edit the preferences in Mac.
Stop Chrome Running from Background in Mobile Devices
On both Android and iPhone, you can open App Drawer by swiping the screen up. It will show you the list of open apps and you can swipe the Chrome app up to close it from running in background. In addition, you can also disable Chrome from running in background from phone or app's settings page.
On Android – go to "Settings > Apps" section and tap on "Force Stop" to close the app. You have to do this each time when you want to stop the app.
On iPhone – go to "Settings > General" section and tap on "Background App Refresh". You can permanently disable the background apps or only disable the required app. As far as we have checked, Chrome is not in the list and does not refresh content in the background.
Note that it is not necessary to close the background apps in mobiles as the device will dynamically allocate memory for the frontend running apps. Notifications also will not be affected unless you turn off manually from the settings.