Windows frequent updates come packed with extensive features to improve your experience and software productivity. You may be under using your ultra HD monitor or multiple monitors without your knowledge. Windows 10 has a built-in feature to allow splitting of the screen for multiple window use. Unlike the previous Windows versions, you can split up to four window sections. Here is a procedure on how to split screen in Windows 10 using the built-in multitasking feature.
Related: How to take screenshots in Windows 10?
When Split Screen is Useful?
Following are some of the situations you can use split screen to boost the productivity and multitasking.
Working with multiple apps. For example, you can to view the YouTube video while typing on a Word document on the same screen.
Taking notes for students to keep multiple windows on the same screen to toggle quickly.
Arrange apps across multiple monitors.
Compare documents side by side on the same screen.
5 Ways to Use Split Screen in Windows 10
As usual, Microsoft offers multiple ways to split the screen and arrange the apps.
Split screen using Snap
Use keyboard shortcuts
Arrange windows from taskbar context menu
Manually resize the apps
Use third-party tools
1. Split Screen in Windows 10 using Snap
Snap assist helps Windows 10 users to multitask on one or multiple screens. You can add up to four windows on your screen and avoid frequent window navigation. You can as well, manage multiple screens to improve your Windows 10 experience.
Note that this procedure is only applicable for Windows 10 users and not Windows 10X devices that are originally designed for split screen purposes only.
Enable Snap Assist Features in Windows 10
Follow this procedure to try out multitasking on your Windows 10 using the snap assist feature.
Press "Win Logo + I" shortcut keys to open Windows 10 Settings app.
Click the "System" icon to go to system setting options.
Enable the "Snap" features under the "Multitasking" tab.
The snap feature has the following options and check all of them.
Arrange windows automatically by dragging them to the sides or corners of the screen.
When I snap a window, automatically size it to fill available space.
When I snap a window, show what I can snap next to it.
When I resize a snapped window, simultaneously resize any adjacent snapped window.
Mostly, Window enables these features by default. However, you can check and enable these options to make sure snap assist features works for you. In case you are using virtual desktops, you can enable them as well.
Using Snap Features
After enabling snap features, you can use when working with multiple apps.
Open the app windows you will be using.
You can work either with two windows on the same screen or with more than two windows.
In order to work on two windows, drag one app window to the side of the screen
Similarly, move an app window to the corner of the screen for more than two windows.
You will notice, Windows will show you an empty space with other open applications.
Snap the remaining app windows to the position you like to view them on the split screen.
2. Use Keyboard Shortcuts
Sometimes dragging the window can be annoying. In such a case, you can use the following keyboard shortcuts to use snap assist features.
| Shortcut Keys | Snap Function |
| --- | --- |
| Win Logo + Right Arrow | Move app window to right half of the screen |
| Win Logo + Left Arrow | Move app window to left half of the screen |
| Win Logo + Left Arrow + Up Arrow | Snap app windows to top left quadrant |
| Win Logo + Left Arrow + Down Arrow | Snap app windows to bottom left quadrant |
| Win Logo + Right Arrow + Up Arrow | Snap app windows to top right quadrant |
| Win Logo + Right Arrow + Down Arrow | Snap app windows to bottom right quadrant |
| Win Logo + Down Arrow | Minimize the window |
| Win Logo + Up Arrow | Maximize the window |
3. Arrange Windows From Taskbar Context Menu
Another option for splitting your monitor screen is to use the taskbar context menu. Simply right click on the task bar and select one of the split screen options for arranging the open apps.
You will have the following options to select:
Cascade windows
Show windows stacked
Show windows side by side
Though cascading and stacking are not like splitting, it helps to quickly arrange apps on the screen. Showing windows side by side will automatically arrange all open windows to fit on the screen. After using one of these options, you can right click on the taskbar to quit and go back to normal screen view.
4. Manually Resize Apps
If you do not like the above options then you can try the traditional way of manually arranging the apps to split the screen.
Use minimize or maximize buttons on each app window to change the size as per your need.
Move the app window and hover your mouse over one of the corners. When you see the resize cursor, hold your left mouse button and drag to resize the window. You can resize multiple app windows to fill the screen.
The advantage of manually arranging apps is that you can adjust the size of different apps as per your need to utilize the screen. However, the problem is that the windows will be in the resized position whenever you open and you manually need to maximize the apps to bring back to normal view.
5. Third-party Tools to Split Screen in Windows 10
Aside from snap assist and built-in Windows 10 split screen options, there are third-party software available too. They may be free or paid depending on the build and features supported. They are essential for splitting your project, gaming window, CCTV cameras and browsers.
Proceed to split your desktop PC screen in Windows 10 using these programs depending on the complexity and productivity you need.
5.1. AltDrag
AltDrag is a free and simple screen split tool for Windows users. It works like snap assist but with added functionalities. You must disable snap assist before using AltDrag. You may find trouble moving elevated windows. That way you will need to elevate AltDrag to administrator privileges.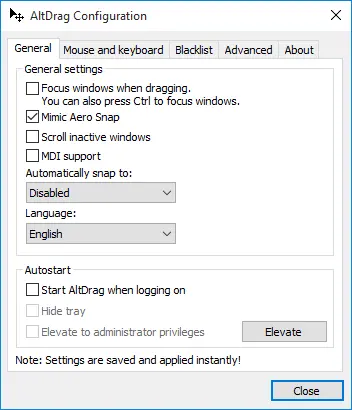 AltDrag allows automatic snapping and can be disabled anytime using the space key. Alt scrolling makes scrolling through other windows easy and adjusting the transparency of the windows. Using the shift key + scrolling mouse wheel, you can move your windows horizontally; a feature that lacks in similar software. Being an open source software, it allows developer users to modify for improvement.
5.2. Shutter Split Screen
Looking for a simple yet intuitive split screen software? Shutter Split Screen is available in free and pro versions with up to 82 user defined split-screen types. It supports multiple simultaneous screen connections ranging from desktop size to 8K Ultra HD. Just in case screen 1 does not support two or more windows, you can move to the right screen.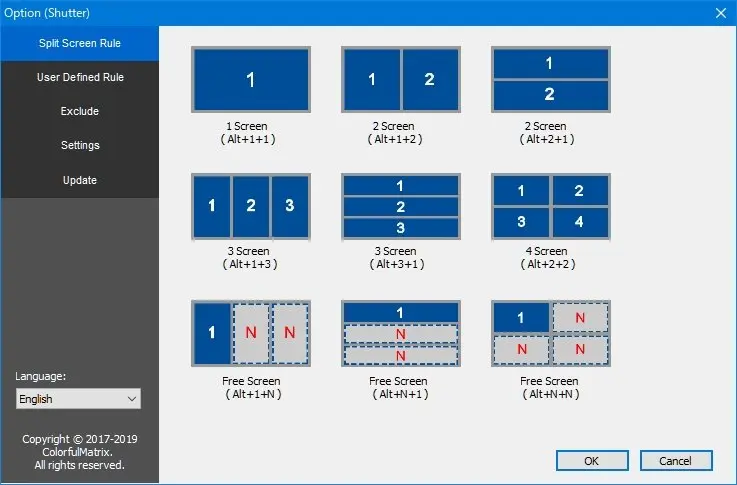 Setting up requires just a shortcut key to set up your screen and respective windows. When you need to hide or restore your windows, use Win+M or Win+Shift+M consecutively. In case you reinstall or use a different PC, you do not have to worry about your preset rules. There is a backup option to restore your settings. However, the free version may be limited from some of these features.
5.3. AquaSnap
Available for personal and professional use, AquaSnap allows you split multiple windows for one or more monitors. It looks like the Windows 10 snap assist but with advanced features to improve productivity.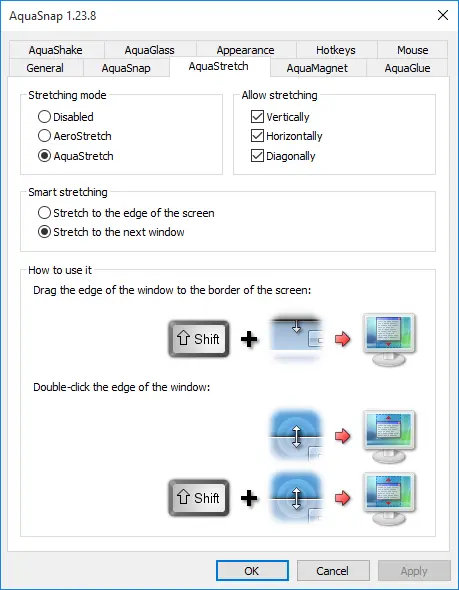 When resizing your side-by-side windows, press Ctrl key to resize them simultaneously. For optimum usability of the screen, it allows you stretch your windows vertically or horizontally by double clicking on the margin.
Additionally, you can keep small windows suspended over the rest for effective monitoring and performance. Set easy to remember keyboard hot keys to help you manage your windows easily. Despite its unique functionalities, its light weight, easy to install and available to use for Windows version 10 and 64-bit support.
5.4. WindowGrid
WindowGrid helps you set up your windows according to a dynamic grid as you need using the mouse. Moving a window, left click and right click the mouse simultaneously and drag to the desired position. Release the right click and move the cursor to the desired window position and size then release the left click.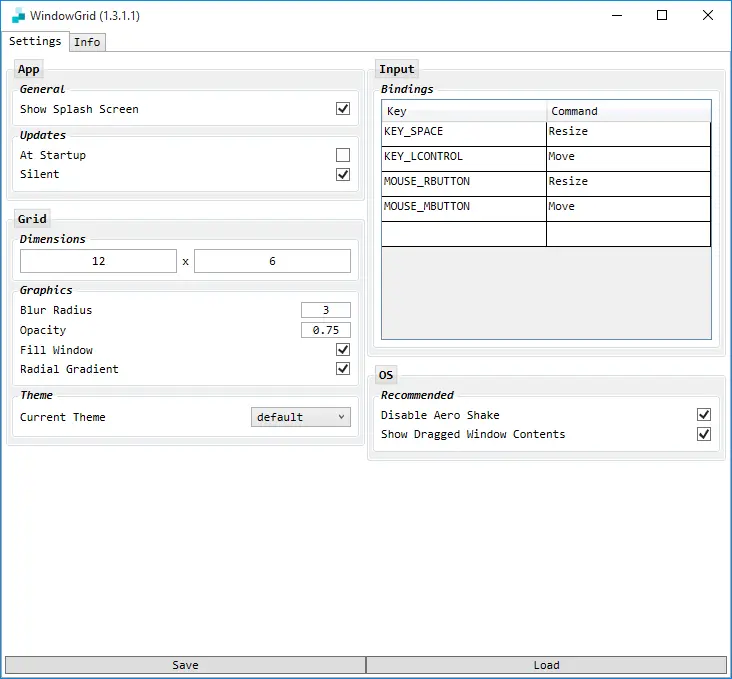 Unlike other split screen software, you can customize the size of the grid overlay, color, and opacity for respective windows. The software is portable and easy to use in whichever device you prefer. WindowGrid is suitable for Windows Vista to Windows 10 versions. With auto update, you receive new versions as they are rolled out.
5.5. MaxTo
Optimize your functionality fully using MaxTo software suitable for your virtual desktops in Windows 10 devices. You can set distinct profiles for each virtual desktop. Additionally, you can split your screen to multiple windows and drag them as you need.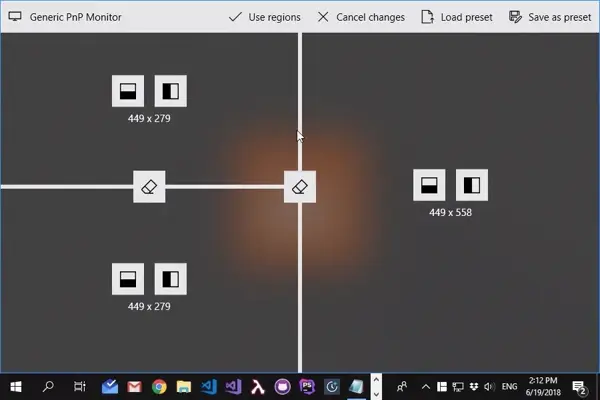 Preset your split screen and use hot keys to customize your monitor. A preview of your preset screen splits shows up before application. For maximum productivity and experience, use Ultra HD monitors. MaxTo is relatively affordable if you opt for a paid option that guarantees a better user experience. Note that MaxTo requires .NET Framework 4.7 or above for it to run.
Final Words
All listed screen-split software are suitable for Windows 10. You can use these features to make maximum use of your monitors. In addition, you can boost the productivity especially when you have bigger high-resolution monitor. If default Windows snap features are not sufficient, check out the third-party apps we have listed above. They only vary in features and cost as described. However, be sure to check for compatibility with your processor for a better performance.