Family Sharing is one of the useful features for adding all your family members under single organizer account in your family. This is useful to share purchases and subscriptions and control your children's payment method under your account. If you wonder how to setup Family Sharing in Apple iPhone or Mac, here is the step-by-step process for you. The entire setup works based on Apple ID and hence the devices do not matter. For example, father may use iPhone to organize while the kid maybe using an iPad and wife has a MacBook. Here I will explain with adding and removing an adult member in the family account.
Family Sharing with Apple Account
Apple allows to share the setup up to six family members (one organizer + five members). One of the persons in your family needs to invite other members to start the Family Sharing. In this case, the person who organizes the sharing is called "Organizer" and all others are members. The organizer's payment method will be used for purchasing made by all other family members.
For example, father in a family can organize the Family Sharing with kids and wife as members. By default, father will get notification for all purchases made by the member. However, father can also setup approval process for purchases from kids account if required. You can share the followings across six family members using the Family Sharing setup:
In addition, the organizer of the setup can use approval for purchases from members (called Ask to Buy), restrict Screen Time for kids, create Apple Cash Family account for kids and use Apple Card for Family.
1. Setup Family Sharing in iPhone
There are three steps involved in the entire process.
1.1. Sending Invite from Organizer's iPhone:
Open Settings and tap on your Apple ID showing on top.
On Apple ID details page, tap on "Family Sharing" option.
On the next page, tap on "Set up Your Family" button.
It is possible to use AirDrop, Messages or Mail to send the invitation. Tap on "Invite People" button to proceed further. If you want to setup a child account, tap "Create an Account for a Child" and follow the steps. As mentioned, here I will go ahead with inviting an adult family member.
You can use AirDrop option if organizer's and member's devices are nearby. Select AirDrop and tap on your family member's name to send the invitation.
Otherwise, you can use iMessage to send invitation. For that, tap on Messages app button which will open the app with invitation attached. Type your message and send the invite to your family member.
You will see a success message showing "Invitation Sent" and tap on "Done" button to finish the first step.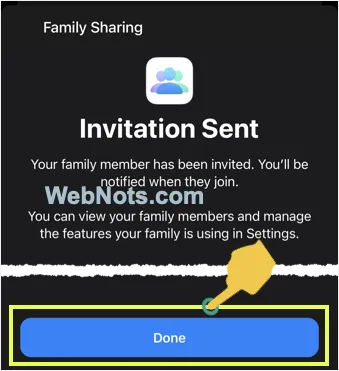 Note: It is also possible to send invitation through mail or by tapping on "Invite in Person" button. In these cases, you should enter the correct Apple email address of the family member to send the invite.
1.2. Accept Invite on Family Member's iPhone
Now that the organizer sent an invite, next step is to accept it from the member's iPhone.
If it was through AirDrop, tap on "Show Notification" option. If the invite was sent through Messages or Email, open it to view the details.
You will see the invitation shows the organizer's name and emails address mentioning that you are invited to join in a family. Tap on "Join Family" button to proceed further.
If you are already part of another Family Sharing setup, the device will show you that and tap on "Join New Family" button. This will remove you from the existing setup and add you as a member in the new family.
You will see a success message that "All Set" and you are part of the Family Sharing.
Tap "Done" to finish the setup or tap "Open Family Settings" to view your settings.
1.3. Confirming Family Sharing Setup
After accepting the invitation, both the member and organizer will see the "Family" option in the Settings app below their Apple ID.
Tap on that "Family" option to view organizer and member details in the Family Sharing setup. Below is how the member will view the details. The "Family Checklist" option allows you to setup emergency contact, location sharing, iCloud+ sharing and add a recovery contact person. You can use the recovery contact person for help if you forgot your account or iPhone password.
And below is how the organizer will view the Family Sharing details on his or her iPhone. As you can see, there are lot of additional items like Ask to Buy and Screen Time are available only in organizer's account.
Apple also will send emails to member and organizer when Family Sharing setup is finished.
2. Enable Family Sharing from Mac
Similar to iPhone, you can use the "Settings" app in Mac to enable Family Sharing. Since I have already setup the sharing in iPhone, it will just reflect in the Mac. Follow the below steps for setting up afresh on your Mac.
Go to "Apple menu > System Settings…: to open Settings app. If you are using old macOS, then you should open "System Preferences…" menu.
Click your Apple ID and select "Family Sharing" option.
Send the invite to a member using AirDrop, Messages or Mail.
After the member accepts your invitation, you will see a "Family" option showing below your Apple ID in Settings app. From there, you can manage the further setup like purchase and subscriptions sharing.
3. Enable Purchase and Subscriptions Sharing
Just setting up Family Sharing will not enable purchase or subscriptions sharing between the organizer and members. The organizer and members need to enable these settings on their accounts separately. If only a member or organizer wanted to share, then other persons do not need to enable the settings.
On your Mac or iPhone, open "Family" option showing in Settings app below your Apple ID.
Here, select "Purchase Sharing" or other option depending upon you are an organizer or member.
For Purchase Sharing, first the organizer needs to enable it as the payment method is from his or her account.
After that, members can go to "Family" section and enable "Purchase Sharing" from the Settings app.
Similarly, you can share subscriptions and iCloud+ across family members.
3. Stopping Family Sharing
Sometimes, you may want to stop the Family Sharing for changing Apple ID country or adding own payment method to member's account. Either the member can quit on his/her own or the organizer can remove the member from his setup. If you are part of member in Family Sharing setup, be ready with your own payment method before quitting from the setup.
3.1. Stop Family Sharing from iPhone
Open "Settings" app, go to "Family" section and tap your name from the list.
On the next screen, tap on "Stop Using Family Sharing" button.
Confirm the pop-up again and you will instantly receive a notification mentioning that the organizer stopped sharing the purchases and payment methods with you.
3.2. Stop Family Sharing from Mac
Go to "Apple logo menu" and select "System Settings…".
Click "Family" option from left sidebar to view the organizer and other member details in the setup.
Then select your contact name showing as "Me" in the bracket.
On the next page, click "Stop Using Family Sharing" button.
Confirm the pop-up by clicking on "Stop Using Family Sharing" button again.
You will see an instant notification that the organizer stopped family sharing with you (though you have stopped the sharing).
This change will be applied to all your devices logged in with the same Apple account.
Final Words
Hope the above steps help you to setup Family Sharing in your family. After setting up Family Sharing in iPhone or Mac, purchase/subscriptions sharing can be enabled by organizer, member or by both depending upon your need. Anytime, the member can quit from the setup or the organizer can remove the member from Family Sharing.