Domain Name System or DNS helps to map the numeric IP address to a human memorable website address. With this mapping, you can easily remember the domain names like facebook.com or cnn.com instead of their numeric equivalents. By default, your operating system (both desktop and mobile) will offer settings to configure the DNS servers. Recently, Google introduced a new feature to configure the DNS in Google Chrome browser. In this article, we will explain how to setup DNS over HTTPS in Google Chrome.
Related: How to change DNS setup in Windows computers?
Default DNS Setup
When you open internet connection, your Internet Service Provider will offer primary and secondary DNS server IP addresses. Windows, Mac, Android, iOS and all other operating systems will use your ISP's DNS setup by default. The default DNS from your Internet Service Provider (ISP) can have lots of limitations.
Corrupted or outdated DNS servers will impact the time taken to find the correct IP address.
You may face problems like delay in page loading, timeout errors and resolving host issues.
In most cases, your ISP will use few DNS servers for all their customers and it is not possible to get a private DNS servers for your need.
You do not want your ISP to track your network activities by bypassing their setup.
If you want, you need to manually configure DNS for each network to change to different servers like Google Public DNS.
How to View DNS Setup?
Though you can follow your operating system's setting page the easy way is to launch Google Chrome and go to chrome://settings/system command URL.
Click on "Open your computer's proxy settings" link to open the network settings for your computer. Here you can change the setup under DNS section. For example, below is the example of macOS.
DNS Over HTTPS (DoH)
As you can see in the above screenshot, the internet connection do not use the ISP's DNS. Instead, it uses the private DNS offered by the ExpressVPN app. However, this is a premium VPN service (in most cases) you have to purchase on monthly subscription. Alternate way to avoid ISP's DNS setup is to use your own setup with Google Public DNS in the network. However, it does not resolve two important problems:
Entire network connection will follow the custom DNS which may cause problem. You may need to have local network connection for certain websites and desktop apps to work. For example, Baidu or WeChat desktop access will load slowly (or not work at all) if you live in China and use Google's DNS.
Your network administer or ISP can still track your browsing activities from the DNS request and response headers.
Earlier, Google Chrome simply follows the DNS settings of your device. With the latest update, you can use DNS over HTTPS (DoH) to use secured HTTPS protocol. This will help to hide the request / response header information and protect your privacy from DNS leak and other issues. In addition, you can use this setup in Google Chrome without affecting the computer's network. For example, you can still use ISP setup in Firefox or Edge or Safari and continue to access local websites while using Chrome for secured connection.
How to Setup DNS over HTTPS in Google Chrome?
Follow the below instructions in Windows or Mac.
Launch Google Chrome and open chrome://settings/security URL. Alternatively, you can go to "Settings > Privacy and security > Security" section.
Scroll down to "Advanced" section.
Enable the slider for "Use secure DNS" option. By default, Chrome enables this option and uses the current service provide DNS.
However, your ISP DNS may not be secure all the time, so you can change the setup by choosing "With" option.
Click on the dropdown and choose your service provider from the list like Google Public DNS.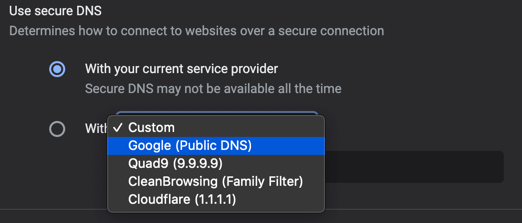 Chrome offers custom DNS servers from Google (Public DNS), Quad9 (9.9.9.9), CleanBrowsing (Family Filter) and Cloudflare (1.1.1.1). After selecting from the list, you can see a privacy link that appears below. Click on the link to check more details of the data collection and usage by the provider.
If you want to choose any other DNS, select "Custom" option and type the URL of custom DNS from the provider.
That's all. From now onwards, your browsing through Google Chrome will use secure DNS over HTTPS and use one of the selected public DNS servers.
Note: We do not see this option is available in iOS and Android Chrome apps. Therefore, you may still need to manually change the device network setup to change DNS.