It is common among people to forward your emails or copy email's content and send to others. When you send confidential emails to multiple recipients, it is important to take precaution for preventing misusing of your emails. For example, you may send a preliminary quotation or invoice to a client which you do not want to be forwarded or printed. In such cases, did you ever wonder how to prevent email forwarding, printing and copying of your emails? Microsoft offers a solution to this problem in Outlook by sending encrypted emails. Here I will explain how you can do that from Outlook online editor with Microsoft 365 subscription.
Encrypted Emails in Outlook App
To encrypt an email with Outlook app, you need to have a valid digital ID and certificate installed on your computer. Otherwise, you will see an error like below to get a valid ID when clicking on the "Send" button.
If you have a digital ID, click the small arrow to expand the "Tags" group when you compose an email. Alternatively, go to "File" menu and click "Properties" button. This will open "Properties" dialog and click on "Security Settings…" button.
On the "Security Properties" pop-up, enable "Encrypt message contents and attachments" box. Click "OK" and then "Close" to close all open dialog boxes.
You can send the email if you have digital certificate installed, otherwise, you will get an error as shown above.
Sending Encrypted Emails from Outlook Online Editor without Digital ID
Good thing is that you can send an encrypted email in Outlook without digital certificate using Outlook online editor. However, you should have a valid Microsoft 365 subscription to use this feature.
When you are in Outlook editor, click "New mail" button.
Go to "Options" tab and click the "Encrypt" icon from the ribbon.
Then select "Do Not Forward" option. If you want to only encrypt the content, then select "Encrypt" option.
Outlook will show a notification that "This message will be encrypted and can't be forwarded" as shown below.
Type your email content, fill the "To" addresses and click "Send" button.
Unlike Outlook app, you will NOT see any requirement for digital ID and your email will be sent to all recipients successfully. Microsoft will apply their own encryption and send the protected emails.
Reading Encrypted Outlook Emails in Gmail
As you see in the above screen, I have sent an encrypted do not forward email from Outlook account to my Gmail account. You can send encrypted emails to Gmail, Yahoo! or to any other email account. Below is a process to be followed for reading encrypted emails and here I will explain with Gmail.
Open the received encrypted email in your Gmail inbox. You will simply see the subject without email content and a notification mentioning "Message Encryption by Microsoft Office 365".
Click on "Read the message" button.
This will open Outlook website and ask you to authenticate using Google account or get a custom passcode. Click on the "Get a passcode" button if you do not want to use Gmail to authenticate.
Microsoft will send an eight-digit passcode to your Gmail account.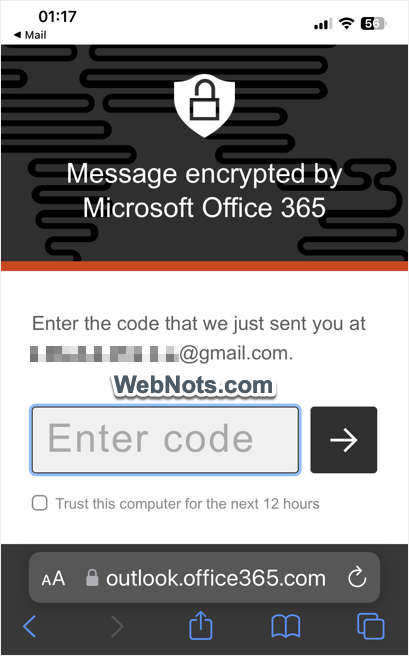 Check your Gmail inbox to copy the passcode and enter it in the webpage.
Now, you can read the content of encrypted email sent from Outlook.
As you can see, the message is clearly marked with "Do Not Forward: Recipients can't forward, print, or copy content". All what you can do is to simply read the email content and then sign out to close the webpage.
Wrap Up
Most corporate companies offer digital certificate for employees to make it easier for sending and receiving emails using Outlook desktop app. However, you can also send encrypted emails without digital certificate from Outlook using Microsoft 365 online editor. Microsoft will apply their own encryption and the recipients need to authenticate with passcode and check the content online. This way you can avoid forwarding, printing and copying of your email content.