Google Chrome browser offers a custom in-built password manager. You can use this Google Password Manager as a section in Chrome browser or install it as an app. By default, viewing and editing password is protected with your system admin password. However, Chrome will autofill username and password when you visit the login page of a site for which you have a stored password. This will be a problem when using shared computer that any other user can simply login as Chrome will not prompt for admin password when logging into a site. Finally, Google fixed this security gap and now allows to protect Chrome auto filling passwords with a screen lock.
Related: How to lock Chrome incognito tabs in iPhone app?
Current Login Behavior
Open a login page which has a stored password in Chrome. You will see Chrome automatically filled both username and password for you. When you have multiple usernames for the same page, your previously used credentials are filled automatically.
Enable Screen Lock in Chrome
There are two ways to enable screen lock in Chrome to prevent auto filling of passwords in login forms. If the feature is not available in your browser (as explained below), make sure to update Chrome by going to "Chrome menu > Help > About Google Chrome" section.
1. From Chrome Settings Page
Open Chrome and click the three vertical dots icon showing on top right corner.
Select "Google Password Manager" menu to go to password manager section.
Navigate to "Settings" menu from left sidebar in password manager.
Turn on "Use your screen lock when filling passwords" option.
Confirm the action with your admin password, fingerprint or Touch ID.
2. By Visiting a Login Page
If you did not enable screen lock in settings page, Chrome sometimes will suggest enabling it when you open login pages.
Open a login page and you will see a suggestion in Chrome address bar. Alternatively, click on the password key icon in the address bar to see the suggestion. When the pop-up appears, click the "Continue" button.
Confirm with your admin password or biometric setup. It shows Touch ID as I use Touch ID in Mac for unlocking the screen.
Chrome will show a confirmation message that you are using screen lock and close the pop-up.
Related: How to lock Chrome browser with password to prevent unauthorized access.
How Screen Lock Works in Chrome?
As you can see, Screen lock is nothing but your system admin's password or biometric protection like fingerprint / Touch ID. When screen lock is enabled, Chrome will NOT automatically fill password in the login form.
You can select the stored password manually (by clicking on username box and selecting an account) but need to unlock the screen for logging in.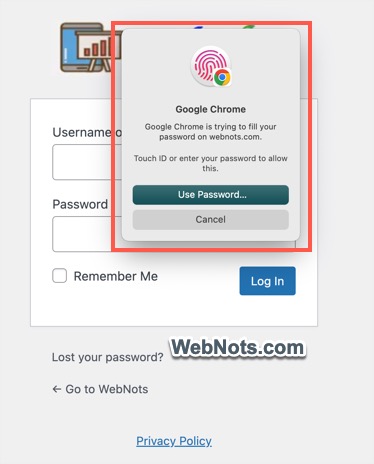 Once the screen is unlocked, Chrome will autofill password for the selected username.
This means only administrators having system admin password can use autofill from Chrome password manager. Other users sharing your computer can't sneak into your personal accounts in Facebook or Twitter without admin password.
Final Words
Remember, viewing and editing passwords still need admin password like before. Screen lock is an additional layer to protect auto-filling usernames / passwords from Google password manager in Chrome. With this feature, you do not any third-party password manager apps and use Chrome even on a shared computer.