Installing apps is one of the daily routines for every smartphone user. Using app is a convenient way whether you want to read news, play games or check your emails. You can get instant notifications from these apps to keep you updated on your tasks. In this article, we will explain installing apps from app stores and manually on your Android device.
Install Apps in Android
There are multiple ways to install apps on your Android phone.
Install apps from Official Google Play store
Use your PC to install app from Google Play store
Find and install apps from other app stores
Manually installing APK files
Generally, the apps from the stores are trustworthy as they need to pass basic security checks for selling to customers. Installing apps from APK is a risk and can be a potential security threat for your phone.
1. Install Apps from Google Play
Google Play store is a marketplace where developers sell various apps and games for Android smartphones. You can access the store using Google Play app which is preinstalled on most Android phone models. Installing apps from Google Play is the safest and fastest way to download apps on your phone. Open Google play on your Android phone and search for your desired app. Although most apps on Google Play are safe to install, it is still advised to avoid installing potentially suspicious apps.
Before installing the app, check the developer of the app. For example, to install WhatsApp, check the developer, which is usually "WhatsApp LLC," which means it is an authentic app. If you see any suspicious name or name of a person, avoid installing it until you are sure about its safety and authenticity.
Check "Data safety" section to understand the data collected by the developer and how it is being used. Beware of the apps using cloud storage like contacts management apps that need to upload your entire contact list on third-party servers.  
Though many apps are available for free, they will either show advertisements or offer in-app purchases. Find the in-app purchase details to understand the pricing.
Also, check the reviews of the app and read the comments before installing.
Once you are satisfied with the app, press the "Install" button to start downloading the app on your phone. After the installation is completed, you can find the app from the home screen or in installed apps section and run it.
Most of the apps need permissions to access your phone's features like microphone and camera. Make sure to understand what type of access you are allowing and whether they are needed for the app.
2. Install Apps from Desktop
You can also install apps on your Android phone from Google Play using your computer.
Open Google Play store in your computer browser like Edge or Chrome.
Once the page is loaded in your browser window, ensure you are signed in with the same Google account set up on your Android smartphone.
Search the app and click the install button.
Google Play will show your Android phone and tell if your phone is compatible with that app.
Follow the commands, and finally, it will show a message that your app will be installed on your device in a moment.
Check your phone and find the app in the installed apps.
It is also possible to lock apps with password or pattern in Android. Learn more on how to password protect apps to protect access to private apps on your phone.
3. Installing Apps from Other Stores
Google Play is not the only marketplace to install apps on Android device. Various other authentic app stores are also available and have a handsome variety of dedicated apps. For example, Amazon offers a dedicated Appstore for Android which you install and use like Google Play app. You can download games and use Amazon Coins to save money with in-app purchases.
There are also app stores available from mobile manufacturers. For example, the Android phones in China will have custom app store instead of Google Play as Google services are blocked in China.
4. Manually Install Apps in Android Using APK File
Though app stores are the safer source, there are some situations when you cannot install apps from app stores.
For example, you want to install an old version of an app which can't be downloaded from the app store.
Developers need to pay commission to Google for publishing apps in Google Play store. To avoid this some developers may only offer the app as a file and not through app store.
Your favorite app is not available in your country's app store and you want to install it from third-party sites. This is the case with most VPN apps as legal restrictions may not allow developers to sell their apps on your country.
In all such situations, you can download the source APK file of the app and save it to your phone's memory. Android Package or APK file (comes with .apk file extension) is an Android installation file similar to .exe file on Windows PC. After downloading the .apk file, you can run the file to install the app on your Android phone.
Enable Manual Installation of Apps in Android
Since you need to download APK files from third-party websites, they are not going through the security checks of Google Play store. So, make sure the APK file comes from a trustworthy source to avoid virus and malware. By default, Android will not allow installing apps from APK files manually to protect your phone's security. You have to enable this functionality allowing app installation from unknown source.
When you run an APK file, Android will tell you that your phone is currently not allowed to install unknown apps for security reasons.
Tap on the "Settings" options and enable unknown installation by the app running the APK file. This will be most probably the "Files" from Google.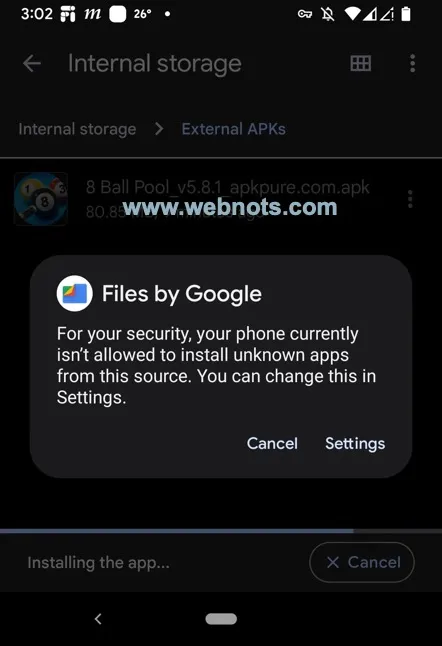 Alternatively, you can go to "Settings > Apps > Special app access > Install unknown apps". Enable "Allow from this source" option and search for the app running your APK file like "Files". Once the app appears on the screen, touch its name, and allow the installation of unknown apps from that app.