Arrow symbols are very useful to indicate the directions or the flow in your document. Mac keyboard does not have any default keys to insert the arrow marks. However, you can use keyboard shortcuts, emoji keyboard and other options to insert different arrow symbols in Mac. This works on all standard Mac apps like Pages, Keynote and Numbers and also on third-party apps like Microsoft Word and PowerPoint for Mac.
Arrow Symbols
Though there are hundreds of arrows symbols available, we will focus on the four primary arrows in this article – left, right, up and down arrows.
1. Using Emoji Keyboard
Good thing is that most arrow symbols are available as part of Unicode emoji. In addition, there are also arrows in different styles and directions. So, you can insert them easily using the emoji keyboard in Mac called Character Viewer.
Go to "Edit > Emoji & Symbols…" menu from any app. Alternatively, press "Command + Control + Space" shortcut keys.
This will open Character Viewer app and type "arrow" in the search box.
Double click on any arrow symbol you like to insert it on your document.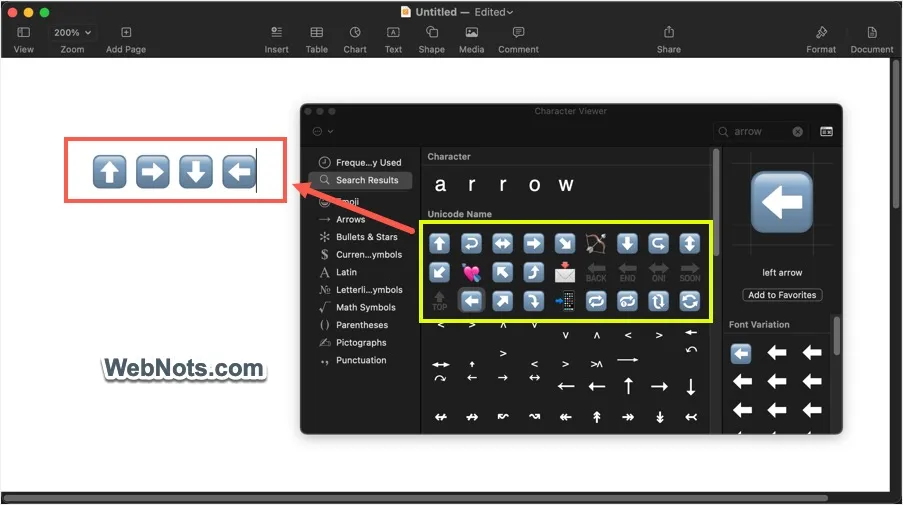 You can also go to "Arrows" section from the left sidebar and find huge list of items available under direction wise categories.
Note that the emoji symbols will appear as solid key caps while other symbols will appear as a line diagram.
2. Using Keyboard Shortcut
In our earlier article, we have provided alt/option code shortcuts for more than 300 arrow symbols. You can use the following table to insert left, right, up and down arrows in Mac.
Add Unicode Hex Input and change your keyboard layout to use Unicode characters.
Press and hold the option key and then type the code one by one till the symbol appears.
After inserting the symbol, you can toggle the input source back to ABC English or your language.
| Symbol | Name | Option Code |
| --- | --- | --- |
| ← | Left Arrow | Option + 2190 |
| → | Right Arrow | Option + 2192 |
| ↑ | Up Arrow | Option + 2191 |
| ↓ | Down Arrow | Option + 2193 |
For example, Option + 2193 will make downwards arrow symbol like ↓.
3. Insert Arrows in Mac Office Apps with AutoCorrect
If you are using Office apps in Mac, then it is super easy to insert arrows using AutoCorrect option.
Open a Word document, PowerPoint presentation or an Excel spreadsheet.
Type two hyphens and a greater than symbol.
You will see the three characters will combine together and create left arrow symbol.
Similarly, you can use less than and two hyphens to type right arrow.
By default, there are not AutoCorrect options available for up and down arrows. However, you can add them manually by following the below instructions:
When you are in Word, Excel or PowerPoint, press "Command + Comma" keys. Or go to "Preferences…" option from "Word / PowerPoint / Excel" menu and select "AutoCorrect" option. here we will explain with Word app and the steps are same in PowerPoint and Excel.
Go to "AutoCorrect" tab and insert your custom conversion in "Replace" and "With" boxes. For example, you can insert a pipeline and greater than |> in "Replace" box and then copy paste the up arrow in the "With" box.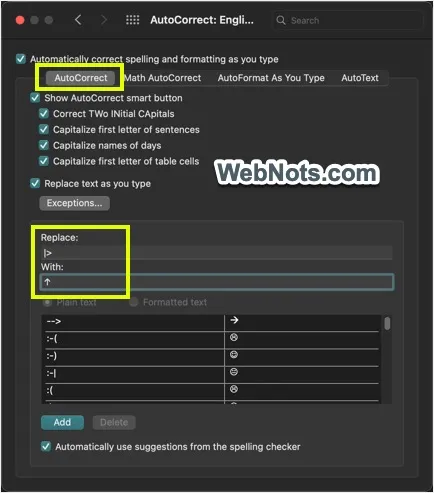 Click "Add" button and close the open dialog boxes. Henceforth, whenever you type |>, Word will automatically convert them to an up arrow ↑ . Similarly, you can add |< for down arrow in the list.
Note: If you do not want the AutoCorrect, simply press "Command + Z" to undo and the originally pressed characters will appear again.
4. Insert Arrows in iWork Apps Like Pages, Keynote and Numbers
Mac iWork apps like Pages, Keynote and Numbers have additional option to insert arrow shapes.
Open the file and go to "Insert > Shape" menu.
Select "Arrow" option to insert a right arrow shape with black color.
You can resize the shape, customize the color and other styles.
To change the direction of right arrow to left, up or down, select the shape and go to "Arrange" tab in the "Format" sidebar.
In the "Rotate" section, use 90, 180 and 270 degree angles for changing the shape as up, left and down arrows respectively. You can also use the flip options to change the directions quickly.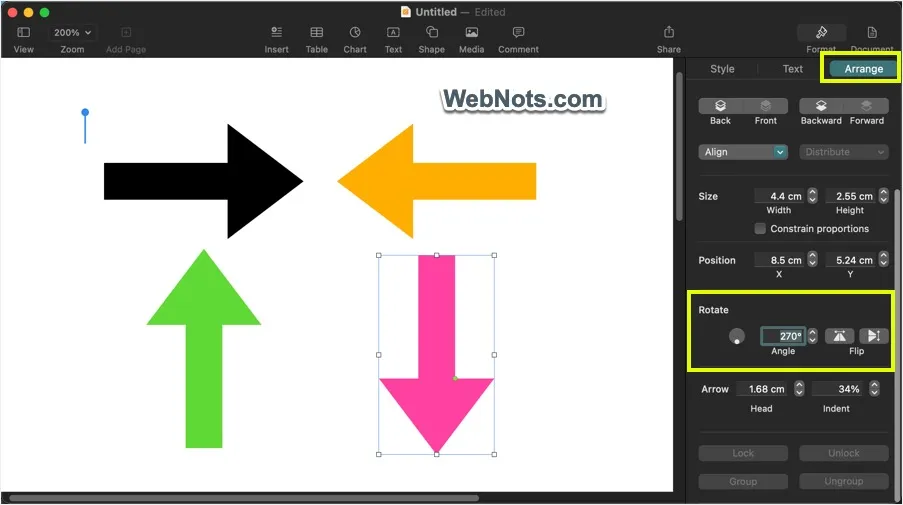 Instead of shapes, you can use line arrow by going to "Insert > Line" and select "Line with Arrowhead" option.
5. Arrow Symbols in HTML Documents
Left, right, up and down arrows symbols have their own HTML entity names as given in the below table. You can use these entity names the insert them in HTML files.
| Arrow | HTML Entity |
| --- | --- |
| Left | ← |
| Right | → |
| Up | ↑ |
| Down | ↓ |