Keycaps are symbols with a text or number on a small key shape. Keycap emoji are Unicode emoji symbols represented by a square key with a numerical number on it. You can use these keycap numbers for various purposes like creating a list in Word or PowerPoint document. In this article, we will explain different ways to insert keycap emoji symbols in your documents.
Keycap Emoji Symbols
There are 12 emoji symbols part of "Symbols > Keycap" category in Unicode. Below is a list of keycap emoji as per the latest Unicode version:
| Keycap Numbers | Symbol Name |
| --- | --- |
| 0️⃣ | Keycap: 0 |
| 1️⃣ | Keycap: 1 |
| 2️⃣ | Keycap: 2 |
| 3️⃣ | Keycap: 3 |
| 4️⃣ | Keycap: 4 |
| 5️⃣ | Keycap: 5 |
| 6️⃣ | Keycap: 6 |
| 7️⃣ | Keycap: 7 |
| 8️⃣ | Keycap: 8 |
| 9️⃣ | Keycap: 9 |
| 🔟 | Keycap: 10 |
| #️⃣ | Keycap: # |
| *️⃣ | Keycap: * |
Insert Keycap Emoji in Windows
Microsoft introduced an emoji keyboard pop-up in Windows 10. This appears as a small pop-up and you can find and insert your favorite emoji with this tool. The latest Windows 11 version has an updated view of emoji keyboard showing GIF and thousands of other symbols.
When you are in Word, PowerPoint or any other application, press "Win + Dot" keys to open emoji keyboard panel.
Type "keycap" in the search box to filter relevant symbols.
Press the small arrow to expand your results to get the complete list of the all keycap emoji symbols.
Click on the emoji to insert in your document.
After inserting click the close button in the emoji panel to close and continue your work.
Good part is that it will work on all applications as emoji panel is an independent app in Windows. If you are frequently using these symbols, you can copy and keep them all in the clipboard history and insert when needed by pressing "Win + V" keys. However, it will be similar to using emoji panel, as pressing "Win + V" keys will open the same emoji panel pop-up in Windows 11.
Insert Keycap Emoji in macOS
Similar to Windows, Mac users can easily insert these symbols using Character Viewer app. Since, this is an independent app in macOS, it will work on all documents like Pages including Microsoft Word for Mac.
When you are in the document, press "Command + Control + Space" shortcut keys.
Alternatively, you can go to "Edit > Emoji & Symbols" menu.
This will open Character Viewer app as a pop-up on your document.
Use the search box to filter keycap symbols.
Double click on the keycap emoji to insert on your document.
As you can see, Mac has two sets of keycap emoji symbols. One is with solid colors and other looks like line diagram. These both sets have same Unicode codepoint and the line diagrams will work only in some applications like Microsoft Word. However, you can use both types in default Apple apps like Pages and Keynote.
Insert Keycap Emoji in Android and iPhone
Since these symbols are part of emoji, you can easily insert them in your mobile apps as well. iPhone has an in-built emoji keyboard and for Android you can install Gboard or any other emoji keyboard apps.
When you are in the document, Messages or chat window of any app, tap on the smiley icon in Android. On iPhone, you have to first toggle the keyboard by tapping on the globe key and then tap on smiley key.
This will show you the complete list of Unicode emoji symbols.
Search for keycap and insert keycap emoji symbols.
How to Use These Keycap Emoji?
Generally, on smartphones you can use for fun and send numbers in chat or sharing content in social platforms. However, you can use these symbols like a pro in PowerPoint or Keynote presentations for creating listed items. Below is how it will look on PowerPoint and you can also create similar content in Word for creating step-by-step instructions.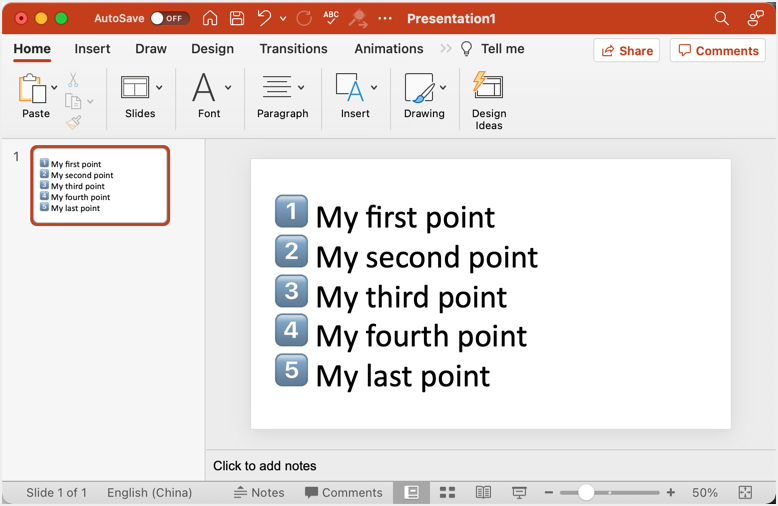 You can also use encircled numbers instead of keycap emoji for creating beautiful content.
Note: Keycap 10 is also part of "Miscellaneous Symbols and Pictographs" in Unicode. This symbol has a codepoint of U+1F51F. You can type this symbol in Windows computer using alt key shortcuts like Alt + 1281287 or 1F51F + Alt X. In addition, keycap symbols will show as line diagrams instead of solid symbols in some applications.