Instagram is the most popular social media platform for mobile users. You can instantly share pictures and short videos to your followers and follow their activities to keep you busy. Inserting emoji in your Instagram activities will be more fun as well as speed up your posting instead of typing lengthy text. In this article, we will explain the possible ways of inserting emoji in Instagram.
Instagram is a Mobile App
As you may aware, Instagram offers mobile apps for Android and iOS platforms. You can login to your Instagram account through a browser on both mobile and desktop devices. However, Instagram does not allow you to post from desktop and you only need to publish content using the mobile apps. Due to this restriction, we will explain how to insert emoji in Instagram using Android and iPhone devices. You can also post from Instagram website with emoji caption similarly as explained below.
Emoji Keyboard on Android and iOS
Instagram uses the in-built emoji keyboard on your smartphone. Apple offers an in-built emoji keyboard that you can add to your keyboard layout. However, on Android devices, you may need to use Gboard extension from Google or any other keyboard extensions that offer emoji. Since the Instagram mobile app interface is same in Android and iPhone, you can follow the same instructions on both Android, iPhone and iPad.
Related: How to delete Instagram account permanently or disable temporarily?
Inserting Emoji in Instagram
There are multiple places you can insert emoji in Instagram:
Caption of your new picture or video post
When commenting on other's activities
In your profile bio section to attract viewers
Add emoji stickers in stories
Let us explain all these options in detail.
Inserting Emoji in Instagram Posts
Follow the below instructions to insert emoji in Instagram posts:
When you are in Instagram app, click on the + icon to create a new post.
After selecting a picture or video, tap on the place where it shows "Write a caption".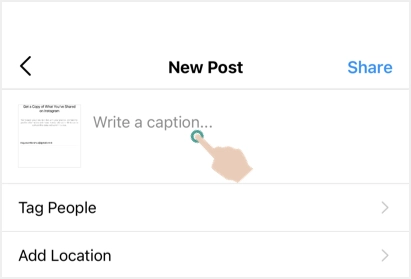 This will open the default keyboard on your phone and tap on the emoji icon that is available next to the space key.
Alternatively, tap on the globe icon and choose "Emoji" as your keyboard option.
Now, you will see all available emoji as a list. Tap on your favorite emoji to insert as a caption for your Instagram post.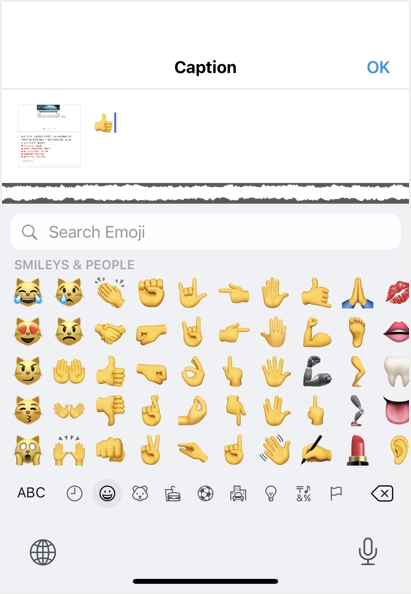 If you can't find the emoji from the list, type the emoji name in the search box to filter relevant symbols. For example, type "think" to find the thinking face emoji symbol easily.
You can insert multiple emoji symbols in the caption text box.
Tap on "OK" and then "Share" to share the post with emoji to your followers.
Inserting Emoji in Instagram Profile
You can insert emoji in your profile bio section with short text to make it appealing.
Tap on profile icon on the bottom right corner.
When you are on your profile page, tap on "Edit Profile" button.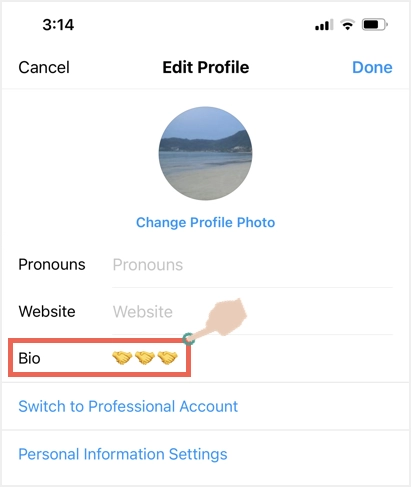 The bio will show below your name in the app that will be appealing to your followers when using proper emoji.
You can anytime change the emoji to update your bio section.
Inserting Emoji When Commenting
Almost 90% of comments in Instagram contains an emoji symbol. You can also insert an emoji instead of typing long text. A simple heart emoji convey your message to the person that you love that post.
Tap on the comment icon when you are viewing a post.
Instagram will show the emoji suggestions on top of the keyboard.
You can quickly tap on one of the available emoji from the list and post your comment.
If you do not like any of the suggested emoji, tap on the emoji keyboard to insert your favorite emoji as explained above.
Insert Emoji Stickers in Story
Instagram only allows you to insert emoji stickers when creating a story.
Click on the + icon and create a new story.
After selecting your pictures, swipe up to view the available emoji stickers.
Tap on any sticker to insert on your story.
Top Emoji Symbols for Instagram
Emoji keyboard on your phone will show you the list of recently or frequently used emoji symbols. You can choose from this list instead of searching or checking in the big list. In addition, emoji in the list are grouped and categorized which you can access easily by tapping on the category showing at the bottom of the emoji list.
Here are the available emoji categories for you in the emoji keyboard:
Smileys & people
Animals & nature
Food & drink
Activity
Travel & places
Objects
Flags
For example, you can tap on "Flags" category when you want to quickly insert a flag emoji of any country. Use the backspace button to delete you emoji or tap on ABC to switch the keyboard to default layout.
Popular Emoji Comments for Instagram
If you really want to showcase your emoji typing skill, try out the followings in Instagram comments to surprise your friends.
| Comment in Words | Emoji Comment |
| --- | --- |
| Go to hell | 😈🔥⬅️ |
| Between rock and a hard space | 🪨😔🪨 |
| Read it and weep | 👀📕😭 |
| That was cold | 🥶❄️ |
| Your are in a doghouse | 🐶🏠 |
| No time for your B.S. | 🚫⏰🐂💩 |
| Screw you | 🪛😬 |
| Get out of here | 🚪🏃 |
| Not my cup of tea | ☕️🙅 |
| Going for lunch / dinner | 🍽🚶 |
| You are in deep shit | 🏊💩 |
Note: You can search photos using emoji hashtag in Instagram. For example, you can explore all posts with the pizza hashtag.