Gmail is the most widely used email service from the search engine giant Google. Did you ever receive email in Gmail with attractive emoji in the subject? It is a fun to send emoji and emoticons in Gmail instead of typing long and boring text message. In this article, we will explain how to insert emoji in Gmail subject and message body in smartphone apps and desktop web interface.
Related: How to insert emoji in Facebook, Twitter and Instagram.
Emoji in Gmail
Unlike Outlook app and client which uses the character encoding of the device, Gmail has its own style for emoji. Therefore, the default emoji in Gmail will have different style and look. However, Gmail has different options for mobile apps and desktop interface. Below is how an email with emoji will look like in Gmail mobile app.
Insert Emoji in Gmail Mobile App
Good thing is that Gmail does not have a separate emoji in mobile apps and allows to use the operating system's option. On iPhones you can use the default emoji keyboard and on Android phones you can use emoji keyboard extension apps like Gboard from Google.
Launch your Gmail app and tap on compose button to create a new message. Alternatively, you can also reply to a mail you have received.
Tap on the emoji icon on your keyboard to view all the available emoji symbols.
You can tap on subject line or inside the message body and tap an emoji to insert.
This will insert the selected emoji in the subject line or inside the message body.
If the emoji has a skin tone, you will see a pop-up when tapping an emoji showing a list with different skin tones. You can select the one you like to insert.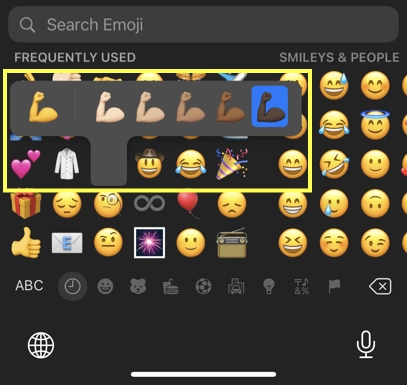 Use the search box or navigate through the available category to find your favorite emoji symbol. There will also be a list at the first showing all frequently used or favorite symbols. Here is a list of categories available in smartphone emoji keyboard – Frequently used or favorites, Smileys and people, Animals and nature, Food and drink, Activity, Travel and places, Objects, Symbols and Flags.
Anytime switch back to regular keyboard and continue typing your text message.
If you have enabled text replacement or suggestions, you will get automated emoji suggestions when typing the keyword. For example, your smartphone (both Android and iPhone) will show you the heart emoji when typing heart or love.
Insert Emoji in Gmail Windows and Mac Desktop Interface
Unlike mobile app, Gmail has a dedicated list of emoticons for desktop interface.
Open Gmail on Chrome or on your favorite browser.
Compose a new email or reply to an email you have received.
Click on the emoticons icon to open a sliding pop-up. This will show a list of in-built emoticons for Gmail. Alternatively, press "Control + Shift + 2" in Windows or "Command + Shift + 2" shortcut keys in Mac to open the emoji list.
You will see the list of emoji to quickly pick up the symbol from previously used emoji.
Alternatively, you can use the search box to find your favorite symbols and insert in the email message body.
You can also select the symbol you like by browsing through the available categories. Gmail emoticons has the following categories – Face Emoticons, Object Emoticons, Nature Emoticons, Transportations Emoticons and Symbol Emoticons.
After inserting an emoji, click on the close icon on the emoji pop-up to close it and continue typing your message.
Note: In Windows, you can use alt code shortcuts to insert emoji in Gmail if you have a numeric pad on your keyboard. Windows also has an independent Character Map app to insert thousands of Unicode symbols.
Limitations with Desktop Interface
Whether you use Windows or Mac, Gmail has some limitations for inserting emoji in desktop interface.
There are very less number of emoji in the in-built emoticons list. Due to this reason, you may not find many popular emoji that you like to insert. For example, there are hardly 10 country flag emoji are available while Unicode has more than 200 country flag emoji symbols.  
You can't insert emoji in the subject line using in-built Gmail emoticons. Though you place the cursor in the subject like and insert an emoji, it will automatically go to the message section.
The display will be completely different compared to standard Unicode emoji.
Fortunately, you can use emoji keyboard from Windows and Mac operating systems to find thousands of emoji symbols including the ones with skin tones.
Using Emoji Keyboard in Windows
Windows 10 and later versions of Windows OS has an in-built emoji keyboard. This is an independent app that you can use to insert thousands of emoji and other Unicode symbols in any applications. Good part is here is that you can insert emoji in Gmail subject line using this emoji keyboard.
Place the cursor in subject line or message where you want to insert an emoji.
Press "Win + ;" or "Win + ." keyboard shortcut to open the emoji keyboard.
Continue to type the name of your emoji to filter the relevant symbols from the list.
When you find the emoji, click on it to insert in Gmail.  
Alternatively, you can navigate through various categories in the emoji keyboard (which is similar to smartphone emoji keyboard) and find relevant symbols.
Insert Emoji in Gmail in Mac
Similar to Windows, you can use emoji keyboard app in Mac. Again, this is the only way to insert emoji in Gmail subject line if you are using Mac.
Place the cursor in subject or email body.
Go to "Edit > Emoji & Symbols" menu. This is a default menu item in all Mac applications. Hence, this will work in Chrome, Safari, Firefox or any other browser you use for composing your email.
Alternatively, press "Command + Control + Shift" keyboard shortcuts to open emoji keyboard. The emoji keyboard in Mac is called Character Viewer app which contains thousands of Unicode symbols.
Click on the "Emoji" category and navigate through the sub-category to find the symbol. Otherwise, use the search box to filter relevant emoji symbols.
Once you find your favorite symbol, double click on it to insert in the email's subject or body.
Inserting Emoji in Gmail Signature and Vacation Responder
It is also a good idea to insert an emoji in your email signature and use when sending email to your friends. In this way, you can save time in searching the symbol every time. Go to your Gmail settings and create or edit your signature. You need to use the operating systems emoji keyboard to insert the symbol here.
Similar to signatures, you can also insert emoji in your auto vacation responder emails. Again, you need to use operating system's emoji keyboard for this purpose.
Emoji Display in Gmail
As mentioned, Gmail has its own character encoding and shows the in-built emoticons with different style. Therefore, the emoji symbols you insert with Windows or Mac emoji keyboard will look different than the Gmail's default emoticons.