Google Chrome is the popular browser; however, it is one of the apps that consumes high battery power, RAM and CPU. Due to this high resource consumption, Chrome app will frequently freeze and become unresponsive. This is especially a problem when you work with lot of open tabs in Chrome. If the app freezes, it will not respond and you will not be able to close by clicking on the close button. In such case, here is how you can force close Google Chrome browser.
On Mac, you can check the Chrome consuming significant battery by clicking on the battery icon showing on the top bar.

Similarly on Windows, you can use Task Manager app to find the resource utilization of Chrome app.
Default Behavior for Closing Chrome
By default, there are multiple ways to close the browser in Windows and Mac.
The simple option is to click on the close icon on the browser window.
In addition, on Windows computers, you can close the browser by pressing Alt + F4 or selecting "Exit" from the settings menu.
Similarly on Mac, you can close Chrome by pressing "Command + Q" or selecting "Quit Google Chrome" option from "Chrome" menu.
These actions will simply close all open tabs in Chrome without any warning prompt.
Force Close Google Chrome
When you have a problem, none of the normal options for closing your browser will work. The only option for you is to force Chrome app to terminate the current session. When you force close Chrome, all the unsaved work will be lost. For example, you will be logged out of sites and need to login again when you relaunch Chrome. Any data you have typed on the browser or filled in online forms will be lost. Unfortunately, you have no other options when the browser is frozen and not responding.
1. Force Close Tabs and Extensions Causing Problem
If you are using Windows OS, you might be familiar with Task Manager app. However, Google Chrome also offers a separate Chrome Task Manager both in Windows and Mac version. The advantage of using Chrome Task Manager is that you can close a single tab or extension that is causing problem without closing the browser. This is very useful to protect your unsaved work on other open tabs.
Right click on Chrome's title bar and select "Task Manager" option from the list of menu items.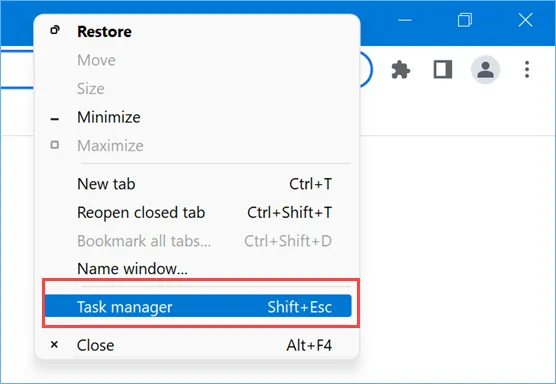 This will open Chrome Task Manager which will show all processes like tabs and extensions running on Chrome.
Select the tab or extension that consumes lot of memory or CPU.
Click on the "End process" button to close that tab.
You will see an Aw, Snap! error on the tab you have killed with an error code showing as "Result_Code_Killed".
If you have closed an extension, you will see a crash notification message but the browser will continue to work.
Now, you can continue working with other tabs or try to reopen the closed site again. Note that when you select "Browser" task, the "End process" button will be disabled in Chrome Task Manager. It means you can't close Chrome app from Chrome Task Manager.
2. Completely Force Close the Browser in Windows
If you simply want to close the unresponsive Chrome app in Windows, you can use the Windows Task Manager. Remember, this will close all open tabs unlike only the problematic tab or extension with Chrome Task Manager.
Press "Control + Alt + Delete" keys and select "Task Manager" option. Alternatively, you can use Windows Search to find Task Manager app and open it.
You will see all processes currently running on your computer. Select "Google Chrome" and click "End task" button.
This will instantly close Chrome app without any warning.
When you relaunch the app, Chrome will ask you to restore the previously opened pages. You can choose to restore or ignore the prompt to continue working.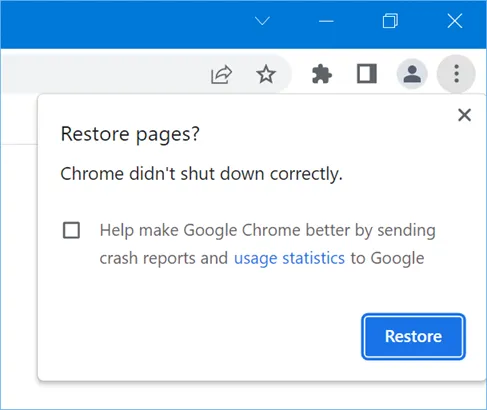 3. Force Close Chrome in Mac
Mac offers multiple ways to force close unresponsive Chrome app.
First option is to open Activity Monitor which is similar to Windows Task Manager. You can use Spotlight Search to search and find Activity Monitor app. Double click on Google Chrome process name and then click on "Quit" button.
Alternatively, press "Option + Command + Power" buttons or select "Force Quit" option from the Apple menu. You can click Chrome from the list and select "Force Quit" button.
4. Force Close Chrome Mobile Apps
If Chrome is not responding in iPhone or Android phone, you can open App Switcher and force close the app.
In iPhone, simply swipe up from the bottom and then swipe the Chrome app up to close it.
Similarly on Android, swipe up from bottom, hold for a while and release to find all running apps on your phone. Again, swipe the Chrome app up to close it.