Microsoft Office applications like Outlook has plenty of buttons in the ribbon. Though this can help you to access the options quickly, sometimes wrongly clicking on a small icon can make you crazy enough. If you are struck with working offline message in Outlook, here are some solutions to fix the issue.
Related: How to fix slow Outlook and speed up your emails?
Working Offline and Online Modes in Outlook
Many organizations use Microsoft Exchange as a mail server and distribute email through client applications like Outlook. Whenever you launch Outlook, it will first to connect to the exchange sever and start downloading your emails. You can view the connection status at the bottom status bar. When connected it will show you the last updated date (up to date) and "Connected to: Microsoft Exchange".

If you are offline, the status will show "Working Offline". The updated status will either show some old date/time or not yet been updated.

Sometimes, you may also see the message as "Disconnected".

How to Fix Outlook Working Offline Issue?
1. Disable Working Offline Mode
Outlook allows you to work offline or online. Go to "Send / Receive" menu and look for "Work Offline" option at the right end under "Preferences" group. Make sure you accidentally did not clicked on that option. When offline the button will show in grey color and it will show normal for online.

Most users wrongly click on "Work Offline" button that will disconnect Outlook from Exchange server. Outlook offers working offline option to write emails in distraction free mode by disabling sending and receiving emails from the server.
2. Open Outlook in Safe Mode
If did not enable work offline mode and not able to connect to the server then try to open Outlook in safe mode. This can help you to disable conflicting add-ins or settings.
Press "Win Logo + R" keys to open Run prompt.
Type outlook /safe and hit enter key. This will open Outlook in safe mode.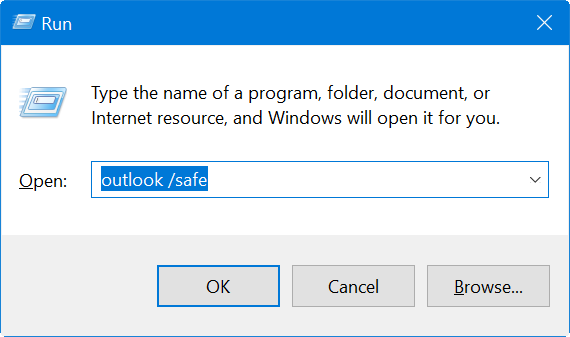 Choose your profile when prompted and enter the password if required.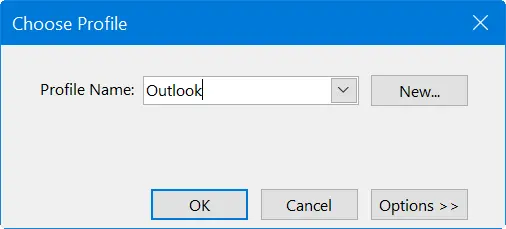 Check whether you can able to connect to the Exchange server in safe mode.
Note: If outlook /safe command does not work, try Outlook.exe /safe or provide the full path of the executable file's location.
Instead of using safe mode, you can also manually disable add-ins to check that helps.
Go to "File > Options" menu in Outlook.
Go to "Add-ins" section, select "COM Add-ins" against "Manage" option and click on "Go…" button.
On the pop-up, deselect the add-ins you want to disable.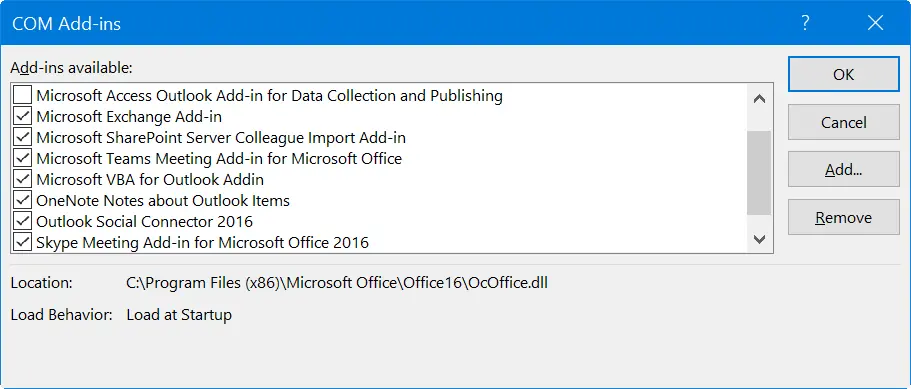 Related: How to manage tasks in Outlook?
3. Check Problematic Add-ins
Go to "File > Info" menu and click on "Manage COM Add-ins" button. This will open the list of add-ins that cause problem in loading Outlook. Click on "Disable this add-in" button to temporarily disable the add-in. now, restart and check whether you can connect to Exchange server.
4. Check Internet Connection
In fact, this is the first thing you should be checking when you notice "Disconnected" message in status bar. Try opening webpages in a browser and make sure that you have a working internet connection. Some organizations may also provide webmail access that you can try. Go to "File > Info" menu and find the web access link against "Account Settings" option. At least, this will help to check your emails until the time you restore Outlook app.
5. Repair Office Installation
We do not recommend this as it will repair the entire Office installation instead of looking for troubles only in Outlook. If you have multiple problems with other Office applications like Word or Excel, then try this option. However, make sure to have the original installation files with product key.
Press "Win Logo + I" keys to open Windows Settings app.
Go to "Apps" section and then to "Apps & features" tab.
Type "Office" in the search box and filter your Microsoft Office installation package.
Click on the app and then click on "Modify" button.
Follow the instructions to repair the installation.