A cool keyboard is an important part of daily work whether you are typing a long document or browsing the web. If your keyboard lags when typing or types multiple letters repeatedly, it will not only frustrating but also significantly impact your productivity. This problem can happen on any type of keyboard including built-in laptop keyboard or external wireless/wired keyboard. Most issues can easily be fixed and this article will guide you on how to fix the keyboard issues with easy-to-do troubleshooting methods.
Keyboard Lagging or Repeating Multiple Letters In Windows 11
Here is what you will see when keyboard is lagging or repeating the letters uncontrollably.
Lagging – you type WebNots but see only Web or W in the text box. It takes few seconds to see the complete word what you have typed.
Repeating – you type W and see WWWWW…. All or some letters on the keyboard replicates multiple times like this.
1. Check Basic Stuffs
Before troubleshooting or change any settings, make sure to check the following things.
If you are using the same keyboard for quite some time, dust may be accumulated in keys causing it not to work properly. This problem is more common among external keyboards with projected keys (mechanical keyboards). You can use a soft brush or a small air blower to clean each key to remove the dirt.
Secondly, check for any stuck key on your keyboard which is common when you have a mechanical keyboard. Sometimes, unknowingly keys get stuck and cause your keyboard to type multiple letters. Check all the keys and make sure you can press them properly.
If you are using a USB or wireless keyboard, poor port or Bluetooth connection can also result in this issue. Disconnect the device and then reconnect it again in the right USB port. Also, check your Bluetooth connection is working properly by connecting any other wireless devices like mouse or headphone.
Finally, restart your system to terminate any conflicting processes running in the background preventing keyboard to work properly. If the all the above-mentioned stuffs look fine, then carry on with next steps.
2. Adjust Keyboard Character Repeat Delay and Repeat Rate
Windows offers two options in keyboard settings section – Repeat delay and Repeat rate. You can adjust these two settings to control lagging and multiple letters typing repeatedly.
Open Start menu and type "control panel" in the search box. Click on the "Control Panel" app from the result to open the app.
Change "View by" option to "Large icons" and click "Keyboard" option.
This will open "Keyboard Properties" dialog and make sure you are in "Speed" tab.
Now adjust the slider of "Repeat delay" towards the "Short" side to reduce the delay after pressing a key.
Similarly, change the "Repeat rate" to the "Slow" side to avoid typing multiple times when pressing a key.
Then, click on "Apply" and press "OK."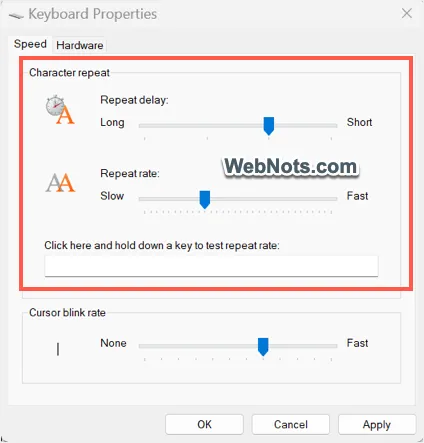 Note that the Repeat delay slider is showing from Long to Short while Repeat rate is showing from Slow to Fast. So, move the slider properly to adjust these settings. You can use the text box below the sliders to type and test your settings before applying.
3. Disable Filter Keys
Filter keys is one of the accessibility features in Windows 11, to ignore short and repeated keystrokes. Though this is helpful for disabled people, it may create lagging problem when you type. You can disable the filter keys and check whether it helps to improve the functionality of your keyboard.
Open Settings app and select the "Accessibility" option from the left side menu.
Scroll down on settings page and select the "Keyboard" option under "Interaction" section.
Disable the "Filter keys" by setting the toggle to the Off position.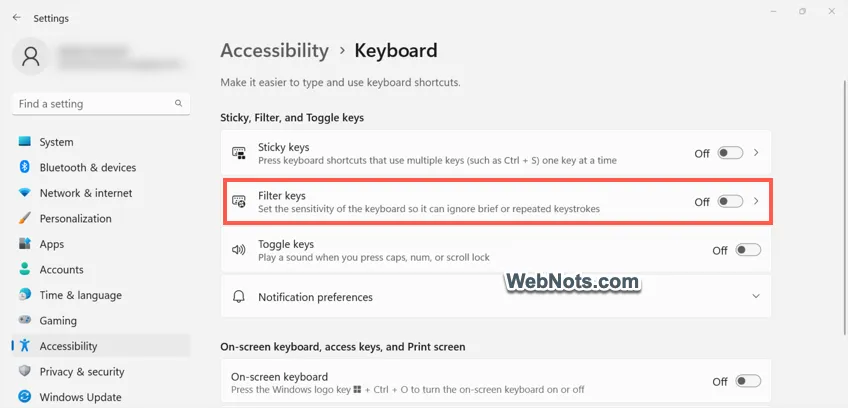 4. Update Your Keyboard Drivers
All devices like keyboard, mouse, graphics card, etc. need correct driver files to work properly in Windows. Generally, these driver files are supplied by the manufacturer and automatically installed by Windows. Sometimes, they will also be available as an optional Windows update if the manufacturer supplies through that channel. However, outdated and corrupted keyboard drivers can affect the working of your keyboard and updating them can fix the issues.
Right-click on the Start button in Taskbar and select "Device Manager" option.
Double click on the "Keyboards" option to expand it.
Find your keyboard device, right-click on it and then select "Update driver" option.
Select "Browse my computer for drivers" among the two options given.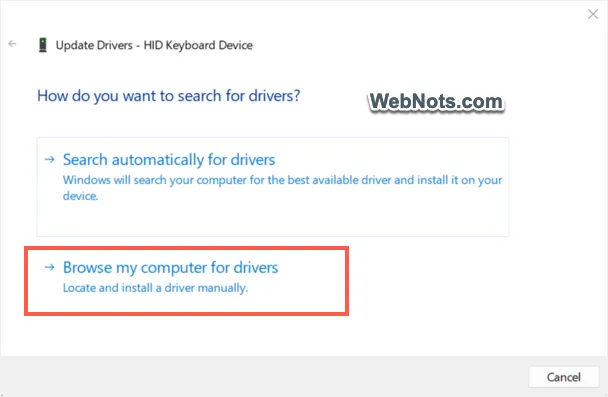 Then choose the "Let me pick from a list of available drivers on my computer" option.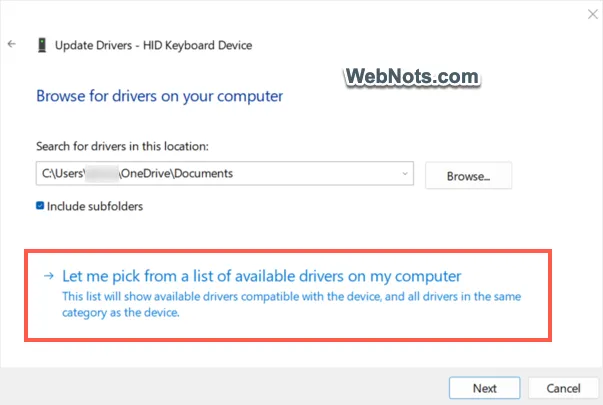 Now select the device driver to install for your keyboard and hit the "Next" button.
It will update the keyboard drivers and hopefully solve the keyboard lagging issue. And if it persists, you can "Uninstall device" from the right-click context menu and restart the computer. System will automatically search and install the device and drivers for your keyboard. Alternatively, go back to the Device Manager and click on the "Actions" tab. Then, select "Scan for hardware changes" to find and install the missing devices/drivers.
Note: It is always a good habit to take a system back or create restore point when updating drivers. You can also keep the original driver files from the keyboard manufacturer handy for restoring in case needed.
5. Scan with Windows Security
Sometimes, virus or malware can cause your keyboard to not work properly. Windows Security is a default app in Windows 11 that comes with Windows Defender Antivirus. You can use that to scan your system and remove the infected files which can help to fix keyboard lagging and multiple letters typing issues.
Press "Windows + I" shortcut keys to open "Settings" app.
Navigate to "Privacy & security" section from the left side menu and select "Windows Security" option.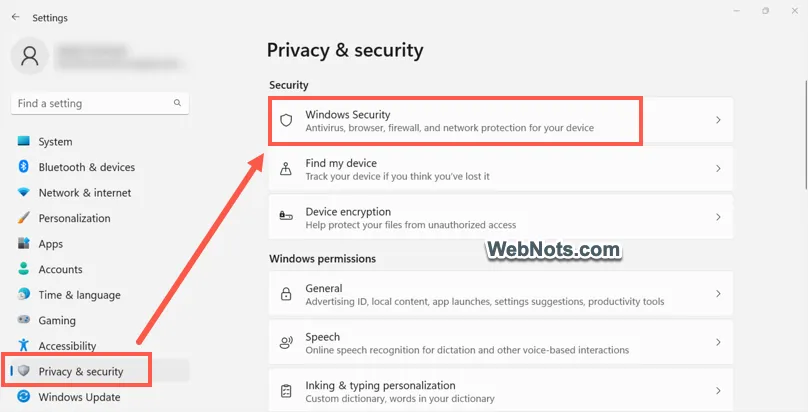 Here select the "Virus and threat protection" option.
This will open Windows Security app and click on "Quick scan" button. If required, you can also click "Scan options" link and select "Full scan" option.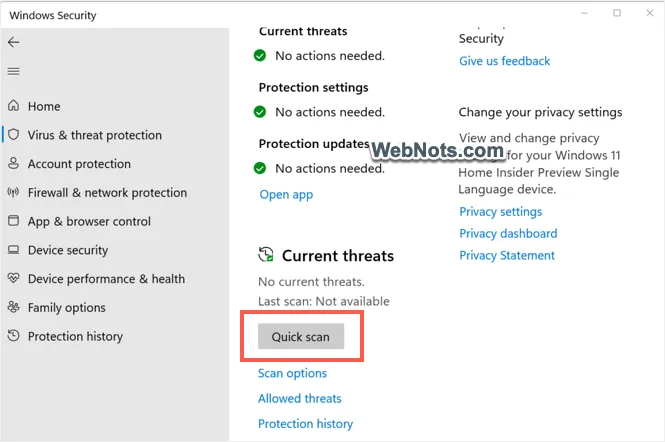 The scan will take a while and the app will show you the results. If there are any threats detected, take the cleanup action to quarantine or delete the affected files. Restart your system and check if that solves your issue.
6. Check Keyboard Language Settings
Though language does not affect lagging or repeating letters while typing, you may find the input is interpreted differently. In that case, you can check the preferred typing language and set it properly.
Open Settings app and go to "Time & language" section from the left side menu.
Then select the "Language & region" option from the right pane.
Make sure the display language and preferred language is set as English (or the correct language). Then, look for the language that is accidentally installed or you don't use. Click on the three dots next to that language and select "Remove".
7. Change Key Mapping
Sometimes you will have problem with one or two keys while all other keys will work. In this case, you can easily remap the keys and continue using your keyboard. For example, if letter key P is lagging or repeating, you can change the key mapping to use right shift key as letter P.
For this, you need apps like Microsoft PowerToys which is an official app from Microsoft. Check out detailed instructions on how to change key mapping in Windows with PowerToys app.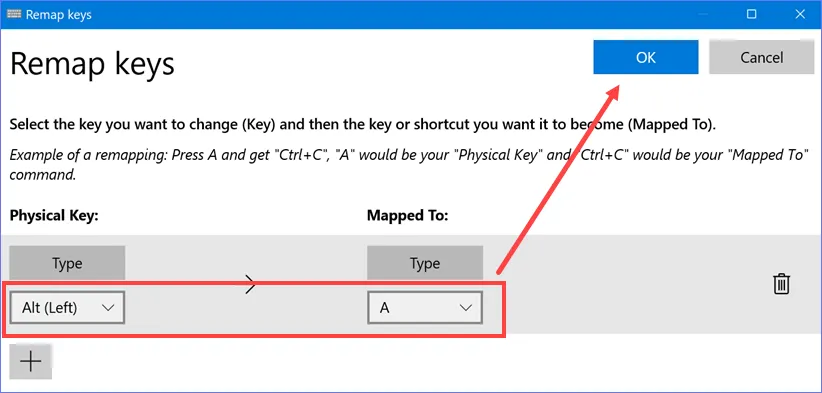 Wrapping Up
It will be annoying to use the keyboard with lagging or typing multiple letters. You can try the above-mentioned suggestions and if none of them works, probably you need to look for hardware support or a replacement option.