Earlier Apple used to sell iPhone with as low as 64GB storage capacity. Now 128GB is the lowest storage capacity for the latest models like iPhone 13 Pro and Max. However, even 128GB will run out in no time if you keep lots of videos and games in iPhone. If you frequently see "iPhone Storage Full" warning message then it is time to cleanup your phone. In this article, we will explain how to check the available storage, find the apps using more space and cleanup them to fix iPhone storage full issue.
Why Should You Cleanup Your iPhone?
Housekeeping is a good habit and necessary for using any device for long time. Since, you are not going to buy a new iPhone model every few years, you should keep your iPhone clean to work productively. Besides housekeeping, here are some more reasons you need enough storage space.
You need to always keep few GBs of reserve space to install new iOS version whenever available.
Insufficient storage capacity will slow down you iPhone and you find it sluggish when working on important tasks like preparing a document in Pages app.
You can't download bigger apps or play high graphics games that need frequent downloads from server.
You will notice the iPhone goes unresponsive or the apps started crashing due to insufficient storage space.
Related: Learn how to increase storage space in Mac by cleaning up other and system data?
How to Check Current iPhone Storage Capacity?
After iOS upgrade, many users complain they get the "iPhone Storage Full" warning message, though there is enough free space available. Sometimes, it could be a bug that your iPhone shows wrong warning. Therefore, the first step before you try to clean up the data is to check the free capacity of your iPhone. You can do this in the following two manners:
From About Section:
Tap on "Settings" app and go to "General" section.
You will see an option called "About" at the first and tap on it.
Here you can find the total capacity along with free space available on your phone.
You can also find how many songs, videos, photos and applications are there on your phone to understand which type of files could occupy more space. However, you will not find the exact consumption in this section.
From iPhone Storage Section:
When you are in "Settings > General" section, tap on "iPhone Storage" option.
You will see a graphical progress bar showing different type of data along with the consumption.
Best part is that you can find the storage consumed by each to get the exact app occupying more storage space on your iPhone.
Scroll down to the bottom of the section to find how much space is occupied by iOS and System Data. As you can see, iOS occupies 8.81GB space, hence you need similar space when downloading and upgrading to newer iOS version.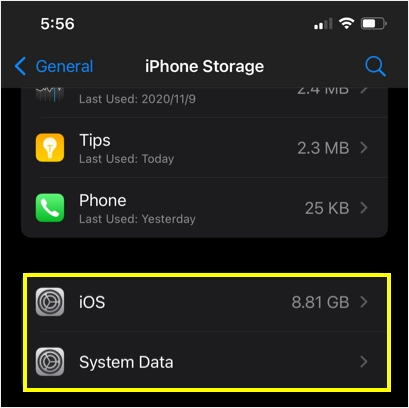 Note: Do not get confused with "iCloud Storage" and "iPhone Storage". iCloud storage is for the cloud storage space and you have to check the iPhone storage section to get the storage capacity of your phone.
Cleanup iPhone to Increase Storage
Depending upon the storage space situation, you can take the next step to clean up your iPhone.
1. Find Apps Consuming Large Space
As you can see in the above screen, WhatsApp app occupies 1.27GB size. When we tap on the WhatsApp app, it shows the detailed storage consumption like below. Though the actual app is only 97.4MB in size, it has 1.18GB of documents and data. This could be chat history and media files received through the app.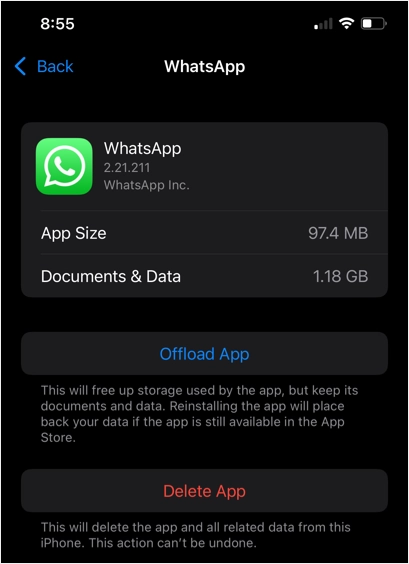 You can take two actions to free up the space:
Offload App – this will delete the app and keep the documents/data. when you reinstall the app, your iPhone will restore all documents and data.
Delete App – this will delete both app and data completely.
The action depends on the type of app and your requirement to keep the data or delete it. You may not need the documents/data for some social apps like Facebook, Twitter or YouTube. However, you may need to keep the data for other apps like WhatsApp and WeChat.
2. Remove the Clutter and Delete Apps
If you have hundreds of apps installed on your iPhone over period, it's high time to delete unused apps. For this you do not need to go through the above method. Simply tap and hold on the app and select "Remove App".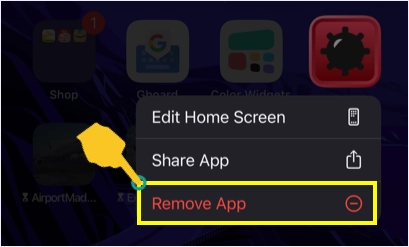 On the next pop-up, select "Delete App" to get rid of the app permanently from your iPhone. You can follow this process for apps that you no more needed on the phone.
Note: Selecting "Remove from Home Screen" option will just remove the app icon from the home screen. Actual app and data will be still on your phone consuming storage space.
3. Enable iCloud Photos
Apple offers 5GB free iCloud storage for all users and you can upgrade the plan to get additional storage up to 2TB. You can make use of this iCloud storage space to keep all your original high-resolution pictures to free up space on your iPhone.
Go to "Settings > Photos" section.
Enable "iCloud Photos" to enable the synchronization of your pictures and videos to iCloud.
Next, enable "Optimize iPhone Storage" option. This will keep all high-resolution photos and videos only in iCloud and keep the smaller size duplicates in your iPhone. You can any time download the originals from iCloud account.
This can be super useful to free up space when you larger number of high-resolution photos.
Related: How to cleanup Windows PC to increase storage space?
4. Delete Large Files
Though iPhone has "Files" app, it is not convenient to browse and find larger files. The easy way is to connect your iPhone with Mac and find the files by category and size. If you find large videos, audiobook or books, you can delete them to increase the storage space.
Connect your iPhone to Mac and trust the devices to access all files.
Open Finder app in your Mac and click on your iPhone name showing as mounted on the left sidebar.
You can find the details of your iPhone along with the storage details.
Click on the "Manage Storage…" button.
On the next screen, you will find all the files grouped under different categories.
You can browse through and delete unwanted files by selecting them and clicking on "Delete" button.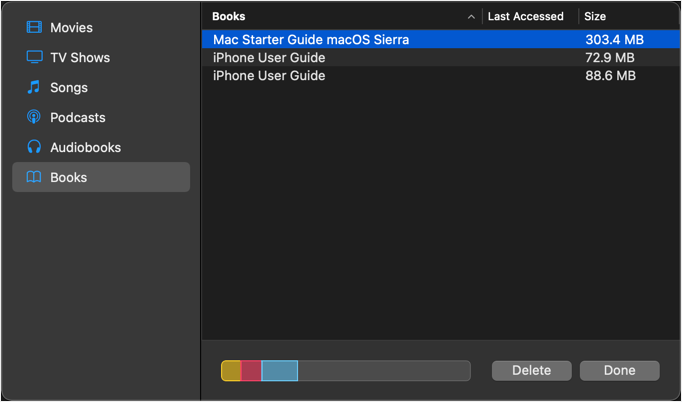 5. Delete Messages
By default, you iPhone will keep all the messages received in Messages app forever. This may not be necessary and occupy space if you send/receive plenty of messages.
Go to "Settings > Messages" section and scroll down a bit.
Find "Keep Messages" option and tap on it.
Select 30 days or 1 year option to automatically delete the remaining messages.
6. Clear Safari Browsing History
Browsers cache the data to speed up the website loading. However, cache can easily pile up if you visit too many sites and occupy large space on your iPhone. You can simply delete the Safari browser cache to release some storage space.
Go to "Settings > Safari" section and scroll to the bottom of the page.
Tap on "Advanced" option and then select "Website Data".
Here you can see the total size occupied along with the breakup for each site.
As you can see it is 932MB which you can delete by tapping on "Remove All Website Data" link.
Similarly, when you are in Safari settings page, tap on "Clear History and Website Data" option. This will clear both website data and browsing history which could release additional storage space.
Note: If you Chrome, Firefox or other browser, you may need to clear the history separately from the browser app's settings.
7. Using Third-Party Apps
There are plenty of third-party apps available for cleaning up your iPhone for different purposes.
Try apps to clear app caches and memory.
Find and delete large junk files.
Find duplicate photos and videos and delete them in bulk.
You can try these apps to simply your task in deleting unwanted files especially when you want to clean up duplicate files.
Final Words
We hope one of the above listed options could help you fix iPhone storage full issue and release the space. You can also follow additional options like taking low resolution photos in camera and clean up your backups. If you are facing problems when installing iOS, make sure to have at least 10GB free space for downloading and installing the upgrade. As mentioned, sometimes it could be a bug and upgrade your iOS version when the patch is available to get rid of the wrong warning message about the storage.