Windows 11 has lot of hidden features to improve the overall performance of your system. Efficiency mode is one such a feature in Windows 11 which you can use to extend battery life of your laptop. Enabling this feature for any application will result in using less RAM and less CPU, thus boosting the performance of your system.
Where is Efficiency Mode Settings in Windows 11?
The efficiency mode feature is available in Task Manager app in Windows 11. This feature doesn't work for all the applications and processes found in the Task Manager. You can enable or disable efficiency mode only for the supported processes. Since enabling this will reduce the priority for using system resources, some apps do not support this feature.
Enable Efficiency Mode in Windows 11
Let's explore how to use Efficiency mode in Windows 11:
The first step is to open the Task Manager and for that, press "Windows + X" keys. Select Task Manager from the list of menu items that appears.
Now look for an application that is using high memory and CPU. Once you find the application, select it and then click "Efficiency mode" option showing on the top row. Alternatively, you can also right-click on the application and then select "Efficiency mode" option.
Click "Turn on Efficiency mode" button to confirm the action. As you can see in the dialog box, some processes may cause instability when enabling this feature.
On some Windows editions like Arm, you will just see "OK" or "Cancel" button with the same warning message.
After enabling the Efficiency mode feature, you will find the green leaves-like icon in the "Status" column for that application/process.
Windows also automatically pause some processes to improve the performance. Efficiency mode option will be greyed out for those suspended processes.
Disable Efficiency Mode
If you want to disable efficiency mode, all you need is to right-click on the application and click on "Efficiency mode" option. Alternatively, you can click the "Efficiency mode" option from the top and disable it. This time you will not see any confirmation pop-up. Now, the green leaves icon will disappear from the status column indicating mode is disabled.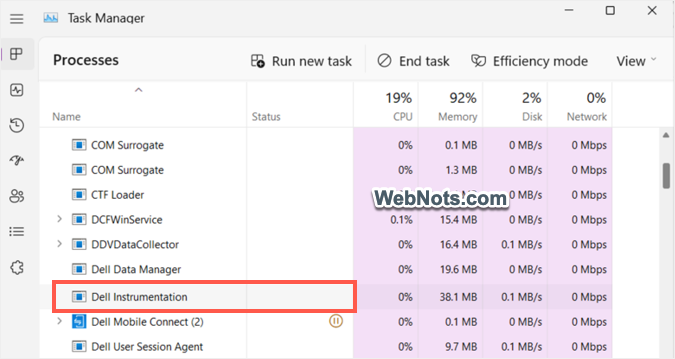 Unsupported Process and Apps
As mentioned, efficiency mode feature doesn't work for all the applications. For example, when we select Google Chrome, the option is greyed out and not possible to enable. Note that Chrome has its own memory and battery saver settings to release unused RAM and reduce battery usage.
Note: Efficiency mode is not available for Edge in Task Manager. Like Chrome, Edge browser also has its own efficiency mode to reduce memory usage by unused tabs. If you see Edge is consuming high RAM/CPU in Task Manager or you use too many open tabs, consider enabling efficiency mode in Edge settings.
Similarly, you can select any major process like Windows Explorer, you will again find the Efficiency mode is greyed out. The reason is that Windows Explorer is a core system process essential for proper functioning of the Operating System. Since reducing the priority of system process will have a negative impact on system's performance, Windows will automatically disable efficiency mode option.
Therefore, the Efficiency mode is only available to those applications and processes that are deemed safe even if they are slowed down.
Final Words
It is easy to enable or disable efficiency mode in Windows 11 from Task Manager app to free up system resources. However, this is not something you can do for the system level. The problem is that you need to be careful and enable only for the required processes.