Sometimes the new user interface design concepts make us sick. On the name of UI design companies remove the handy features used by people for many years. Scroll bars are shown vertically and horizontally if the visible content exceeds the width of the app's display window. When you read long document or webpage, it helps to know the position where you are and estimate the remaining length of the content. For most of us, it works like looking at the remaining pages when you are reading a book. Long back Apple removed, the fixed scroll bars and shows them when you move the mouse or based on trackpad gestures. In this article let us discuss how to bring the scroll bars in Mac permanently back and few other customizing options for you to make it easy.
Related: How to show desktop in Mac?
Bring Missing Scroll Bars in Mac
If you are not seeing the scroll bar on Safari, Pages or any other app then simply move the mouse or cursor using trackpad. This will make the scroll bar visible. However, this is not convenient as it may disappear before you may catch to drag it to the required position. The solution is simple; you need to make it visible permanently.
Scroll Bar Options in macOS 12 or Earlier
Since the settings are different in macOS 13 (Ventura) or later, first we explain with older macOS versions (12 or earlier).
Click on "Apple menu" and go to "System Preferences…" section.
Click on "General" preferences option.
You will have three options under "Show scroll bars".
Automatically based on mouse or trackpad
This is a tricky option to understand. It can be better understand with and without an external mouse connected to your Mac. First enable this and open any default app like Preview or Safari or Pages showing a lengthy document. You will NOT see any scrollbar unless you move the cursor up or down using trackpad movement.
Now plugin your mouse using a cable or USB and check the document. You will permanently see the scroll bars. You can move the bars either using mouse or using trackpad, arrow keys or spacebar.
So enabling automatic option will basically show the scroll bars when you have a mouse plugged. And toggle the scroll bar based on trackpad movement when you have no external mouse.
When scrolling
This option does the same function as previous option without external mouse. That means, you will see the scroll bars only when you move the cursor up or down using double finger swipe.
Always
This is a good option, in our opinion, to bring the scroll bar permanently back regardless of you have external mouse or not. Choose this option to work smoothly with your documents.
Related: How to manage desktop in Mac?
Scroll Bar Movement
Simply enabling scroll bar is not sufficient in most cases. Generally you may expect the content to move to the scroll bar position where you have clicked on the sidebar. Unfortunately, Mac will move page by page regardless of where you click the sidebar. You can simply drag and drop the scroll bar to the required position. However, you can also customize the scroll bar click in "General preferences" under "Click in the scroll bar to" section.
Jump to the next page – this is a default option which will move to next page on the document regardless of where you click on the scroll bar.
Jump to the spot that's clicked – probably this is what you will expect to happen when you click on the middle of the scroll bar and you are at the middle immediately.
Using Arrows and Spacebar
Instead of scroll bars, you can also use arrow keys to navigate through the documents. This is especially useful for vertical scrolling.
Use up or down arrow to move click by click which will move few lines up or down on the document.
Press spacebar to quickly go to next page.
Scrolling Direction of Scroll Bars in Mac
Another factor when using vertical scroll bar using trackpad is the scrolling direction. For most of us, the scrolling needs to be on the opposite direction of the double finger swiping direction. This means when you swipe double fingers down the content will move up and vice versa. This is called unnatural scrolling.
However, natural scrolling is when you swipe the fingers down the content also will move down and vice versa. This means the content will track the direction of your finger movement.
Go to "Apple Menu > System Preferences…" and click on "Trackpad" option.
Click on "Scroll & Zoom" tab.
Enable or disable "Scroll direction: Natural" option to setup the scrolling direction.
Scroll Bars Option in macOS 13 (Ventura or Later)
If you are using macOS Ventura, Sonoma or later versions then the interface may look bit different with similar set of options.
Click the Apple logo and go to "System Settings…" menu.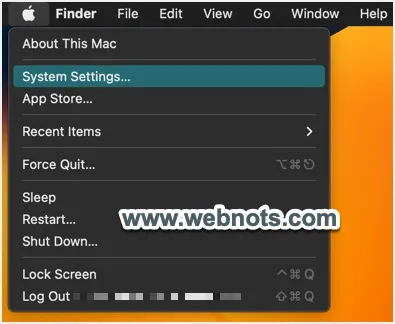 Go to "Appearance" section and then scroll down to the bottom on the settings page.
Select your preference under "Show scroll bars" section.
Similarly, you can setup the scrolling direction from "Trackpad" settings page.
Scroll Bars in Mac Third Party Apps
All the scroll bar settings, except the direction, apply only to the default Apple apps like Pages, Safari, Finder, Preview, etc. This will NOT work for the third party apps like Google Chrome.
Scroll bars are always visible on most of third party apps regardless of your settings in general preferences.
You can move the scroll bar and the content to the clicked position though you have set "Jump to the next page" in preferences.
In our opinion, these are the ideal settings for apps in order to have easy navigation.