WeChat is the most popular app in China and few other countries. It offers chatting, voice messaging, calling, payment gateway and many other services. One of the problems when using WeChat is sending messages in wrong chats mistakenly. If you are using WeChat, it is easy to customize individual chat screen to differentiate from others. In this article, we will explain how you can do that in WeChat iPhone app. You can also follow the same process with WeChat Android app.
Why to Customize Individual Chat?
You may have hundreds of contacts in WeChat chat section. Obviously, few contacts will be of more important than those group chats and other people. Customizing individual chat screen for a person can help you to prioritize the discussion. For example, you may need to frequently get in touch with your spouse, boss or children. It will be a hassle to search them every time when want to send a message.
Similarly, you may easily get lost with flooding notifications and miss out few messages from the important people. If you are running with these types of issues, try WeChat customization features for individuals to make your life easier.
WeChat Individual Chat Customizations
Users can go to "Me > Settings" section in WeChat app and find the available settings. However, these settings are global and applied at your account level for all contacts. Many do not know that you can customize the settings for individual contact by following the below instructions.
When you are in the chat section, tap the person name you want to customize.
You will see the chat history with the selected person and tap the three dots icon showing on top right corner.
This will open a setting page with list of options.
Any changes you make in this section will be applied only for the selected contact.
Customizing Chat Background
Are you the one always sending chat messages to wrong contacts mistakenly? Though WeChat offers recall message function, it will be annoying to send a wrong personal message to a group or to your boss instead of your spouse. The easy way to avoid this is to have a visually different background for important people. Tap on "Background" setting to see the available options: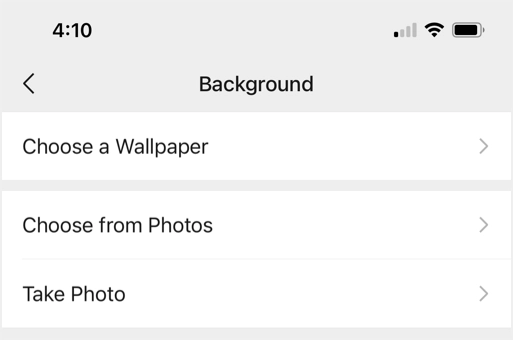 Choose a Wallpaper – WeChat offers few background images under this section that you can download and set as the background for the person's chat screen.
Choose from Photos – select a picture of the person to match the chat screen which will remind you to whom you are chatting.
Take Photo – open your camera and take a live picture to set the background.
Make sure to use dark background picture so that you can easily read chat messages without straining your eyes.
Search Chat History
Normally people scroll the screen up on down to find the chat history which is inconvenient when you want to find a year old discussion. The easy way is to tap on the "Search Chat History" in the settings page and find any previous chat discussion and transaction with the person. After finding the search result, you can tap on any result to go to the chat screen and view the full discussion.
Followings are some of the ways you can use search history function:
Type your keyword in the search box and find relevant chat history results.
Do quick search based on any date.
Search with images, files and links sent by you or received from the person.
Get all financial transactions done with the person.
Search Mini Programs used in the chat discussion.
This is very useful to quickly find money transfers, files, shared content with a person whenever you want to check.
Create Group Chat
Another available option is to create a group chat with the selected person and others instantly.
Tap on the + icon next to the person's profile picture.
Add additional contacts if required.
Tap on Done to create an instant group chat.
Other Settings
You can make use of few other customization options available for individual chat:
Sticky on Top – toggle this option to keep the person in top of your chat section. This will help you to avoid searching and chat quickly.
Mute Notifications – disable notifications only from that person if he or she is sending too many messages while you still can notifications from others. You can also use this for a group chat to avoid hundreds of people in the group sending messages which you want to ignore.
Alert – enable to receive an alert when you get a next message from the person. You can use this as a reminder when you are expecting important response from someone in next 3 hours so that you will not miss out in hurry. WeChat will trigger an alert for the first message received from the person and automatically turn this option off.
Clear Chat History – delete chat history to save storage space.
Report – send a notification to WeChat team about the person for wrongdoings and harassment.
Final Words
The above listed features are useful for customizing individual chats, though you can't do certain actions like highlighting important message within a chat or find read receipt like WhatsApp. You can also use most of these individual chat features with group chat. However, group chat will have additional settings for adding notice, remark, leaving group, etc.