Android phones remember all your historical activities like web pages you visit and the terms you searched in the past. Your phone stores such information because Google and other agencies use this information to give you customized experiences and suggestions. They also use this information to gather online trends and use for targeted marketing. Unfortunately, you can't completely stop the apps from tracking your activities. However, what you can do is to delete the history from time to time and keep your phone safe. In this article, we will explain how to completely delete history in Android that is stored due to different activities.
Why to Delete History in Android Phone?
Whether you use browser app, social media apps or search in Google website, your phone will keep track of all your history. There are two major reasons to delete history:
One reason is the privacy and security of your phone. Browser apps like Google Chrome will store history of websites you visited the files you downloaded from various sources. Deleting history will help to remove all these traces and avoid someone accidentally view your actions. It also helps to remove the autocomplete history, which will improve privacy when you share your computer with others.
Most social and news apps keep large amount of document data and cache. Clearing this history will free up space and enhance your device performance as well.
What are the History Activities to Delete in Android?
It depends on the app you use and whether you are logged in your account while browsing. Since many Android users use Chrome, Google Search, and social apps, completely deleting history in Android requires the following actions:
Delete your browsing history from the browser. We will explain here with Google Chrome, and you can follow similar procedure for other browsers.
You should delete Google Search history that is synchronized across your devices when you logged in.
Clear document data and cache from the apps especially from those apps that collect personal information. Example apps include Facebook, WhatsApp, WeChat, and many other social and news app.
1. Delete Browsing History in Chrome Android App
Chrome is a web browser from Google, and it comes preinstalled on most Android models. Hence, most of the users prefer to use it for web browsing. The following is the procedure to delete the browsing history on Chrome completely.
Open the Google Chrome browser and tap at the three dots menu in the upper right corner. It displays the different settings options of the browser and touch the "History" option.
In the "History" menu, you can see the timeline of your browsing history and tap on the "Clear browsing data…" link.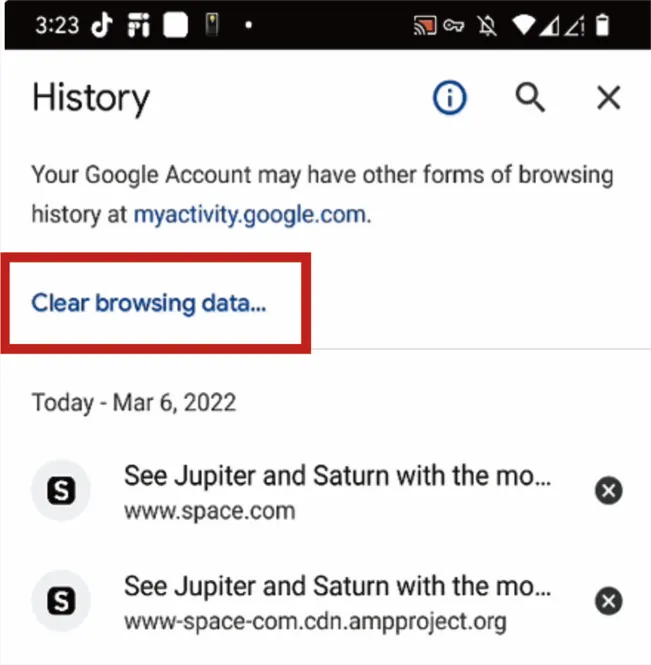 The next page shows you the types of browsing data to delete like "Browsing history," "Cookies and site data," and "Cached images and files" under "Basic" section. You can select or unselect the items based on your preference and select the "Time range." You can choose the time range like "Last hour," "Last 24 hours", "Last 7 days," etc., to delete your browsing data. Remember, "Last hour" is the default option. It means it will delete only the last hour of your browsing history. The browsing history before one hour will still be available. If you want to delete all the previous browsing data, choose "All time" option.
"Advanced" feature of clearing browsing data gives you the additional options to clear "Saved passwords," "Auto form-data," and "Site settings." We do not recommend deleting these details as it will cause inconvenience if you do not have backup passwords or remember the details like address to fill in the forms.
Once done, tap on "Clear data" button and you will see a warning and tap "Yes" to it. Finally, you will see a message informing you that the selected data has been removed from Chrome and other synced devices if syncing is currently turned on. Remember, this will not delete any other historical date from your Google account.
If you use multiple browser apps on your phone, go to the settings page of each browser app and delete the browsing history individually.
2. Delete Google Search History on Android
Your Google account may have historical data, which is still there even after deleting the browsing history from Google Chrome.
To look for that, Open the myactivity.google.com page link, which is given at the top of the "History" page of Google Chrome. It will open your Google account page and sign into your account, if you are not already signed in. Remember, this page is from your Google account and deleting anything will delete it from all associated devices. This page contains sensitive information and history.
The next page will display all activities associated with your Google account. These activities mainly include "Web & App Activity," "Location History," and "YouTube History."
You can further see the detail of each category of the activities by clicking on the arrow. You can also turn on or turn off the different history features if required. For example, you can turn off "Location History" to prevent Google from saving your location history. There is also search box using which you can search for any activity.
Select all the categories which you want to delete and hit the "Delete" button. A pop-up message will appear where you can select the time range. You can delete your activities of last one-hour, last day, all-time, or a custom range of time. Select the desired range and delete the selected activities.
A handful of other valuable controls are also present on the page to manage your account.
3. Clear App Document Data and Cache in Android
As mentioned, some apps on your Android phone may have your personal or sensitive information. In this case deleting the app cache, history and document data is also mandatory. Deleting app cache can also free up space and solve problems when the app is unresponsive.
Go to "Settings" and then the "Apps" menu to clear the app cache. Find the app whose cache you want to remove in the Apps menu. Once the desired app appears on the screen, tap on it to open the "App info" page.
On the "App info" page, options like "Uninstall" and "Force stop" are available. Scroll up the page to tap on "Storage & cache" option.
The next page will show information like "App size," "User data," "Cache," and "Total" space occupied by the app.
There are two buttons named "Clear storage" and "Clear cache." Press the "Clear cache" button and it will become inactive indicating the cache has been cleared. If you want to delete all the data associated with the app from your Android device, hit the "Clear storage" button.
If you have more than one app, you need to clear the cache individually for each app. There is currently no way to remove the cache of all the installed apps on Android except the factory reset option. Perform a factory reset option to delete everything from your Android phone and put it to a state when you just bought it from the shop. It is a quick, easy way to completely delete all the history and data on your Android device. However, factory reset is not recommended unless you phone is too slow, and you want to clean up everything. Also, data stored on an external memory card will not be deleted in a factory reset.
Final Remarks
Google primarily uses Android platform and their apps to track user history and serve customized advertisements. Though it is not possible to completely stop the apps from tracking your activities, you can follow the above methods to delete history in Android. Remember, frequently deleting history will slow your browsing speed as it will delete the cached data.