Taskbar is the heart of Windows operating system for accessing apps and showing useful icons in the system tray section. In Windows 11, Microsoft redesigned the interface and brought lot of changes to the traditional taskbar. This is primarily copy of macOS dock setup to move the taskbar apps in the center. This can easily annoy users familiarized with old interface setup. If you find too many apps and icons, here is how to clean up the taskbar in the Windows 11.
Windows 11 Taskbar Items
In Windows 10, you can easily hide the icons on the taskbar and customize as per your need. Though you can remove some of the default app icons in Windows 11, it is not possible to remove the volume, speaker and battery icons set. Below is how the default taskbar in Windows will look like:
Weather widget showing your current city's temperature.
Default Windows 11 apps like Start, Search, Task View, Chat.
Pinned apps to the taskbar as shortcuts.
Open apps showing the list of currently running apps.
Small up arrow to show hidden icons (called taskbar corner overflow menu).
Language bar for switching keyboard input when you are using multiple languages.
Wi-Fi, Volume and battery icons group (clicking on them will show Quick Settings like action center).
Date/time shows notification center and calendar when you click on it.
Pending notifications count (shows when you have unseen notifications).
Show desktop preview when click the right corner.
Cleaning Up Taskbar in Windows 11
As you can see, there are too many items in the taskbar and here are the options to keep the taskbar clean.
1. Remove Default App Icons
You may never use Chat or Task View on your computer. In this case, keeping those icons at the center of taskbar is simply wasting of space. To remove the default apps, right-click on the taskbar and select "Taskbar settings" option.
This will open Windows Settings app and take you to "Personalization > Taskbar" section. Under "Taskbar items" section, you can disable Search, Task view, Widgets and Chat icons showing in the taskbar.
Remember, this will only hide the icons from the taskbar and you can continue using the functions with the below keyboard shortcuts. Check our the compelte list of Windows key shortcuts in Windows 11 to make your life easier.
Search – Win + S
Widgets – Win + W
Task view – Win + Tab
Chat – Win + C
On the same settings page, you can also hide unnecessary corner icons and corner overflow icons. Hiding these unnecessary icons will give you ample space in taskbar.
2. Move App Icons to Left Corner
You can also move all the taskbar icons to show from left corner like old Windows 10 interface. When you are in the taskbar settings page, click on the "Taskbar behaviors" section to expand its options. By default, taskbar alignment will be set as "Center" in Windows 11. Click the dropdown and select "Left" option to move all app icons in the taskbar to the left corner.
3. Disable Notification Badge and Preview Desktop
If you do not want to show notification badges, disable "Show badges (unread messages counter) on taskbar apps" option. Similarly, you can disable the desktop preview option when clicking on the right corner of the taskbar by disabling "Select the far corner of the taskbar to show the desktop" option.
4. Hide Language Bar
The language bar in the taskbar helps to select the installed language for typing. However, this will occupy the space in taskbar especially when you do not use this frequently. In addition, you can always use the keyboard shortcut "Win + Spacebar" to toggle the input.
Right-click on the Start menu icon and select "Settings" from the list.
When you are in Windows Settings app, go to "Time & language" section and then click "Typing" option.
On the next screen, open "Advanced keyboard settings" option.
Scroll down to "Switching input methods" heading and disable "Use the desktop language bar when it's available" option.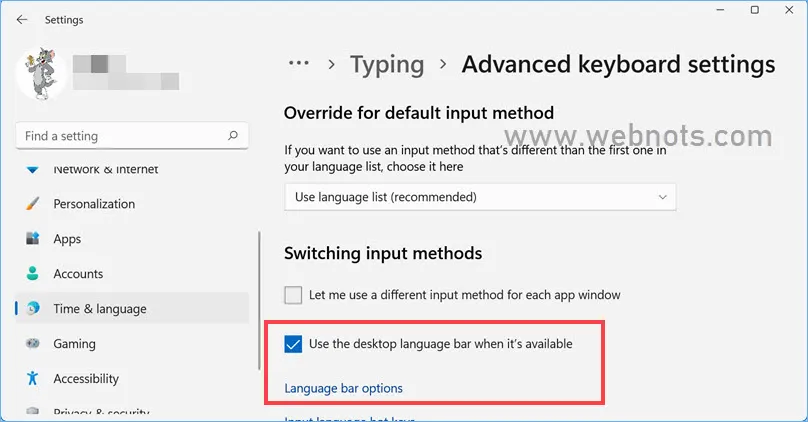 This will hide the language bar from taskbar and you can use the keyboard shortcut instead. Press "Win + Spacebar" keys to reveal the language bar and then press the space while holding Win key to toggle the selection. If you see a floating language bar appears on the desktop, then click on "Language bar options" link showing below the "Use the desktop language bar when it's available" option in the settings page. This will open "Text Services and Input Languages" dialog box, select "Hidden" option under "Language Bar" section and click "Apply/OK" button to disable the floating bar.
What You Cannot Do with Windows 11 Taskbar
As mentioned, there are few things you cannot do with Windows 11 taskbar which you could in Windows 10.
It is not possible to remove volume, battery, Wi-Fi icons set.
You cannot hide clock from Windows 11 taskbar.
Cannot show labels of open app items.
You can do these stuffs by tweaking the registry or using third-party tools to revert back the interface like Windows 10 taskbar. However, there are no direct settings available in Windows 11 for that at this moment.
Final Clutter Free Taskbar in Windows 11
So, the final taskbar after removing the clutter will look like below. Other than Start menu icon, we have Chrome, File Explorer and Edge shortcuts pinned to the taskbar. If you do not want to have any pinned app shortcuts on the taskbar, right-click on the icon and select "Unpin from taskbar" option to remove the icon.
If you are using Mac and Windows computers, then you can try third-party apps to change the Windows taskbar appearance like macOS.