Phone Link is the default app that comes with Windows 11 installation. This app helps to connect your smartphone with PC and monitor phone's activities from PC. You can view phone's notifications, make/receive calls, send/receive messages right from Phone Link app. Earlier the feature was only available for Android smartphones and recently Microsoft updated Windows 11 to connect with iPhone also. If you are using Windows PC and iPhone, then this is a good feature worth trying.
Requirements to Use Phone Link with iPhone
You should have the followings to link iPhone and Windows 11 PC:
Turn on Bluetooth in your PC and iPhone.
Your iPhone should run with iOS 14 or later version.
Install Link to Windows app (this is automatic or you can do it manually).
Grant necessary permissions to use phone contacts.
Keep your iPhone and laptop/desktop ready and follow the below steps.
Step 1: Pairing Windows PC and iPhone
The first step is to pair your devices using Bluetooth connection. So, make sure to turn on Bluetooth on both devices.
iPhone – tap on Settings app and go to "Bluetooth" section to enable it.
Windows 11 – open Settings and navigate to "Bluetooth & devices" section to enable the option.
Once Bluetooth is turned on, search and open Phone Link app in your Windows 11 PC.
You will see "Android" and "iPhone" buttons and click on the "iPhone" button.
The app will generate a QR code and show.
Scan the generated QR code with your iPhone's camera app. While scanning you will see "Pair your devices" option and tap on that.
On the next screen, tap "Open" button and then confirm "Link to Windows" to use your Wi-Fi or Cellular network.
This will install Link to Windows app on your iPhone. The next screen on iPhone will show "Continue pairing with Bluetooth" and tap on "Continue" button.
Confirm "Link to Windows" to use Bluetooth by tapping on "OK".
You will see a pairing request with 6 digits Bluetooth code and tap on "Pair" option.
The same code will appear on Phone Link app in your Windows PC. Click "Pair" button.
Note: The generated QR code in Phone Link app will stay for 3 minutes and then will become invalid. If you are not able to use the QR code option, then click "Continue manually without a QR code" link. This will show a URL to open in your open which will redirect you to Link to Windows app in iOS App Store. You can manually install the app and follow similar steps to pair your devices.
Step 2: Grant Permissions in iPhone and Windows PC
Once the devices are paired, the next step is to grant permissions for accessing iPhone stuffs on your Windows PC.
On your iPhone, you will see a prompt asking you to confirm whether your PC can access the notifications from iPhone. Tap on "Allow" and confirm the permission.
However, this is only for the notifications and for messages and calls, go to "Settings > Bluetooth" section. Here, you should see the Windows PC is showing as "Connected" and tap on the small information icon showing next to it.
On this screen, set permissions for accessing iPhone notifications, messages and calls from your PC.
Show Notifications – make sure this is turned on to get all app notifications in Windows PC.
Name – this should show your PC name.
Device Type – you do not need to use this option.
Sync Contacts – enable this to show all your iPhone contacts in Windows Phone Link app.
Share System Notifications – enable this option if you also want to share system notifications from iPhone to Windows PC.
On your PC, go to "Settings > Bluetooth & devices > Devices" section and you should see the iPhone is showing "connected" under "Other devices" section.
Go back to Phone Link app on your PC which will show you the steps to grant permissions from the iPhone. Since you have already finished the permissions, click on "Continue" button.
You will see a "You are all set" success message and click on "Continue" button.
Finally, you will see a "Welcome to Phone Link app!" message, check "Open Phone Link when I sign to Windows" option and click "Get started" button.
Remember, the Phone Link app will automatically enable all permissions to receive notifications, messages and calls from the paired iPhone. However, you can change the permissions by clicking on gear "Settings" icon and going to "Features" section.
Step 3: Viewing iPhone Notifications in Windows PC
Now that you have finished pairing devices and granted permissions, you will see the iPhone notifications on your PC like any other Windows notifications.
Phone Link app on your PC should show the left sidebar with a list of iPhone apps that recently sent notifications. If you are not seeing the sidebar, simply close the app and reopen again.
Click the "Open pane" arrow mark showing just below the top left corner of the app to expand notifications section. You will see all the notifications received on iPhone right in Phone Link app.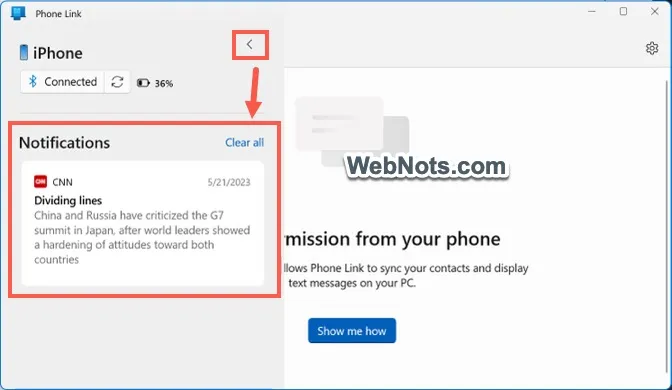 Click the X mark on single notification to delete it or click "Clear all" link to wipe off entire notifications. Alternatively, click on "More options" icon and select "Turn off notification from ……" option to disable notifications only from that app. You can also pin that notifications to keep it on top like a reminder. It is possible to pin multiple notifications and anytime you can unpin to remove from the top position.
If you are not seeing the notifications, click the refresh icon showing next to "Connected" button to refresh the list. You will also see the iPhone battery percentage which helps to charge the phone when it runs out of battery.
Phone Link app allows you to disable or enable notifications from particular iPhone apps in app's settings. Click the gear icon showing on top right corner of the app and go to "Features" settings. Scroll down and click "Choose which apps I get notifications from" link under "Notifications" section. This will show all your iPhone apps each with a dropdown. Click the dropdown against an app and select "Notifications feed + banner" or "Notification feed" or "Disabled" option as per your need.
Step 4: Making Calls from PC and Send Messages
Go to "Calls" menu to view call history and make a new call. Simply type the number or select the contact from the synced contact list to make call from PC using your iPhone's SIM card. You can also pick the calls received on your iPhone directly from your PC. This works like Apple Continuity feature to pick up iPhone's call on your Mac.
Similar to calls, go to "Messages" menu to view all previous messages and send a new message to iPhone contacts or to any other person.
Step 5: Other Phone Link App Settings
Below are the options available in Phone Link app settings under different sections. You can check out and make use of the features you like.
General – show notification badge, change banner style and include Phone Link app in startup and open the app when signing into Windows.
Devices – click the three dots "More options" icon showing on the top right corner of the paired iPhone and select "Remove" option to delete the device. You can add a new device by clicking on "Link new device" link and follow the same setup as explained above. If you removed the device, make sure to unpair your PC from the iPhone also.
Features – as mentioned, you can manage notifications, messages and calls permissions from this section.
Personalization – change the app to use dark or light theme or opt to use Windows setting.
Troubleshooting – quick support links for troubleshooting the setup.
Feedback & Community – send feedback, rate the app and refer it your friend.
About – check and update the app from here.
Note: If you are using battery saver, make sure the PC is running with sufficient battery or connected to power source. This will help to sync the paired devices, otherwise, you may not see the updates from your iPhone.