Windows operating system uses a mouse cursor which is also called pointer. This is a small arrow that tracks your touchpad or mouse movement. However, this mouse cursor is different than the one you see in most text processing applications like Microsoft Word. In this article, we will explain how to change text cursor size and color in Microsoft Word.
Related: How to quickly insert dividers in Microsoft Word?
Different Cursors Used in Word
You can find the following types of cursors when using Word documents:
Arrow cursor – this is a system's mouse cursor and looks as per the settings you have for your mouse pointer. You can find how to change the color and size of this mouse cursor as explained in our earlier article.
Text select – this is also a mouse cursor however appears only when you move the pointer on the text typing area. This is called "Text Select" cursor and you can change this icon from mouse pointer settings.
Text cursor – this is thin line blinking on the text area and moves ahead when you start typing. Note that this text cursor stays on the same place even you move the mouse to another place in the document without clicking.
Inverted arrow – this will appear when you move the pointer to left margin area of the document. Clicking with inverted arrow will select the line and you can drag to select multiple lines. This cursor stays as it is and does not change with respect to mouse cursor or text cursor changes.
Change Text Cursor in Word
You can change the color, size and thickness of the text cursor in Word. First, press "Win + I" to open Windows Settings app. Navigate to "Accessibility" option and click on "Text cursor" option. Here you can preview your text cursor and customize it as per your convenience.
Enable Text Cursor Indicator
The first option is to enable "Text cursor indicator" which is disabled by default. This is an indicator that appears top and bottom of the blinking cursor icon.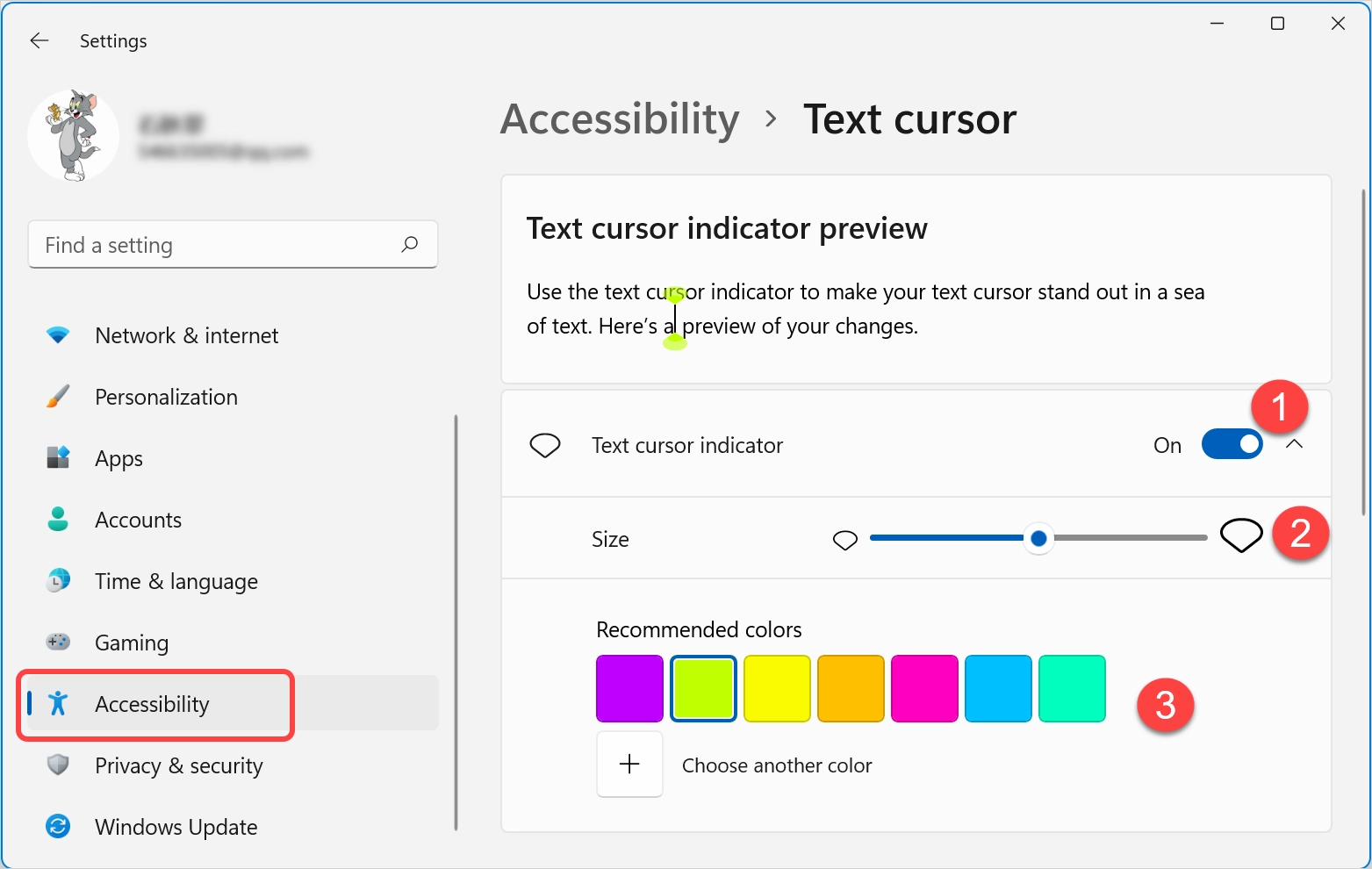 Enabling the indicator will mark the text cursor like as shown in the picture below.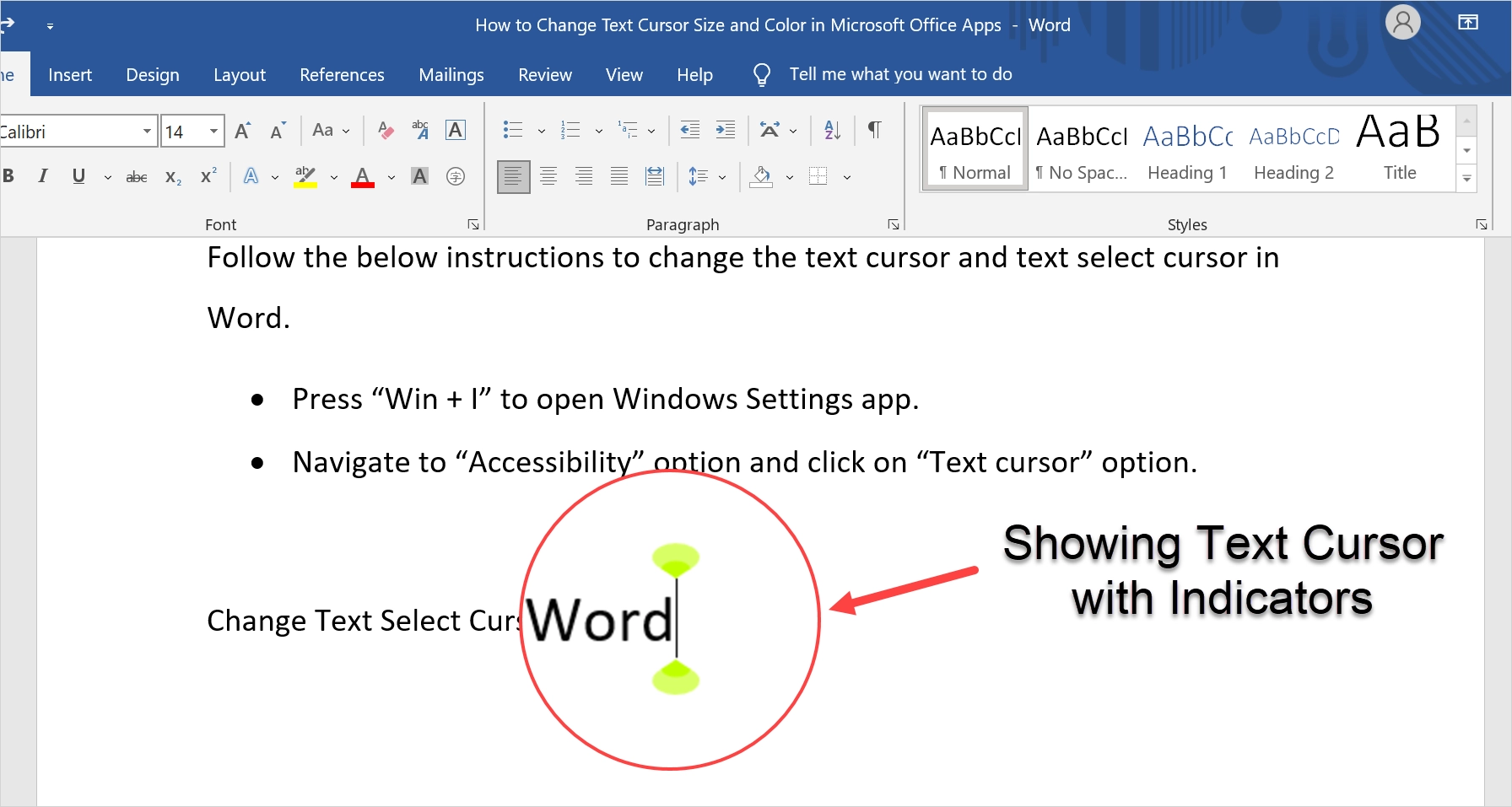 You can change the indicator's size by simply dragging the slider to desired position. Finally, you can change the color of the indicators by selecting it from recommended colors or click the + icon and select a custom color of your choice.
Change Text Cursor Size
Scroll down a bit on the settings page to find "Text cursor thickness" section. Drag the slider to desired position to increase the cursor's thickness. You can also see the instant preview without going to your documents.
Change Text Select Cursor in Word
As mentioned, you can change the text select cursor's icon from "Mouse Pointer" properties dialog box. You can open mouse pointer settings from "Personalization > Themes > Mouse Cursor" section in Windows Settings app. However, for changing the color and size, go to "Accessibility > Mouse pointer and touch" in Windows Settings app.
You can change the mouse pointer style to white, black, inverted or custom color. In addition, you can move the slider to increase the size of the text select pointer. If you are using touch screen, you can enable the touch indicator to look larger.
It will look like below in the Word document.
Points to Note
Though text cursor settings help to visually locate the text cursor easily, it will appear in all apps where there is a text area. Even you will see the indicator when searching with Windows Search and typing the file names. So, you will be easily annoyed unless you have some vision problem to see the cursor. This is the reason Microsoft disabled this option by default in Windows.
Similarly, text select cursor settings will also affect the default mouse cursor arrow icon. Therefore, you need to use nominal size for text cursor and text select cursor so that it will look appropriate and not affect the use of other apps.