Mac will show you the profile picture whenever you login to your computer. The profile picture is shown by default from few of the available images supplied with Mac. Over period of time, looking at the same picture every time when logging in will bore you. Also some of us need to use single Mac with multiple user accounts. In such case, it is better to have a different and desired profile pictures for each account when you login. In this article let us show you how to change profile picture on your Mac.
Related: Setup picture password in Windows 10.
How to Change Profile Picture on Your Mac?
Go to "Apple Menu > System Preferences…".
Click on "Users & Groups" icon.
Select your user account from left sidebar. Hover on the current profile picture to see "edit" option. Click on the picture to get many options to replace the current picture.
Current
You will land on this option when clicking on your current profile picture. Here you can only zoom in or out to adjust your current image. Whenever you change the picture using any of the below options except "Defaults", you will first see the picture under "Current" section to adjust the fit.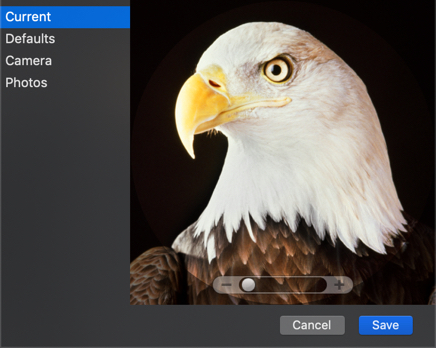 Defaults
Click on this option to view all default profile pictures available on your Mac. There are very few pictures to select from. Choose the one you like and click on the "Save" button to change the selected picture as your profile picture. Since the default pictures are already adjusted for perfect fit, you will not see an option to adjust the zoom. But again you can click on the profile picture to see the image under "Current" section and adjust the zoom fit.
Related: How to change computer name in Mac?
Camera
If you want to use your real face then click on the "Camera" option. The camera on your Mac will turn to a green light now. Adjust your face to the camera view and click on "Take Photo" button. Your picture will show under "Current" section with an option to adjust the zoom and save.
Photos
Select the pictures from your photo library and set it as a profile picture. First upload your custom image to Photos app. You can do this by opening Photos app and drag the picture on the app.
Then open to "Users & Groups" preferences and navigate to "Photos" option as explained above. You can see the uploaded image under "Moments". Choose the image and click on "Next" button.
Now the selected image will show under "Current" section for you to adjust the zoom and set as profile picture.
Related: 15 macOS Mojave features you should try.
Setting Custom Profile Picture
You can use custom profile picture either by using Photos app or by taking camera picture. In case, if you want to upload a custom picture not available in Photos library then also you have an option on your Mac.
Drag and Drop Profile Picture
In this method, download or create your profile picture and keep it on any folder like Desktop or Downloads. Let us say, you have a custom picture under "Downloads" folder. Open "Users & Groups" preferences and select your user account. Open the Finder window and keep the preferences and Downloads folder stacked to each other like below.
Drag the custom image and drop on your current profile picture. When you are dropping on the profile picture, Mac will show you a green + icon indicating the current image will be replaced. Adjust the fit of your custom image and save it as your profile picture.