When you embed an object in Office documents, the original file name and the default icon will be selected automatically. Here is a step by step process, if you are looking for changing the embedded file name in any office documents like Word, Excel or PowerPoint. We explained the process with Microsoft Word and the same can be applied to other Office products.
Related: How to insert Excel table in Word?
Scenarios for Changing Embedded File Name
There are two scenarios where you may be interested in changing the embedded object name:
When embedding a new file
Changing the name of already embedded file
1. Changing Object Name During Insertion
Go to "Insert" menu and click on the "Object" button to embed a file in your document.
You will see a popup showing two tabs – Create New and Create from File.
Choose "Create from File" option and locate the file using "Browse" button.
Here, we inserted a file name "Chapte 1.docx".
Click on the "Change Icon" button.
A new popup window will open.
Change the Icon to be displayed in the embedded document.
Enter the new file name in the input text box for Caption.
Here is an example of how the files will be displayed in your document.
Original file with name "Chapter 1.docx"
Changed file name as "Test File.docx"
You can also remove the extension of the file if you want and the embedded file will open with the default program available in that computer.
2. Changing Name of Already Embedded Object
When you want to change an already embedded object, just right click on the object and select "Document Object" and click on "Convert…" option.
Click on "Change Icon" in the pop-up window and then enter new file name in "Caption" text box.
Click "OK" to close the pop-up windows and you can see the file name is changed with the new name.
Related: How to remove objects from images in Windows 10?
Embedding File in Mac Word
Unlike Windows version, embedding files in Mac Office version works differently.
Go to "Insert" tab and click on "Object" icon.
Select your document type from "Object type" box (for example – Microsoft Word Document).
Check "Display as Icon" box and click on the "From File…" button.
Choose the file to embed from your Mac.
As you can see in the below screenshot, Word will embed the file with the its filename.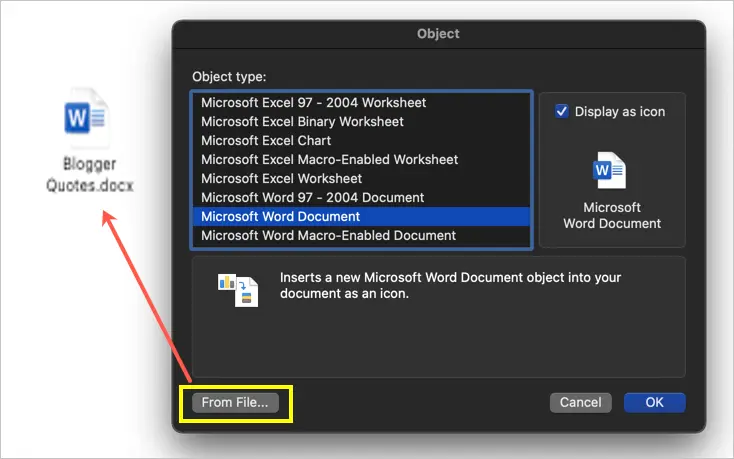 If you want to change the embedded file name, delete the embedded file first and re-embed the file by changing its filename. The right click context menu will not have any option in Mac Office version to edit the filename. You can insert a caption, which will not have any influence on the name of embedded file.