Microsoft Word is the most powerful word processing software available for users. Whether you are using Windows or Mac, Office applications are must needed for day to day work. However, many of us use Word with the default settings and do changes for each document. One such a change is using the default font family and size settings. In this article, we will explain how to change default font in Word as per your convenient.
Related: How to fix slow Word documents when typing and opening?
Default Font in Word
Whenever you open a blank Word document, it opens with a default font family, size and effects as per the document template settings. On Windows, Microsoft Word uses Calibri as a default font family with 11px size.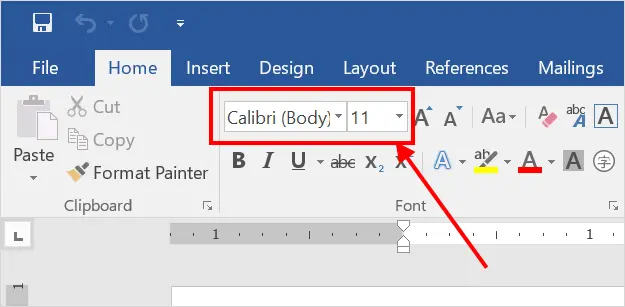 On Mac also Word will open with the same Calibri font family. However, it uses 12px as the default font size instead of 11px in Windows.
Why Should You Change Default Font?
What if you don't like the default Calibri font? Generally, you can change the font family, size and other text effects like bold / italic / underline, etc. in the document and save it. However, you have to do this on each document thus spending time on a non-productive task. In addition. some organizations also use custom font and you have to mandatorily use them on your documents.
The solution here is to permanently change the default font family, size and other effects. This will help you to launch a blank document with your preferred font settings and save time.
How to Change Default Font in Word – Windows?
Open a blank Word document and right click on the content area. Choose "Font" option from the context menu to open Font settings dialog box. Alternatively, press "Control + D" shortcut keys to open Font settings.
Here you will see the default font as "+Body" (or Calibri (Body) and the font size as 11px.
Let's say, you want to change the default font to Arial with italic style and size to 14px. If you want, you can also change other available text effects.
After choosing your preferred font settings, click on "Set As Default" button. Word will prompt you with the below dialog box asking you to confirm whether to apply the changes to that document or to the template. Choose "All documents based on the Normal.dotm template?" option.
Click "OK" to save your changes. Close your document and launch Word again. Now, you can see the default font is Arial with the size as 14. You can continue to prepare the document with this font settings without any additional changes.
How to Change Default Font in Word – Mac?
Note: Choose the most used settings to avoid changing it on each document. We have used italic in the above example. However, you may not need italic or underline for your default settings. In general, you can focus on the font family and size which are the most useful and fixed settings.
Follow the below instructions to change default font settings, if you are using Office 365 in Mac.
Launch Word and press "Command + D" keys to open Font settings dialog box.
Change the "Latin text font" and size as per your preference and click on the "Default…" button. On the confirmation pop-up, choose "All documents based on the Normal template?" option.
Click on "OK" button to save your changes and close the current document. Now, relaunch Word and check the font family and size are changed as per your selection.
Note: Normal.dotm is the base Word template for your blank documents. Therefore, the changes done to the template will be applied to all blank documents. However, if you have a custom document template or using other than Normal.dotm, you have to modify that template to change default font settings.