Many websites like Microsoft, Apple and Google offer two factor authentication to protect your login details from unauthorized access. This is done generally by linking your account with authenticator apps like Google Authenticator or Microsoft Authenticator. However, it is also common to send a verification code in an email or SMS. You need to enter this verification code to login after entering the first level username/password details. This is a hassle to look and type the code every time when you login. Fortunately, Safari browser makes it easier to automatically suggest the verification code form your email or message in the login form. Here is how you can use this feature on your iPhone and Mac.
Requirements for AutoFilling Verification Codes
This feature is available as part of Safari version 17 or later. Therefore, you should update your iPhone to iOS 17 or later and Mac to macOS 14 (Sonoma) or later. Email verification code work with all email service providers like Gmail, Yahoo!, Outlook, etc. However, you must have added and configured your email in iPhone/Mac Mail app for this to work.
Enable AutoFilling Verification Code in iPhone
Open Settings app and go to "Passwords" section.
Unlock the screen with Face ID or passcode.
Tap on "Password Options" settings.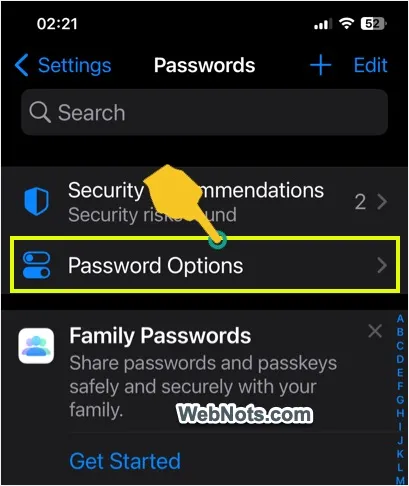 On the next screen, make sure "AutoFill Passwords and Passkeys" option is enabled.
Select "iCloud Passwords & Keychain" option for "Use Passwords and Passkeys from" setting.
Checking AutoFill Verification Code in Safari
Open any website's login page that triggers a security or verification code to your email or phone number. Enter your username/password details and trigger a verification code.
Tap on the input text box where you can enter the verification code. Safari will automatically show a suggestion with the code received from your email as shown below. Simply tap on the code to insert in the box and login to the website.
Automatically Delete Verification Emails
This kind of emails with verification codes simply occupy the storage space in your inbox without any use after login. Similarly, verification messages also simply got accumulated in your Messages app over period. Safari will automatically suggest deleting the verification email/message when you use the code. Tap on "Delete After Use" option to enable this feature.
If you have selected "Setup Later in Settings" option, follow the below steps to enable the feature:
Open Settings app and go to "Passwords" section.
Unlock the screen and tap on "Password Options" item.
Scroll down to bottom on the next screen and enable "Clean Up Automatically" option under "Verification Codes" section.
Enable AutoFill Verification Code in Safari Mac
AutoFilling of verification codes work exactly same manner in Mac.
Click the Apple logo showing on top left corner of the screen and select "System Settings…" menu.
Go to "Passwords" section and unlock the settings page with your Touch ID or password.
Click the "Password Options" item.
On the next page, enable "AutoFill Passwords and Passkeys" and select "iCloud Keychain" for "Use passwords and passkeys from" option.
After that, enable "Clean Up Automatically" option under "Verification Codes" section.
From now onwards, Safari will show verification codes received in Mail or Messages app whenever you are trying to login to websites. The messages and mails also will be automatically deleted after you used the verification code.