Nowadays, getting user interaction is one of the biggest problems for many site owners. Branded sites can pump large amount of money in artificially keeping the site active in terms of commenting, forum posting, etc. However, it is not a possible task for small site owners to showcase the user response for their valuable content. Using emoji reactions is the best and fun filled solution to resolve this problem. Here is how you can do that in your WordPress site. If you want to learn how to insert emoji, check our article to find various methods of inserting emoji in WordPress.
Why Emoji Reactions is Better Option?
There are many traditional ways for website owners to interact with readers. For example, you can collect emails for sending newsletters or request for comments. These options include collecting personal data like name and email address. Due to privacy concerns, many users ignore these interactions of provide fake details. Also, sending regular newsletter with useful content is a major task for site owners which may be easily missed due to their busy schedule.
Emoji reactions can help to overcome all these problems:
No need of personal details.
Users can express their opinion with single click.
Site owner do not need to respond.
Since comment form is always available along with reactions, interested users can use the form to provide or ask for more details.
How Emoji Reactions Look Like?
Adding reactions is something similar to Facebook reactions showing below each post. However, the style and appearance could be different depending upon the setting. Here is an example of emoji reactions which we use it in one of our sites. The page has simple article with less than 300 words. However, it received more than 900 total responses in reactions as you can see.
Add Emoji Reactions in WordPress
There are two ways to add reactions to your site. You can either use a plugin with your current theme or use a theme which offers this feature.
1. Using WP Reactions Plugin
WP Reactions Lite is a free plugin which you can use to add emoji reactions. The free version offers simple wizard to setup and customize the animated lottie emojis to appear on the reactions panel. In addition to emoji list, you can also show the social sharing icons allowing users to share your content easily on social platforms.
Go to "WP Reactions > Global Activation" menu.
Simply turn on the switch against "Reactions" to activate the setup and you should see a notification mentioning "Your Reactions are Live".
For customizing the setup, click on "Customize Now" button. This will show you a step-by-step wizard like below. Select the list of emoji items you want to show in the reactions, arrange the order and click "Next" button.
On the next "Setup" tab, customize the animation, size, placement, display and alignment options. Here, you can choose whether you want to show the reactions panel in posts, pages, on both or using manual mode. Make sure to select manual mode option if you want to globally disable the reactions and enable only on particular post or page.
The next step allows you to change the text showing above the panel. By default, it will show "What's your Reaction?" and you can change to any custom text in the box. In addition, you can customize the text styles and add background/borders.
The plugin also allows you to show or hide social sharing buttons along with reactions. You can show the button in a visible manner or hide them and show only when user clicks one of the reactions.
You can anytime preview the output by clicking on the eye icon showing at bottom right corner. If you have enabled animation, make sure to hover over and test how it works on the final "Review & Save" step. Finally, click on "Save & Exit" button to make the emoji reactions live on your site.
If you have chosen the insertion option on posts, pages or both, the plugin will automatically start showing the reactions. Below is how the emoji reactions will look on the published site with the social sharing icons showing when clicking on emoji. You can disable it on specific post/page while editing in Gutenberg editor.
If you have selected "Manual Mode" of placement, then you can enable the reactions when editing the post or page. The plugin adds a meta box in editor like below allowing you to enable reactions only on that post or page. You can view the overall statistics and add fake count for each reaction if required.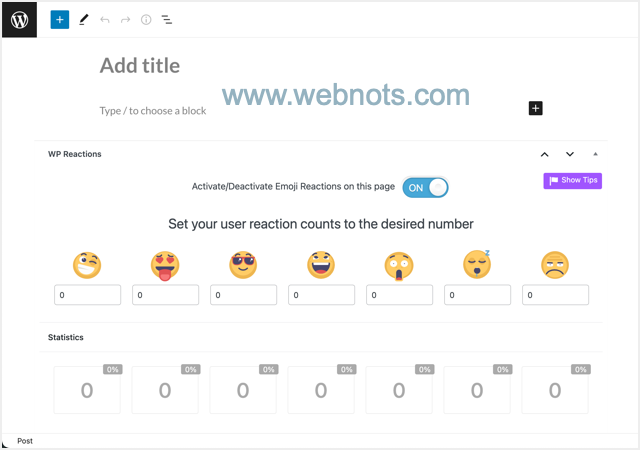 If you like the plugin, you can go for the premium subscription to get additional layouts and uploading your custom emoji in the reactions list. The premium version will cost $29 for single domain license and $39 with uploader add-on allowing custom emoji upload.
2. Using Emoji Reactions with Theme
The advantage of using a plugin that you do not need to worry about the reactions when changing the theme. However, if you want to make things simple, then you can go for a theme like Pixwell which offers in-built emoji reactions feature. This is also a good option when you are starting a new site.
Purchase Pixwell theme from Envato marketplace, upload and activate it on your site.
Go to "Theme Options > Single Post" section.
Select "Post Reactions" and turn on "Reaction Section" option.
This will instantly start showing the reactions site wide below all posts.
You have other options to enable only one response from a user and enable or disable list of items to show in the reactions panel. The theme also offers social buttons which you can configure separately under "Site Social Profiles" and enable it for posts under "Single Post > Share on Socials" section. The final emoji reactions will look like below on the published site.
Note on Database Usage
Since the responses are to be recorded and fetched on each page load, both the plugin and theme will store the reactions in database. WP Reactions Lite uses a separate table called "wp_wpreactions_reacted_users" while Pixwell theme uses "rb_reaction_data" meta_key in wp_postmeta table. When changing your theme or deleting the plugin, make sure to clean up these database entries. From site speed perspective, we do not see this will have any noticeable impact.
Final Words
Adding emoji reactions in your WordPress site is a cool option especially when you have viral content. It is also a good idea to use this on kids related and fun websites. You can either purchase a theme which offers emoji reactions feature or use separate plugin that works independent of your theme. However, if you do not receive good response even on your popular articles, then this may not be a suitable option for your content.