There are many word processing tools available but once worked in the comfort of Microsoft Word, you may not like any other software. It is pretty sure no one exactly knows the complete features Word offers. Adding dividers is one such hidden features and you can do this with shortcuts. In this article we will show how to add dividers in Microsoft Word documents quickly.
Related: How to fix slow Microsoft Word and speed up you productivity?
How to Add Dividers in Microsoft Word Quickly?
You can add dividers with different methods.
Use hyphen and underscore
Using other symbol shortcuts
Insert image as divider
Insert from the menu
1. Using Hyphens and Underscores
The simplest and most easy method is to use continuous hyphens and underscores. You can continuously press hyphen or underscore to insert the divider line between paragraphs. The advantage is that you can define the length and alignment of the divider as per your need.
Divider using hyphens: —————–
Divider using underscore: ____________
2. Quick Way to Add Dividers with Shortcuts
When you want to insert a full width divider between two sections or elements, you can use the following shortcuts.
Press hyphens for three or more times and press the enter key (— and ⏎). This will create a full width divider as a thin continuous line.
Press three asterisks and enter (*** and ⏎) to if you want a dotted line.
Use three equal signs and enter (=== and ⏎) to add a double line.
Use three underscores and enter (___ and ⏎) to make a divider with medium thickness.
Type three number signs and enter key (### and ⏎) to create a thicker line with borders.
And finally with three tildes and enter (~~~ and ⏎) to create a wavy divider line.
Below picture explains the shortcut keys and the display of the divider in Word document.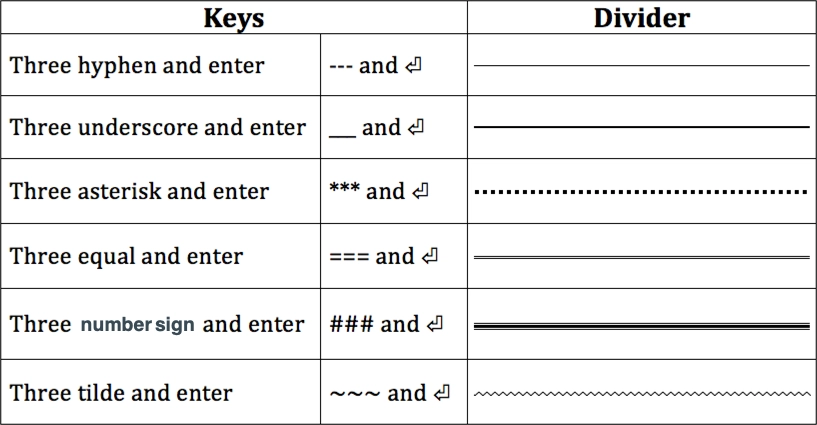 Deleting Dividers Inserted with Shortcuts
Well, you have created the dividers using the above shortcuts and now is the time to see how to delete them. You may find it difficult to delete since those dividers are not actually lines – they are bottom borders act like an underline. In fact, you can simply click on the "Borders" icon to insert divider in Word. Since "Borders" option by default uses "Bottom Border" clicking on it will insert a line similar to the above shortcuts. Follow the below instructions in order to delete the dividers.
Position your cursor on the previous line of the divider. If you have an element like paragraph before the divider then select the paragraph.
Click on the "Home" tab and then click the small arrow next to "Border" button in the "Paragraph" group.
Select "No Border" or "None" option from the list.
This works on all Word versions like 2019, Microsoft 365, etc. on all platforms like Windows 10 / 11. This also works on Microsoft Word for Mac.
3. Using Images for Dividers
Using image is another option to insert divider image on your Word document. You can create suitable images and insert between elements as an object. Remember, not to copy image from website and paste on your document. Word will take long time to extract the image and also link the image to the webpage from where you are copying. The best option is to right click and save the image to your computer. After that, you can either copy paste from local computer or insert the image from menu.

4. Using Horizontal Line as Divider
The last option to insert divider in Word documents is using horizontal line menu option available. You can access this option under "Paragraph" group in "Home" tab. However, this option varies in Word 2016 onwards and earlier versions.
Word 2010 or Earlier
Click on the "Borders and Shading" button and click on the "Horizontal Line" option to insert a divider on your document.
If you want to insert a fancy divider, choose the menu option click on the "Horizontal Line…" button. On the popup box, select the divider style you want to insert.
Word 2016 or Later
If you use Word 2016 or later versions like Microsoft 365, click on the small arrow next to "Border" icon. This is available in "Paragraph" group under "Home" menu.
Choose "Horizontal Line" option to insert a grey color divider line.
Double click on the divider to open the "Format Horizontal Line" pop-up.
Choose the color, alignment, width and height for your divider.
Unlike dividers inserted with shortcuts, you can move the horizontal lines by dragging it to required place in your document.
Horizontal line is a perfect option for inserting dividers in Word and it will also work on Word Microsoft 365 subscription in Mac also. However, double clicking on horizontal line in Mac Word will open "Format Shape" options in the sidebar. You can go to "Shape Options" tab and start customizing the color, thickness and other styles of the line.