An online store is always the best platform to sell physical or digital products globally. However, identifying an ideal e-commerce platform for your online shop can be a challenge and costly. Fortunately, WordPress offers a host of plugins that allow web owners and developers to customize their website to their specific needs. If you need to create and run a flexible e-store, WooCommerce is the perfect solution.
In this guide, we will learn how to install and use WooCommerce in Word Press. First, why should you use WooCommerce?
Related: 10 tips to customize your WooCommerce store.
What are the benefits of using WooCommerce?
Simply put, WooCommerce is a free and fully customizable e-commerce platform for WordPress users. The plugin allows you to transform your WordPress site into an e-commerce store, where you can sell almost anything.
You can sell a range of products – It enables you to create a site for selling a wide range of products including physical goods, subscriptions, content, affiliate products and services to any part of the world.
Access to various WordPress features – The plugin integrates with WordPress, allowing access to various free and premium WP features.
Scalability and customization – WooCommerce is open-source, allowing developers to create, customize and grow their online stores to meet their requirements.
Variety of payment options – Allows integration with various payment gateways.
Unlimited control – The e-commerce platform gives you full control of the store so you can handle unlimited products, orders and users.
How to Setup WooCommerce Store in WordPress?
Setting up your online store with WordPress is a process with WooCommerce.
Install and Activate WooCommerce
Creating Store with Setup Wizard
Managing your E-commerce Store Settings
Start Selling on your E-commerce Store
Managing Orders and Reports
We will explain each step in details in the following sections.
1. Install and Activate WooCommerce
The first step is to install the WooCommerce plugin on your site.
Log in to your WordPress admin dashboard.
Hover your mouse over "Plugins" menu on the left sidebar menu and choose "Add New" from the expanded options.
Search for 'WooCommerce' and click "Install Now" to add the plugin to your site. After a successful installation, click the "Activate" button to start using the plugin.
This will take you to the WooCommerce setup wizard. If you have trouble in installing the plugin, refer our article on how to install plugins in WordPress site.
2. Creating Store with Setup Wizard
After activating the plugin, you can follow the setup wizard to customize your store details. Provide the details about your store, choose your preferred currency and product type then click "Let's go" to continue.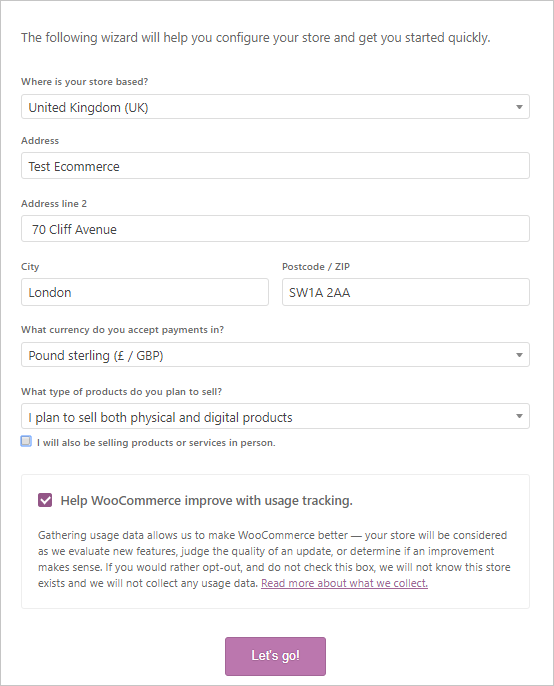 If you prefer setting up the store later, you can click the "Not right now" button located below the form to skip the wizard.
Next, you need to add the payment method. You can add both online and offline options and click "Continue".
Set the shipping rates for your shipping zones, specify the weight, and dimension measuring units.
Continue to the next setting options.
WooCommerce recommends using the automated taxes option and MailChimp to manage your email campaigns. If you prefer other options, click to uncheck the boxes and continue with the setup.
You can also skip the settings by clicking the link at the bottom of the wizard.
Click "Finish…" to complete. Now you have your online shop up and running; click "Visit Dashboard" to manage your e-commerce site.
Related: How to make WooCommerce store work with W3 Total Cache?
3. Managing your E-commerce Store Settings
After the initial setup through the wizard, you can change the details any time from the menu items. The plugin will add two new menu items – WooCommerce and Products. The "WooCommerce" menu allows you to configure your store settings and view the order related information. We will discuss the "Products" menu that allows you to create products in next section.
In order to start with your store, expand the new "WooCommerce" menu on the left panel and go to "Settings" page.
3.1. General Settings
The "General" settings tab has the following options:
Store Address – Enter your store address; use this only if you have a physical store or want to apply tax / shipping rate. Otherwise you can leave the address blank.
General Options – here you need to enter the selling and shipping country locations. If you have a digital product then select sell to all countries and disable shipping calculations. You have also options for enabling or disabling coupons and tax rates on your store.
Currency Options – setup the default currency and how your store should display the currency. Generally you can select USD or select the specific currency if you are focusing to sell your products in specific region or country.
3.1.1. Tax Settings
When you enable tax rate for your store and save changes, you will see a new "Tax" tab.
Here you can setup all tax related details like prices include tax or not, calculation base for tax, rounding off method, etc.
Click on "Standard rates", "Reduced Rate rates" and "Zero Rate rates" links to provide relevant details for your tax setup.
Recommended: Get discounted WooCommerce hosting from SiteGround.
3.2. Products Settings
Switch to the "Products" tab to configure the products page and save the changes.
Shop pages – WooCommerce will automatically create shop, cart and checkout pages for your store. However, you can change the shop page here. Generally WooCommerce will slow down your site due to admin Ajax calls. So you can disable the Ajax add to cart button option and enable redirect to cart page. This will take the customer to the cart page after adding each product. You can also select the placeholder image for your product to show in case if you have no featured image.
Measurements – setup weight and dimension unit here. These settings will be used if you have physical products with weight and dimension to measure.
Reviews – you can enable or disable customer reviews on the products.
Click on "Inventory" and "Downloadable products" links to add more details at store level.
3.3. Payments Settings
In order to add payment methods or manage existing ones, move to the "Payments" tab and click "Setup" or "Manage" button respectively.
You can also disable/enable a payment method by clicking the toggle switch to turn on/off.
In order to setup PayPal account, click on the "Setup" button against PayPal option. You can provide your PayPal merchant email and other related details. Any time later, you can change the PayPal email by clicking on the "Manage" button.
Related: Create online store with Weebly.
3.4. Accounts & Privacy Settings
Be careful in setting up this page, especially if your country has separate privacy laws like European GDPR. You can modify the customer account settings by clicking the "Accounts & Privacy" tab, tick your preferred options and save the changes.
Guest checkout – Enable or disable guest checkout and allow customers to use existing account for checkout.
Account creation – here you can allow customers to create account during checkout process and automatically generate username/password.
Account erasure requests – when managing personal data erase request, you can remove the data from the orders by checking the option here. Also you can remove the access to downloadable files in the orders.
Privacy policy – choose the privacy policy page on your site and provide the details to be shown for registration and checkout policy.
Personal data retention – choose how many months/years/days/weeks you want to retain the order details.
3.5. Email
Under "Emails", you can manage the various notifications by specifying the recipient address for the order email notifications. To do so, click the "Manage" button.
Add the recipients' list separating the email addresses with a comma. Define the structure of the email heading, subject and template then save the changes.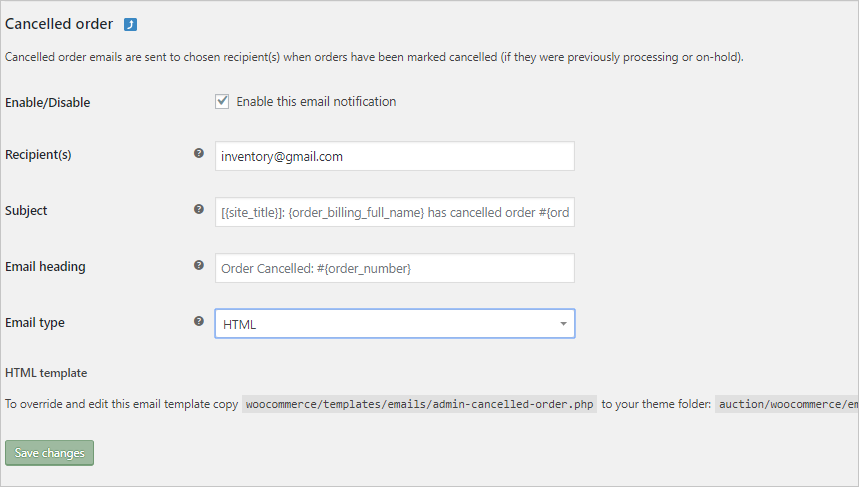 You can setup email template for each action like new order, failed order, cancelled order, etc. You have also additional options to customize the header logo image on the orders, footer text, from name and email, and email template colors.
3.6. Advanced Settings
The "Advanced" settings page allows you to set up the checkout page and accounts endpoints.
As mentioned, WooCommerce will automatically setup cart, checkout and account pages for you. If you don't want to use the default pages then select your custom pages here.
Select the terms and conditions page that you want to show as a link during checkout process.
Ensure to force the checkout with HTTPS to have a secure transaction.
Leave the account and checkout endpoint details as it is. If you are a developer, click on the "REST API" and "Webhooks" links to create the API key or webhook.
4. Start Selling on your E-commerce Store
Once you are done with the configurations, go to the "Products" menu on the dashboard sidebar and add your product. It is similar to creating a post or page on your WordPress site. You can have product categories, tags and attributes to group your products.
Create a new product by clicking the "Products > Add New" menu.

Enter the product information such as name, description, price and image among other details.
Most important part is to be provide the product data details. Ensure to select simple or variable product and also virtual or downloadable.
You can provide SKU and product specific details in different sections.
After providing all required details, click "Publish" to make the added products available to the store visitors.
Learn WordPress: Check out 500+ free WordPress tutorials.
5. Managing Orders and Reports
The "WooCommerce" menu has many other options in addition to "Settings". You can view the orders, coupons, current status of the setup and extensions.
The "Reports" section will show you the order history for the sold products for different periods.
Find many extensions to enhance the features of your store under "Extensions" menu.
In order to troubleshoot the store setup and raise a support ticket, go to "Status" menu. Here you can view the status of current setup, tools, logs and scheduled actions. Click on the "Get system report" button and get the details to use for raising the support ticket with plugin developer.
Wrapping Up
The new online shopping trend has forced many businesses to take their business online. To do so, businesses need to set up an online store to enable customers to view and buy products directly from these stores. If you want to sell your product online, the WooCommerce WP plugin provides an affordable and convenient e-commerce platform for any type of e-store. You can follow the above steps to create and manage your online shop with WooCommerce.