Parallels Desktop for Mac App Store edition is a cool way to create virtual machine on your Mac and install Windows 11 ARM edition. The only problem with the Mac App Store app is that you can't share VPN as you can with the standard edition as I mentioned in my earlier article. Other than this, it's a fantastic app and saves you lot time especially when using keyboard shortcuts. If you are using the app and wanted to create custom keyboard shortcuts for Windows 11 VM, here is how you can do.
Parallels Tools
The Mac App Store edition of Parallels Desktop app comes preinstalled with Parallels Tools which offers packaged set of tools like copy paste between Mac and Windows. It also offers a set of equivalent keyboard shortcuts for Windows using your Mac keyboard. So, first make sure you have Parallels Tools installed by going to "Action" menu in Windows 11 VM setup. You should see "Reinstall Parallel Tools" menu which indicates the tools are already installed.
If you see "Install Parallel Tools" menu, click on it and install the tools.
Create Custom Keyboard Shortcut
I frequently use "Windows + I" keys to open Settings app. Unfortunately, this popular shortcut was not added by default and here I will explain with this example. First step is to open Windows 11 keyboard mapping preferences section in Parallels Desktop for Mac app. You can use one of the following methods for that purpose.
A. Open Keyboard Customization from Windows 11 Menu
Open Parallel Tools app and launch your Windows 11 virtual machine.
Go to "Devices" menu and hover over "Keyboard" option.
You will see a list of preset shortcuts and click on "Customize" menu.
B. Use Parallels Tools Icons to Open Keyboard Settings
When you move the mouse over to top, you will see a Windows 11 title bar appears. The right corner has lot Parallels Tools icon and the first one should be the keyboard icon as shown below. Click the keyboard icon and select "Customize" option.
C. Open Keyboard Preferences from Parallels App Icon on Top Bar
The last option is to click the Parallels app icon showing on the Mac's top bar. From there select "Preferences" menu and works without launching your Windows 11 virtual machine.
If you have already launched Windows 11, clicking the Parallels app icon will show different menu. In this case, go to "Devices > Keyboard" menu and select "Customize…" option.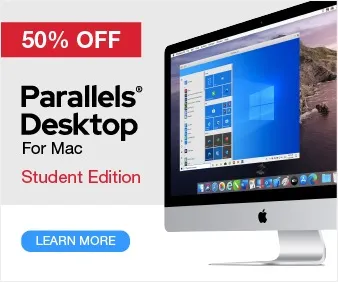 Parallels Desktop for Mac
Get Parallels Desktop for Mac students edition with 50% discount to create unlimited virtual machines and install Windows 11 or Linux.
Adding New Keyboard Shortcut Mapping
All the above methods will open "Parallels Desktop Preferences" and take you to "Keyboard Menu" section. However, here is not the place you should add a mapping shortcut. Click "Windows 11" under "Virtual Machines" section from left sidebar. Make sure to select "Windows" as the "Profile" from the dropdown. You will see a list of existing keyboard shortcuts that works with Mac keyboard and click on the + icon.
A pop-up will appear showing "From" and "To" section with all modifier keys and a text box. The "From" section is your Mac keyboard and the "To" section is the corresponding mapping on Windows 11.
For mapping "Win + I" shortcut, enter I in the "From" text box and click on "Cmd" button. After that, type I in the "To" text box and select "Win" key. Note that though the To text box is a dropdown, you can still enter any key in that. It should look like below on your screen.
Click "OK" button to add the mapped shortcut in the list.
You can close the preferences window and press "Cmd + I" keys. This will work as "Win + I" keys in Windows 11 and open the Settings app.
Final Words
In general, you can use Command, Control and Option keys in Mac keyboard for replacing Control, Windows and Alt keys in Windows shortcuts. For example, press "Control + Tab" to toggle through the open apps like "Win + Tab" in Windows 11 setup. Remember, using "Command + Tab" will activate the Mac apps though you are in Windows 11 virtual machine. However, the mapping of modifier keys is not always the same for all equivalent shortcuts. The best option is to check the list and create your own custom shortcut mapping as explained above.