Nowadays, mobiles apps help in a big way to access content on the web. However, web browsers still play a vital role in desktop for searching and getting the required details. Among many available browsers actively used by users, Chrome is the leading browser in terms of market share. Google Chrome has more than 60% of desktop market share and many users use it as a default browser due to its simplicity.
Related: Beginners guide to Firefox browser.
Most of us understand the basics of Chrome well. However, we often overlook simple steps involved in using Chrome that can help in doing tasks more convenient. In this guide, we have explained how to use Google Chrome effectively both for Windows and Mac users. This guide will provide you how to install Chrome, some fundamentals associated with it and important tips and tricks that you should keep in mind while using Google Chrome.
Even if you are an experienced user, this guide can tell you all steps in the sequence and the right guideline.
1. Advantages of Google Chrome
Before we start, let us see the some of the most noticeable advantages of Google Chrome.
Sleek design and easy to use browser.
Secure and auto update to latest technology.
Chrome is an open source and platform independent browser.
Possible to install with or without administrator access on your computer.
Easy to synchronize bookmarks, history and browsing data across all your devices by logging into your Google account.
Large extensions to enhance the browser's functionalities for special needs.
Easy to integrate other Google products like Gmail and tools for developers.
Various release channels for stable use, beta, developer and canary versions.
It is not that every feature of Google Chrome is good and advantage to the users. There are some major issues with Chrome like privacy and high resource (CPU and memory) consumption. However, the growing market share of Chrome indicates that there are no good alternative browsers available. If you are much worried about privacy then Mozilla Firefox is one of the alternate you can try out. You can learn more about Firefox in our beginners guide for Firefox.
2. Using Omnibox in Chrome
Chrome has address box under the tabs used to type the website address. However, you can also use the address bar for searching the web using search engines. Google calls the combination of address bar and search function together as an omnibox function.
Just type in the name of the website that you want to visit and hit enter, it will take you directly to that website. This is similar to any other browsers like Microsoft Edge, Firefox or Apple Safari.
In order to search from the omnibox, type google.com and press tab or spacebar. Chrome will show "Search Google", now enter the search term and hit enter to get Google search results.
You can setup any website as your custom search engine to use this omnibox search. In order to setup a search engine, you can go to "chrome://settings" and scroll down to "Search engine" section. Select your preferred search engine from the dropdown.
3. Installing Google Chrome
The installation process of Chrome on your PC or Mac is simple. You can install without administrator privilege which helps to have Chrome on any computer you own.
In order to install Google, go to the official Chrome website and click the "Download Chrome" button that appears on the landing page. Google will automatically detect your operating system and download Windows or Mac version accordingly.
After that a pop-up will appear. Click Accept and start the downloading. When you got the executable file (for Windows) or disk image file (for Mac), open it and follow the instructions to install Chrome on your computer.
4. Understanding Chrome Tabs and Windows
Before we explore further, you need to understand the basics of tabs and windows in Google Chrome browser.
When you open the browser, the page you land on is a home page.
You can open new tabs on the same browser window by pressing the + icon on the title bar.
You can also open a new window to open a webpage in additional Chrome window.
In addition, you can use incognito mode and guest mode to browse anonymously without storing any history of your browsing. You can access guest mode from the profile icon next to address bar and incognito mode from the settings menu.
5. Google Chrome Menu
You can see a three dots button on top right corner of the browser named as "Customize and control Google Chrome". Generally, people refer this as Chrome customizing menu as Windows version of Chrome does not any have other menu items. However, you can see the application menu on Chrome Mac in addition to this three dots button.
We will refer to the use of these menu items throughout the guide. You can access quick functions like zooming, opening new tabs, bookmarks, history, downloads, help, etc. from the customizing menu.
6. Chrome Settings Page
Under Chrome customizing menu, you can see a "Settings" option under which you can modify the default settings of the browser. Google Chrome also has a command line URL "chrome://settings" to access the settings page. Type the URL on the omnibox and customize Chrome's appearance and settings, as you like. The settings page has numerous options for data sync, appearance, privacy, etc.
Note that some of the settings items are different in Mac and Windows. However, you can use the same command URL to access the settings page on both the platforms. For example, type "chrome://settings/content" to go to content settings. You can refer our article to get the complete list of command URLs.
The settings page has two sections – basic and advanced. Let us explore all the important settings on these sections.
Related: Beginners guide to Safari browser on Mac.
6.1. Chrome Basic Settings
Open "chrome://settings" in the omnibox and you will see all basic settings under the below headings.
People
Appearance
Search engine
Default browser
On startup
6.1.1. People Settings
You can do the followings under "People" section:
Turn on sync to synchronize your browsing activities across all your devices. You need to login with your Google account in order to use this feature on all your devices. You can use sync to backup all browsing history, cache and other stored data and restore on any of your device.
You can change the profile picture / name of your account.
Import bookmarks and settings – use this feature to migrate all your bookmarks from other browsers like Firefox, Edge, Safari and Internet Explorer.
Turn on sync and login to your Google account, if you want to sync activities across all your devices.
6.1.2. Autofill Settings
Autofill helps you to fill up the forms and passwords automatically when you visit websites.
Passwords – enable auto sign-in to websites using your saved passwords and view or delete the existing passwords.
Payment methods – similar to passwords, manage your credit card and other payment details. For normal usage, you can disable this function to avoid someone misusing your payment details.
Addresses and more – save frequently used addresses and manage to fill on the forms.
The latest Chrome version may show the people settings split into two groups – people and autofill. However, in earlier version these two section were combined together with the available options remain same.
6.1.3. Appearance Settings
Under this section, Chrome offers different options to customize the appearance of the browser.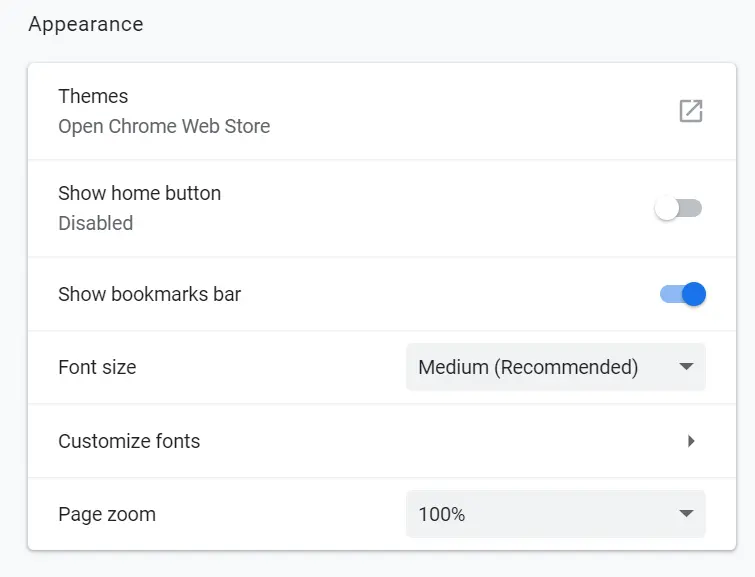 6.1.4. Search Engine Settings
By default, Chrome uses Google as a search engine to use on the omnibox searches. However, you can change to Bing or Yahoo! under this section.
Remember, you can use any websites with a search function on omnibox. In order to setup you custom search engines, click on "Manage search engines" option and select the site under "Other search engines" section. Learn more on how setup custom search engines in Google Chrome.
6.1.5. Default browser
Edge is the default browser on Windows 10 and Safari is the default browser on Mac. However, you can change the default browser to Google Chrome under this section. You can also change the default apps in Windows 10 using Windows Settings app.
6.1.6. On Startup
You can customize what Chrome should do whenever you launch the browser under this "On startup" section.
Open a new tab page
Continue where you left when close the browser previous time
Open a single or multiple webpages. This will be useful when you want to open a webpage on launch, like your favorite news website.
Learn more on how to setup Chrome startup pages.
6.2. Chrome Advanced Settings
Chrome groups all advanced settings under the "Advanced" section. You need to click on the "Advanced" link on the bottom of the basic settings page to access these settings. Alternatively, you can access the "Advanced" settings by clicking on the "Settings" hamburger menu when you are on the Chrome settings page.
6.2.1. Privacy and security
This is the biggest settings section in Chrome and you need to be careful in enabling the option here to protect your privacy from Google.
Enable or disable automatic signing to Chrome when you already logged into other service like Gmail. For example, when you login to Gmail, Chrome browser will also automatically login to your Google account. Once logged in, Chrome will start synchronizing all your browsing activities to your Google account. You can disable this auto login by switch of the "Allow Chrome sign-in" option.
Enable or disable prediction when you type website address or search query in omnibox.
Other prediction service is to preload all the linked URLs on the page to improve the page load speed when you click on any links on the loaded page. You can enable this to speed up your browsing especially when you are navigating within a website looking for many pages.
Use web service to resolve navigational errors on the pages. In addition, you can use web service to do spelling check by sending the content to Google.
Enable safe browsing so that Chrome will protect your computer by blocking dangerous and malicious sites. You can also enable or disable sending information to Google on safe browsing.
Automatically send usage statistics and crash reports to Google.
Enable "Do Not Track" track request so that websites will not track your browsing activities.
Allow the option for websites to check whether you have payment method stored in Chrome.
Manage HTTPS/SSL certificates for websites.
Content settings – here you have bunch of options to disable JavaScript, ads, cookies, location sharing, Flash, notifications, pop-ups, etc. You can also choose options like whether Chrome will open PDF documents on the browser or download PDF to your computer.
Clear browsing data option will help to delete all your browsing history, saved passwords, download history, stored cookies and cached files on the browser.
6.2.1.1. Content Settings at Site Level
The content settings available under Chrome settings page will affect your browsing on all the websites. Though it is possible to allow or block individual websites under corresponding section, it is not a convenient way. For example, you can block notifications by adding a website under "Block" heading of "Content settings > Notifications" section.
However, you do not need to do the site level settings in this manner. When you open a website, Chrome will show an icon left side of the URL. For a secured site, it will show a pad lock and for a non-secured site, it will show an information icon with "Not Secure" message. Click on the lock or information icon and choose "Site settings" option to open content settings for that site.
You can enable or disable site-specific settings from the list. Chrome will automatically add your choices to the "Content settings" at browser level.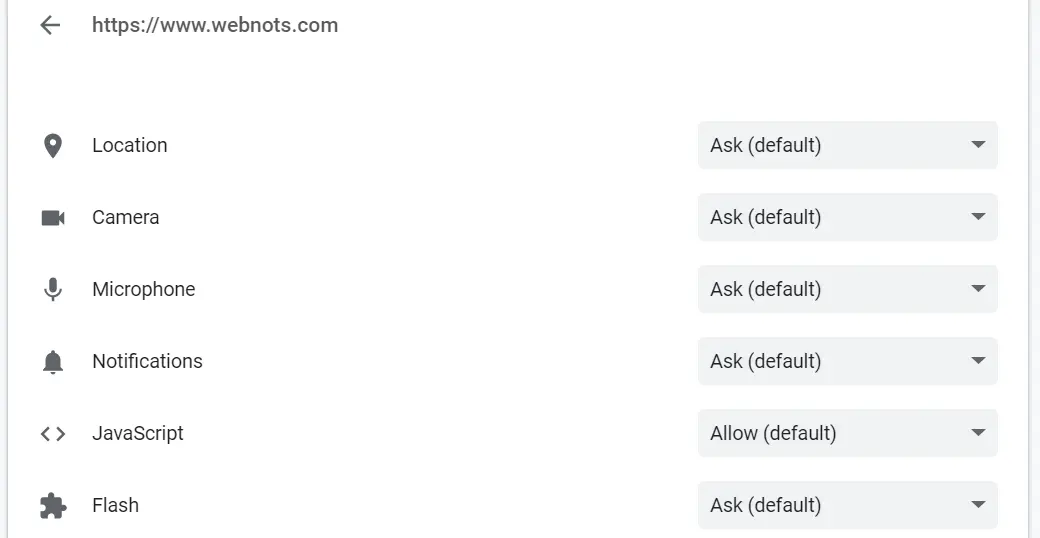 6.2.2. Languages
You can change the browser's language and enable spelling check under this "Languages" section. However, on Mac, you need to change the language of the Mac to change it on Chrome.
In addition, changing language will not affect the display of the webpages. It will only offer you a translation pop-up for you translate the content to your chosen language and you can do spelling check with the chosen language.
Learn more about setting up language in Google Chrome Windows and Mac versions.
6.2.3. Downloads
One of the bigger security problem is automatically downloading files when you are browsing. You can disable the automatic file downloading here so that Chrome will ask you to confirm the file download each time.
You can also change the download file locations from the default "Downloads" folder to any of your favorite folder.
6.2.4. Printing
You can setup the printer on your computer and on the Google Cloud under this setting.
6.2.5. Accessibility Settings
Other than zooming and font customizing under "Appearance" section, Chrome does not offer any great accessibility tools. However, you can click on the link under "Accessibility" settings section to open Chrome Web Store and find the related extensions for your browser. Learn more on how to use accessibility features in Chrome.
6.2.6. System Settings
You can disable Chrome running in background under this section. Also, enable or disable hardware acceleration to speed up your browsing activities. However, hardware acceleration may consume more RAM and CPU resources. So disable hardware acceleration when you notice the system or Chrome speed is slow. Also, avoid opening too many tabs when browsing to avoid browser caching issues.
Chrome also offers an easy way to access your computer's proxy settings under "System" section. This will open the "Internet Properties" dialog box in Windows and "Network" preferences in Mac.
6.2.7. Reset and Cleanup
Sometimes playing around with settings may lead to slow opening of webpages. If you have forgotten the settings then simply reset your browser under this section.
The cleanup option is only available on Windows version. You can use this to find malware that affects the operation of Chrome browser. However, this is not an antivirus tool for cleaning other viruses on your PC. Follow the instructions in our article to clean up the virus infection on your PC.
7. Using Google Chrome
Now that we have covered basic and advanced settings. Let us first explain the basic usages of Google Chrome browser on Windows 10 platform. Most of the features are same in both Windows and Mac. However, Windows version has some additional features that are not available on Mac. We will explain the differences with Mac version in later section.
Below is a layout of Chrome browser on Windows for your understanding.
7.1. Opening Tabs in Chrome
When you launch the browser, Chrome will open the home page in a new tab. Click on the + icon available next to the new tab on the title bar whenever you want to open a new webpage on the same browser window. Alternatively, you can do the followings to open a new tab:
Click on the three dots icon in top right corner of the browser and select "New Tab" option.
Right click on the title bar and open a new tab.
Use keyboard shortcuts by pressing "Control + T" in Windows and "Command + T" in Mac.
On Mac, you can open new tab from the application menu.
7.2. Open New Windows
Good part in Chrome is that you can run two separate windows of Chrome simultaneously. In each window, you can have multiple tabs to open different webpages.
In order to create new Chrome window, tap the three-dot icon followed by "New Window" option. You can also press "Control + N" or "Command + N" keys to open a new browser window.
7.3. Incognito Mode
Chrome by default will save all your browsing history to offer predictions in the omnibox and show shortcut icons on the new tab page. Caching the webpage content will also help Chrome to serve the page faster when you frequently visit the same website. However, if you do not want to have any trace of the browsing history then use incognito mode to browse in Chrome. Chrome will not save history nor save any of your passwords during the session.
You can open new incognito window from the three dots menu button or by pressing "Control + Shift + N" or "Command + Shift + N" shortcut keys.
Learn how to view cached data in Chrome and launch Chrome in incognito mode by default.
7.4. History
If you want to see and search your browsing history, go to customizing menu and choose "History" and again "History" option. You can view the recently closed tabs and date wise browsing history.
Click on the "Clear browsing data" link on the left sidebar. Select the items you want delete and click "Clear data" to delete your browsing history data.
When you logged into Chrome with your Google account, you can also view the open Chrome tabs from other device under "History" menu. This will help to access tabs in Chrome from one device to other device.
7.5. Bookmarks
Browsers like Edge call this function as "Favorites" while Chrome calls it as "Bookmarks". You can save your favorite webpages in the bookmarks bar and access it quickly when required.
You can go to bookmarks via menu option available and organize the links in folders. Chrome offers effective bookmark management that you can easily show or hide the folder or link in the bookmarks bar. You can also drag and drop the link to other folders and delete the entire folder.
Press "control + D" or "Command + D" to bookmark a webpage or select "Bookmark this page…" from the menu. You can also add or remove bookmark using the star icon shown on the omnibox.
The bookmarks manager will help you to view and delete all bookmarked pages. Chrome by default shows a bookmarks bar under the omnibox whenever you open a new tab page. However, you can press "Control + Shift + B" keys to hide the bookmarks bar. This will work only when you have a webpage on the tab. Otherwise, the bookmarks bar will be there always on a new tab page even though you have disabled in settings as explained above in the Chrome Settings section.
Related: Beginners guide to Microsoft Edge.
7.6. Extensions
Chrome comes with many extensions to enhance the feature of the browser. For example, you can improve the grammar and spelling of your content using the popular Grammarly extension. Remember that Chrome only accept extensions from Chrome Web Store. It does not allow third party extensions.
Go to three dots menu and navigate to "More tools" and then "Extensions" or directly go to "chrome://extensions/" command URL. You can view all installed extensions on your browser here. Click on the "Extensions" menu and click on the "Chrome Web Store" link shown on the bottom.
This will take you to extensions section of the Chrome Web Store, where you can search for extensions and themes for your browser. You can simply click on "Add to Chrome" button available on any extension or theme to install on your browser. After installing, generally you can view the extension icon next to the right side of the omnibox.
Remember, extensions may cause the browser to behave slowly loading pages. When troubleshooting, go to "chrome://extensions" and disable the extensions causing trouble. You can also open the browser in incognito mode to disable all extensions.
7.7. Pin Tab
When browsing with multiple tabs, you may want to keep track of a specific tab. Let us say, you have 10 open tabs and you want to get frequent update from the fifth tab that shows the progress of a sports event. In this case, every time going to the fifth tab is inconvenient.
What you can do is to right click on the fifth tab and choose the "Pin tab" option. Chrome will move the pinned tab to start of the title bar and only show the site's favicon or logo. Now, you can always click on the first tab to get the update quickly. Remember, you cannot close the pinned tabs; even you close the browser and relaunch. Again, right click on the pinned tab and choose "Unpin tab" option to make it like a normal tab and close it.
7.8. Task Manager
One of the known issues with Chrome is high memory consumption. However, it happens when you play around with multiple tabs and install many extensions. Chrome offers a task manager similar to Windows task manager. Chrome task manager will provide details of memory and CPU consumption of each tab opened on the browser. Using the Chrome task manager, you can easily find the tabs that consume high memory or CPU. Simply select the process that consumes more memory and click on the "End process" button to kill that tab.
You can go to task manager using the menu path "Three dots button > More tools > Task manager".
7.9. Downloads
Through your emails or various social media channels, you download different images and important document. Chrome allows you to check all your downloads and view or delete from the history. You can access downloads section by clicking on three dots customize button and click on "Downloads" menu.
8. How to Use Google Chrome on Mac?
Google Chrome is a platform independent browser. However, there are few differences exist when you compare Chrome Windows and Mac versions. You can get the comparison of Windows and Mac version in our earlier article.
9. Right Click Context Menu
Google Chrome offers different context menus when you right click on different places of the browser. In addition, some of the menu items are different in Windows and Mac versions. Check out the article on using right click on Google Chrome.
Chrome also has an experimental feature to insert emoji symbols when right clicking on text fields.
10. Managing Chrome Shortcuts
As mentioned above, on Windows version you have an option to create a desktop shortcut of a webpage from "Three dots menu > More tools > Create Shortcut". However, this option is not available on Mac version. Other than this, Chrome will show the shortcut of recently viewed website's favicons on the new tab page. In addition, you can also add shortcuts on the new tab page by clicking on "Add Shortcuts" icon.
You can use lot of keyboard shortcuts on Chrome Windows and Mac versions.
Press "Control + 1" or "Command + 1" to go to the first tab. You can use different numbers like "Control or Command + 5" to go to fifth tab from left to right.
On Windows, press "Alt + F" to open the "Customize and control Google Chrome" menu (three dots button).
Chrome has command URLs to access the functions quickly. For example, "Control + Shift + Delete" or "Command + Shift + Delete" will open the clear browsing data pop-up box.
On Mac, you can use all the shortcuts from the menu items similar to any other apps. For example, press "Command + ," to open Chrome settings (generally it is referred as preferences).
11. Drag and Drop
Chrome is an extraordinary browser that allows you to handle many things with simple drag and drop. You can drag and drop links, tabs and rearrange bookmarks with ease. Learn more about Chrome drag and drop features.
12. Advanced Features
Other than basic and advanced settings, you can tweak Google Chrome using the experimental features. Go to "chrome://flags" and enable the features you need.
For example, the flag "chrome://flags/#PasswordImport" will help you to import passwords from an exported CSV file. Learn more on how to use experimental features in Chrome and some of the popular features you can try.
13. Chrome Release Channels
Chrome is an open source browser based on the original Chromium browser. Therefore, you should not get confused with Chromium and Chrome since Google owns both of these browsers. In addition, Google releases four different Chrome versions as listed below.
Stable version
Beta version
Developer version
Canary version
Google release different versions for different purposes like development and testing. As an end user, you should always use the stable version and update to the latest stable release. When you connect to internet, Google Chrome automatically updates to the latest version and keep you secure from latest threats.
14. Developer Tools
The guide will not be complete, if we do not mention about Chrome Developer Tools. Though general users may not use this feature, web designers and developers use this extensively.
Access developer tools by pressing F12 button in Windows and by going to "View > Developer > Developer Tools" menu in Mac.
View, test and take screenshot of the pages in different devices.
Do SEO audit within Chrome using integrated Lighthouse extension.
View and modify source code to check the changes live on the browser.
Record and check network speed and view console error for analyzing website elements.
Learn more on Chrome Developer Tools in our detailed article.
15. Alternate Browsers
Privacy is one of the major concerns with Google's products like Chrome. If you want to have high level of privacy then the recommended browser for you is Mozilla Firefox. It offers all the features of Google Chrome to continue your work. However, you will miss integrating with other Google products like Gmail in Firefox.
In addition, the default browsers on Windows and Mac are Microsoft Edge and Safari. So you can switch to one of these default browsers any time when you do not like Chrome.
Conclusion
People prefer to use Google Chrome because of its speed, performance and integration features. Google also constantly updates Chrome with new features to compatible with the latest web technologies. So what are you waiting for? Do you still have any queries about Chrome? Browse through the largest collection of Chrome related articles we have. If you still unsure about anything related to Google Chrome, do not hesitate to get in touch with us.