When browsing the web, you may need to open different sites or pages of the same site in multiple tabs. Working with these multiple tabs at the same time can be confusing, and it is easy to lose track of certain tabs. Fortunately, Microsoft Edge browser provides several tools to help you organize and manage multiple tabs more efficiently. In this guide, we will walk you through how to manage tabs in Microsoft Edge to reduce clutter and enjoy a better browsing experience.
Related: How to manage tabs in Google Chrome browser?
Managing Tabs in Chromium Based Edge
The latest Chromium based Edge browser in Windows 11 has different set of options for managing tabs like tab grouping and vertical tabs. You can also use tabs to quickly create collections and add similar websites.
1. Open and Close Tabs
Microsoft Edge offers a host of basic ways for managing tabs including, adding a new tab, closing tabs and navigating through open tabs among others.
To add a new tab, you can click the plus "+" sign next to the last tab.
For closing a tab, simply click the "X" on the tab you want to close. Closing a single tab at a time can be tedious, so if you want to close a group of tabs at once, right-click on an appropriate tab and choose the "Close tabs to the right" or "Close other tabs" option.

Close tabs to the right – Closes all open tabs to the right side of the selected tab.
Close other tabs – Closes all tabs apart from the selected tab.
We will be using the options in this right-click context menu in most of the further sections in this article.
2. Reordering Tabs with Drag and Drop
You can drag and drop tabs in Edge to manage the followings:
Drag a tab right or left to others to rearrange the order. This is useful to reorder tabs to your preferred position without closing and reopening them.
Similarly, you can drag and move the tab down to open it in a new window.
It is also possible to drag and drop the tab from one open window to other to organize your tabs. Alternatively, you can use the "Move tab to" in the right-click menu option to move the selected tab to other open window.
3. Duplicating and Restoring Tabs
If you want to open the current tab again in a new tab, select "Duplicate tab" from the right-click menu. This will duplicate the tab and open the same webpage in another tab. Similarly, you can reopen the mistakenly closed tabs by selecting "Reopen closed tabs" option from the right-click context menu. You can repeatedly use this to reopen all your previously closed tabs including tab groups. This option also works in Edge even you close and reopen the browser.
If you do not want someone to find your previous accessed pages, make sure to clear your browsing history from Edge.
4. Mute Tabs
Some webpages will play annoying sound automatically when you open them in the browser. You may need to run around to reduce the volume of your computer. Edge comes with a handy "Mute tab" feature to handle this situation like a pro. You will see a speaker icon whenever a page plays sound and you can simply click on it to mute the sound.
Alternatively, you can select "Mute tab" option to stop the sound played from the webpage in the tab.
5. Pin / Unpin Tabs in Edge
If you have a site that you frequently visit, you may use the tab pinning feature in Edge to keep the site within your reach.
Open the tab you want to pin, right-click it and select "Pin tab" option from the context menu.
Edge will add the pinned tabs just before all other tabs and only shows the site icon without titles. You only need to click the icon to open the respective tabs.
Edge will remember all your pinned tabs and open when you close and launch the browser again.
The only option to remove the pinned sites is to unpin them from the browser by right-clicking on the pinned tab and selecting "Unpin tab" option.
6. Managing Tab Groups in Edge
Let's say, you have four open tabs in Edge – two search engines and two news websites. It makes sense to group these four tabs into two "Search" and "News" groups and arrange the tabs. You can toggle the group to open or hide the webpages. You can also create additional tabs inside any group to add relevant webpages.
Select "Add tab to new group" option from the right-click menu. If you already have a group, then go to "Add tab to group > New group" option or select an existing group from the list.

Provide a name for your group and select the color for visible identification. Edge will show a thin line in this color on top of the tabs to indicate the tab belongs to a group.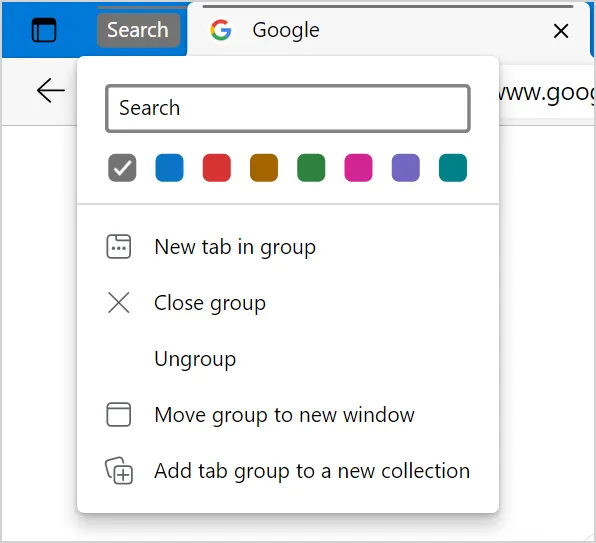 You can add multiple tabs or remove any tab from the group. Click on the tab group tab to show or hide all the tabs part of that group.

Related: Learn how to manage tab groups in Google Chrome?
7. Creating Vertical Tabs in Edge
Instead of managing tabs in horizontal groups, Edge also allows you to manage them in a vertical sidebar attached to the left side of the browser. Click on the "Tab actions menu" icon showing on the top left corner of the browser or select "Turn on vertical tabs" option from the right-click menu. All your open tabs will be moved to the sidebar and show in a vertical direction. If you have any existing tab groups, those will also be moved in the vertical sidebar.
You have options to collapse or expand the vertical pane and pin to show it always and turn off vertical tabs.
8. Add Tabs to Collections and Favorites
Working on multiple tabs needs distraction free mind and focus. When you are researching, there could be disturbances that you need to attend immediately. For example, there could be an urgency to attend your kid or pickup a phone call. Since, all tab groups will be deleted when you close Edge the best option is to add all your open tabs to favorites so that you can access them when needed. You can do this by selecting "Add all tabs to favorites" option from the right-click menu. Create a folder and save your tabs for later access.
Similarly, you can add all open tabs to a new collection with a note for accessing them later.
Keyboard Shortcuts to Manage Tabs in Edge
If you love to use keyboard shortcuts then tab management in Edge is a cool task. For example, instead of searching for mouse pointer, you can simply use a keyboard shortcut to mute or unmute the tab and turn the sound off or on . Here is a list of keyboard shortcuts for managing tabs Edge browser.
| Tab Shortcut in Edge | Purpose |
| --- | --- |
| Control + T | Open a new tab in Edge |
| Control + R | Refresh the tab |
| Control + Shift + K | Duplicate current tab in a new tab |
| Control + M | Toggle mute and unmute tab |
| Control + W | Close the current tab |
| Control + Shift + T | Reopen closed tabs one by one in the same order you have closed them |
| Control + Shift + , | Toggle vertical tabs on or off |
| Control + Shift + D | Add all open tabs to favorites |
Customize New Tabs and Startup Page in Edge
In addition to managing tabs, you can further customize what opens when you launch Microsoft Edge browser, or when you open a new tab in the browser.
Click "Settings and more" three-dots icon showing on top right corner and select "Settings" from the dropdown menu.
Go to the "Start, home and new tabs" section in the settings page. Here, you can choose how you want to launch Edge browser. You can open a new tab page or open all previously closed sessions when opening Edge.
If you want Edge to load multiple websites whenever you open the browser, select "Open these pages" radio button and then click "Add a new page" button. Enter the page URLs you want to open and add them.
Scroll down on the same settings page and click on "Customize" button under "New tab page" section. This will take you to the front of new tab page where you can customize the items you want to see when you open a new tab. Learn more on how to change language and disable quick links / news feed in Edge new tab.
Options Removed from Old Edge Browser
We loved two features in the old Edge version that were removed subsequently in the Chromium based version. One is the tab card preview and other is to save tabs for latter by keeping them aside.
Using Tabs Preview Tool (Removed in Chromium Edge)
Tabs Preview was the useful feature in Edge which allows you to see a thumbnail preview of your open tabs.
To preview a single tab, float your mouse over the tab to slide a thumbnail preview of the tab.
If you need to preview all your open tabs, click the down-facing arrow next to the last tab. This will display previews of open tabs you can click the thumbnail to open the tab in the main browser window.
Click the arrow to collapse the preview.
The latest Chromium based Edge will show only the short preview with name, URL and site icon without the content. There are also no options to view multiple tab preview in the browser. However, you can use "Alt + Tab" keys to view the content preview of all open tabs in Edge.

Related: How to repair and reset Edge browser?
Save Tabs for Later (Removed in Chromium Edge)
If you are currently working on some of the open tabs, you can use the Edge "Set tab aside" feature to further organize your browser window. This tool allows you to save some of the tabs and restore them later when you need them.
Click on a tab and then click the "Set aside" icon located at the upper left corner of the browser.
This will remove the tabs from the current tabs, making it easy to work with only a few tabs.
Click the icon on the upper-leftmost corner of the window to see all the set-aside tabs.
Click the "Restore tabs" link on the sidebar menu to open the tabs in the main window.
You can also share or add saved tabs to favorites. Click the 3-dot icon and select an option.
To remove tabs from the set-aside list, click the "X" icon.
In Chromium based Edge, you can add the page to "Collections" and refer them later when you need.
Summary
Microsoft Edge browser gives users a range of tab tools and features to help them manage multiple tabs when surfing. These features allow you to pin tabs, create tab groups and manage tabs in vertical sidebar to avoid confusion when navigating across the tabs. The above tools are very helpful when you need to open various sites and at the same time maintain an organized and clean browsing environment.