6 Ways to Insert Tick or Check Mark Symbol
Tick mark is also called as check mark or check symbol or tick symbol. It is one of the widely used symbol on documents to indicate the agreed points in good looking manner. Standard keyboard layout does not have a default key to type check mark symbol on Windows and Mac documents. However, you can use one of the following method to insert check mark symbol on your documents.
6 Ways to Insert Check Mark Symbol
Below methods help your to insert various check mark symbols available as per Unicode character specifications.
Using alt or option code shortcuts (Windows and Mac)
Alt + X hexcode for Word (Windows)
Insert check mark with emoji keyboard (Windows and Mac)
Using check mark as bullets (Windows and Mac)
With the help of Symbols app (Windows)
Using Character Map app (Windows)
1. Alt Code Shortcuts for Check Mark Symbols
Below table is the list of alt code keyboard shortcuts for various check mark symbols in Windows and Mac.
| Check Mark | Description | Windows Alt Code | Mac Option Code | Word Alt + X |
| --- | --- | --- | --- | --- |
| ✓ | Check Mark | Alt + 10003 | Option + 2713 | 2713 Alt + X |
| ✔ | Heavy Check Mark | Alt + 10004 | Option + 2714 | 2714 Alt + X |
| ✅ | White Heavy Check Mark | Alt + 9989 | Option + 2705 | 2705 Alt + X |
| ☑ | Ballot Box With Check | Alt + 9745 | Option + 2611 | 2611 Alt + X |
| ⍻ | Not Check Mark | Alt + 9083 | Option + 237B | 237B Alt + X |
| 🗸 | Light Check Mark | Alt + 128504 | | 1F5F8 Alt + X |
| 🗹 | Ballot Box with Bold Check | Alt + 128505 | | 1F5F9 Alt + X |
You may see some symbols showing as square box 🗸 in browser, however you can see the proper symbol when using in your documents. Check out the full list of alt code shortcuts for Windows and Mac.
On Windows, hold one of the alt keys and type the numbers using number pad. For example, alt + 10004 will produce the heavy tick or check mark symbol like ✔. On Mac, you should first change the keyboard layout to Unicode Hex Input and then type the numbers by holding the option or alt key. For example, option + 2611 will produce the check mark inside square box symbol like ☑.
If you don't have a keyboard with separate number pad then try any of the following methods.
2. Alt + X in Windows Word Documents
In Windows Word documents, you can use the hexadecimal code given in the last column of the table. For example, pressing 1F5F8 then Alt + X key combinations to insert light check mark symbol like 🗸.
3. Using Emoji Keyboard
Check mark is one of the emoji symbol as per Unicode character specification. Both on Windows and Mac, you can use emoji keyboard to insert check mark emoji symbol.
Press, "Win + ;" keys in Windows PC to open emoji keyboard. You can either search for check mark or type "tick" or "check" to filter the symbol.
On Mac, press "Command + Control + Space" to open emoji keyboard. Use the search box to find the check mark symbol.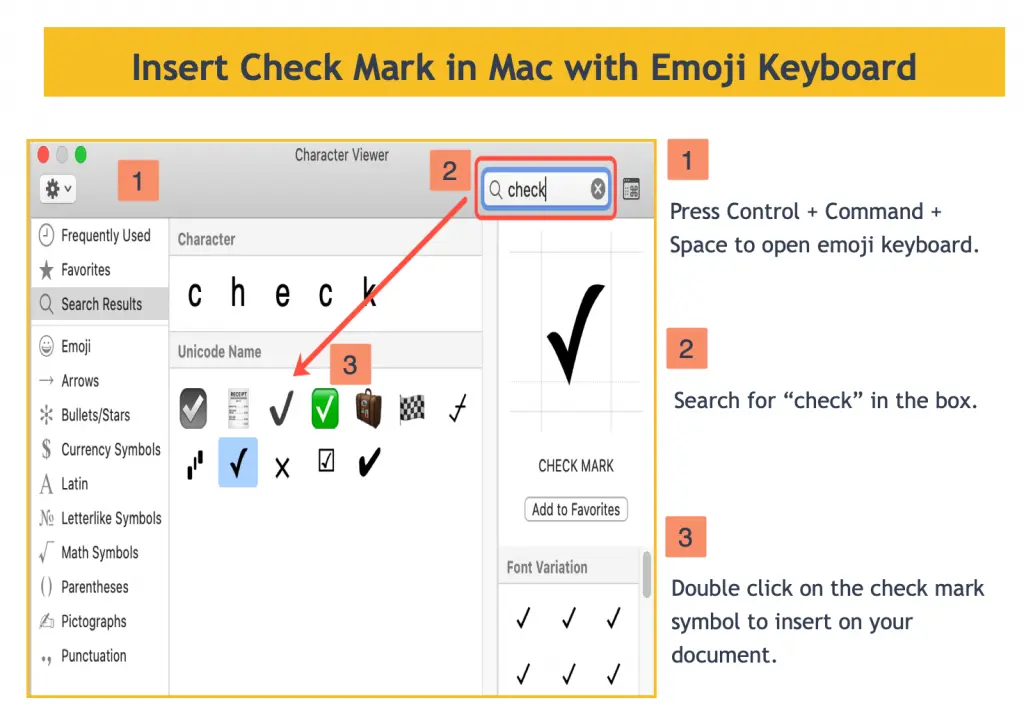 The advantage of emoji keyboard is that you can use this both on Windows and Mac to insert check mark in third party apps like WhatsApp, Facebook Messenger and Twitter chats.
4. Using Bullets in Office Documents
People widely use tick mark in documents as bullets and for indicating the agreed points. In Microsoft Office documents like Word, PowerPoint and Outlook you can easily insert check mark from the bullets option. However, this will change the text alignment to bulleted list. Also, it does not allow to insert different types of check mark symbol.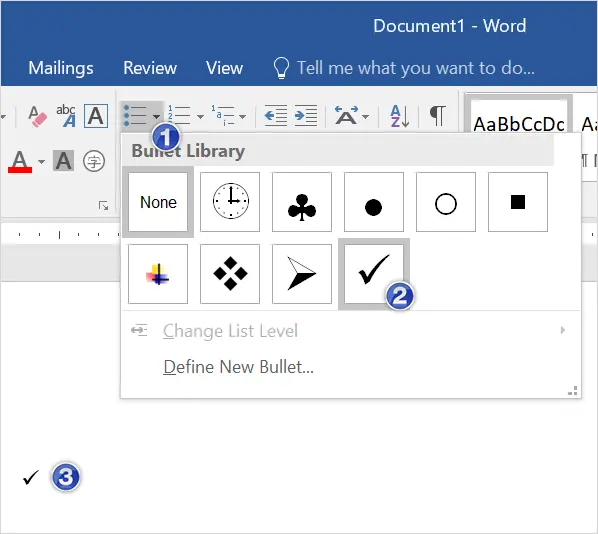 In addition to using standard check mark bullet, you can also insert custom symbols using "Define New Bullet…" option.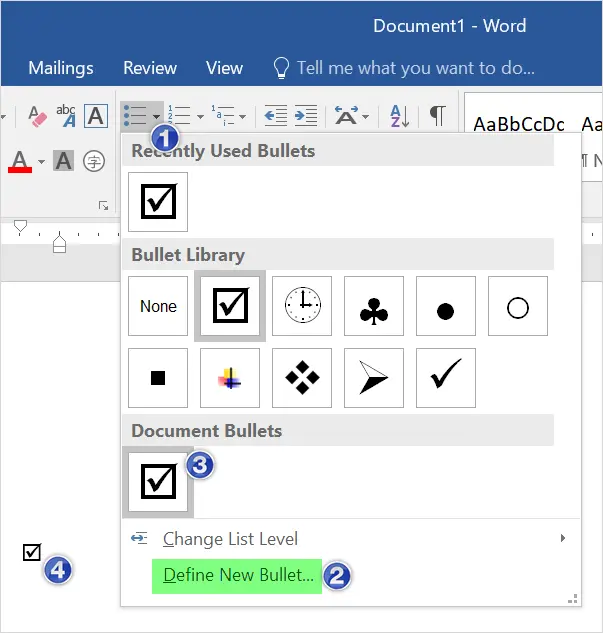 5. Using Symbol Menu in Office Documents
Microsoft Office documents in Windows allow you to insert symbols using the in-built utility. The advantage is that this method also works in Excel sheets.
Open your document and go to "Insert > Symbol" menu.
This will pop-up "Symbol" utility as shown below.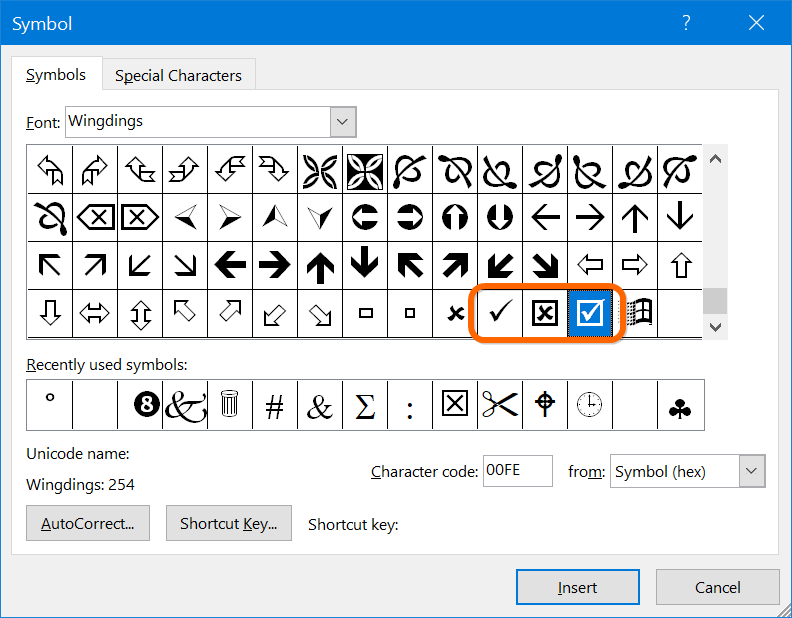 Change the font to Wingdings and scroll down to the bottom of the symbols.
You can find check mark and check mark inside a square box symbols.
Double click on the symbol or select the symbol and click insert button.
6. Use Character Map in Windows Documents
The Character Map app is similar to Symbol utility, but you can use it as an independent app to insert check mark and other symbols.
Use Windows Search box and open Character Map app.
Change the font to Wingdings and move down in the list to locate check mark symbol.
Select the symbol and click on "Select" button.
Click on "Copy" button to copy the check mark symbol to clipboard.
Now, you can paste the symbol anywhere on your documents.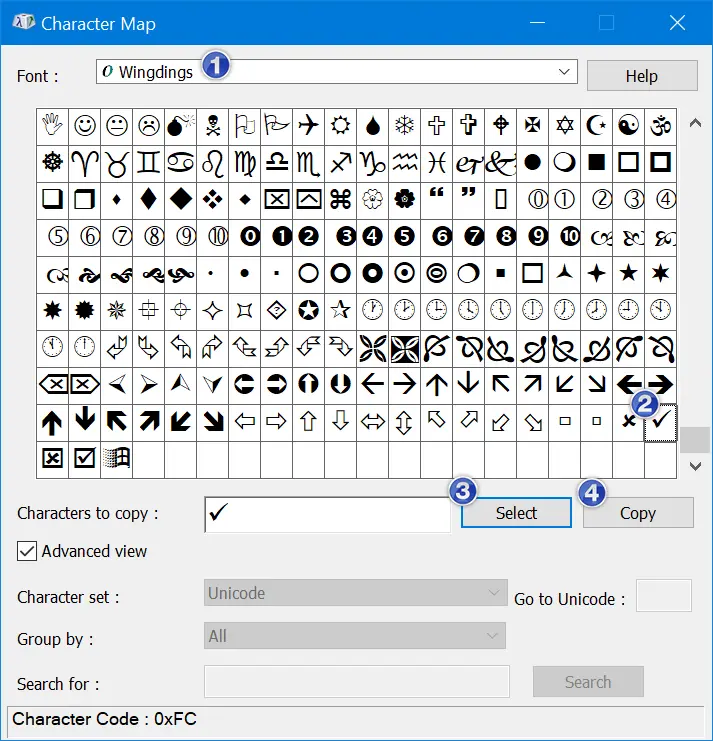 Insert Check Mark in Smartphones
As mentioned, check mark is one of the emoji symbol part of standard Unicode emoji. Therefore, you can use the emoji keyboard in Android and iPhone to insert check mark easily.