In our earlier article, we have explained how to split screen in Windows 11 using the default snap windows feature. Good thing is that there are many third-party software available for this purpose hence you do not need to restrict yourself with the default feature. Some of the apps are free and some are paid depending on the build and features supported. They are essential for splitting your projector, gaming window, CCTV cameras and browsers. Choose one of the apps to split your desktop PC screen in Windows 11 depending on the complexity and productivity you need.
Challenges with Default Snap Windows Features
Though snap windows is useful feature, you have lot of limitations in choosing the split layout.
No option to create your custom layout.
The feature may annoy when you drag app windows (though you can disable it from Settings app).
The predefined layouts are limited and you have four options for low resolution monitors and six for high-resolution screens which may not be suitable in all cases.
Snap windows may not work with projectors and cameras.
Whatsoever is the reason, you can try the following apps to get additional screen splitting features.
1. AltDrag
AltDrag is a free and simple screen split tool for Windows users. It works like snap assist but with added functionalities. You must disable snap assist before using AltDrag. You may find trouble moving elevated windows. That way you will need to elevate AltDrag to administrator privileges.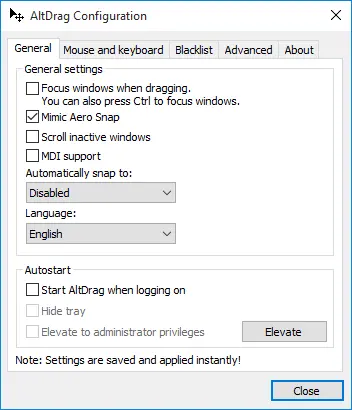 AltDrag allows automatic snapping and can be disabled anytime using the space key. Alt scrolling makes scrolling through other windows easy and adjusting the transparency of the windows. Using the shift key + scrolling mouse wheel, you can move your windows horizontally; a feature that lacks in similar software. Being an open source software, it allows developer users to modify for improvement.
2. Shutter Split Screen
Looking for a simple yet intuitive split screen software? Shutter Split Screen is available in free and pro versions with up to 82 user defined split-screen types. It supports multiple simultaneous screen connections ranging from desktop size to 8K Ultra HD. Just in case screen 1 does not support two or more windows, you can move to the right screen.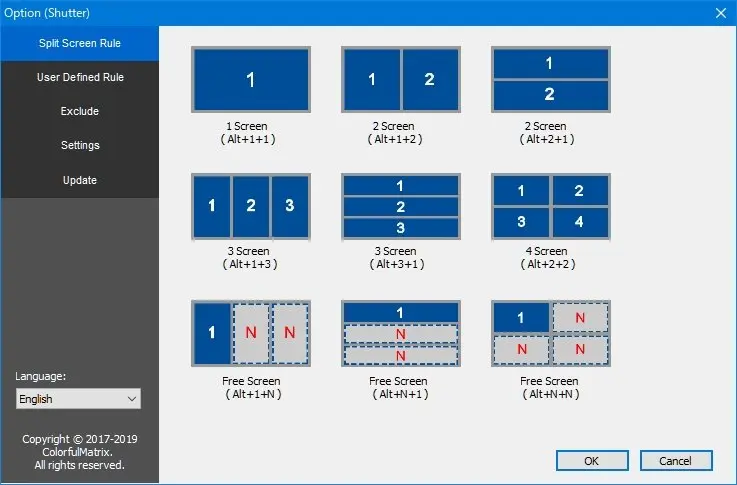 Setting up requires just a shortcut key to set up your screen and respective windows. When you need to hide or restore your windows, use Win+M or Win+Shift+M consecutively. In case you reinstall or use a different PC, you do not have to worry about your preset rules. There is a backup option to restore your settings. However, the free version may be limited from some of these features.
3. AquaSnap
Available for personal and professional use, AquaSnap allows you split multiple windows for one or more monitors. It looks like the Windows 11 snap windows but with advanced features to improve productivity.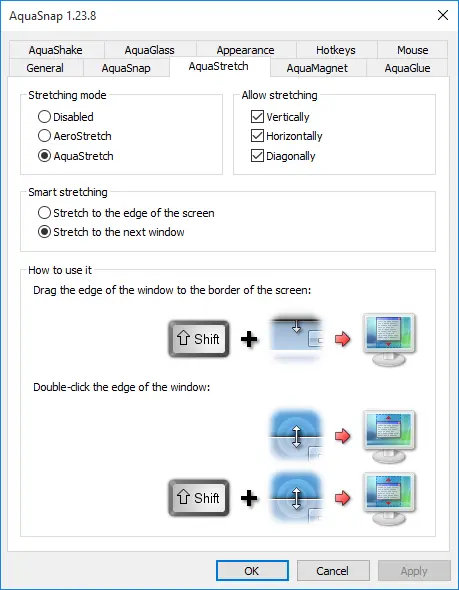 When resizing your side-by-side windows, press Ctrl key to resize them simultaneously. For optimum usability of the screen, it allows you stretch your windows vertically or horizontally by double clicking on the margin.
Additionally, you can keep small windows suspended over the rest for effective monitoring and performance. Set easy to remember keyboard hot keys to help you manage your windows easily. Despite its unique functionalities, its light weight, easy to install and available to use for Windows version 11 and 64-bit support.
4. WindowGrid
WindowGrid helps you set up your windows according to a dynamic grid as you need using the mouse. Moving a window, left click and right click the mouse simultaneously and drag to the desired position. Release the right click and move the cursor to the desired window position and size then release the left click.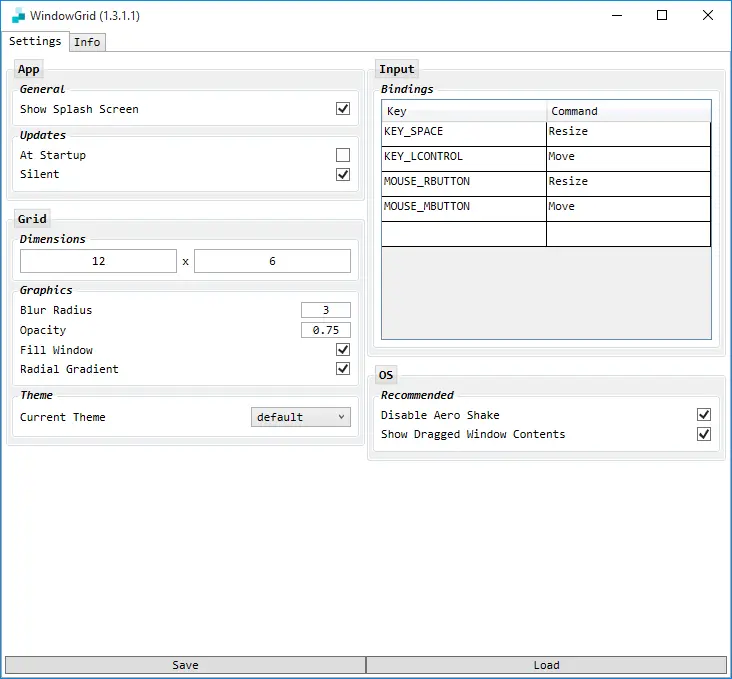 Unlike other split screen software, you can customize the size of the grid overlay, color, and opacity for respective windows. The software is portable and easy to use in whichever device you prefer. WindowGrid is suitable for Windows Vista to Windows 11 versions. With auto update, you receive new versions as they are rolled out.
5. MaxTo
Optimize your functionality fully using MaxTo software suitable for your virtual desktops in Windows devices. You can set distinct profiles for each virtual desktop. Additionally, you can split your screen to multiple windows and drag them as you need.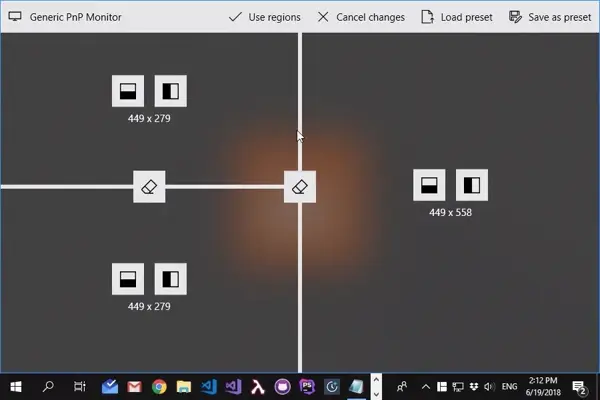 Preset your split screen and use hot keys to customize your monitor. A preview of your preset screen splits shows up before application. For maximum productivity and experience, use Ultra HD monitors. MaxTo is relatively affordable if you opt for a paid option that guarantees a better user experience. Note that MaxTo requires .NET Framework 4.7 or above for it to run.
6. FancyZones with Microsoft PowerToys
If you are not comfortable with using above third-party apps then you can use the official Microsoft PowerToys app. This app comes with more than 15 modules which you can enable or disable individually. Also, you can download and install PowerToys apps from Microsoft Store to make things simple for you. After installing the app, go to "FancyZones" section in the app and turn on "Enable FancyZones" setting.
You can customize the zones, appearance, windows and layouts.
It is possible to exclude apps from adding to the split layout.
You can use one of the predefined layotuts or create custom layout as per your need.
Use default keyboard shortcut Windows Key + Shift + ` or create a custom shortcut for launching the layout editor.
Use shift key and drag the apps to drop in the desired split section.
Final Words
As you can see all third-party split screen splitting tools offer wonderful features which are not available with default snap windows settings in Windows 11. In addition, you can also use the completely free and official Microsoft PowerToys app for splitting monitor screen and arrange apps in custom layouts for multitasking.