Whether on mobile or desktop devices, browsers are one of the unavoidable apps that everyone need for browsing. Though the appearance of browser apps like Chrome, Edge, Safari and Firefox looks simple, there are many symbols used as icons to save the space. You should understand the meaning of these browser symbols to use the app properly. In this article, we will explain the popular 25 Google Chrome browser symbols that every user should understand the meaning.
Related: How to use symbols in Google Search?
Google Chrome Browser Interface
Below is the interface of Google Chrome browser in Mac and Windows. The interface contain some default symbols and can have additional symbols depending upon your customization. Good part is that Chrome offers a similar interface in Mac as well as Windows. Therefore, you can the browser effectively once you know the meaning of the symbols.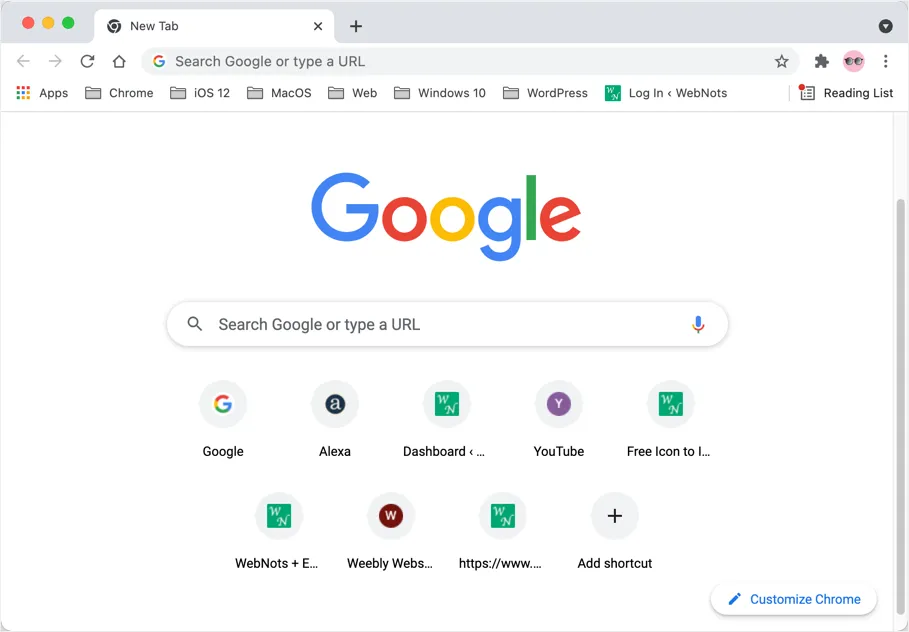 Google Chrome Browser Symbols
Chrome app has plenty of symbols and the appearance of them changes when there is an update. Here we will list popular 25 symbols and icons. Though the symbols are from Chrome, you can find similar symbols with little or no variation in Edge as both browsers use same Chromium source code.
1. Home Symbol
This is a home button that appears left to the address bar. Clicking on this home icon symbol will open the home page set in the settings section. Remember, this home page is different than startup or new tab page. you can setup custom URL as your home page and quickly access that using this home button. In Chrome, you can also enable or disable the home button from the settings page.
2. Refresh Symbol
This is a redo symbol used in many apps, however, has a different purpose and meaning in browsers. Refresh symbol as the name indicates is used to refresh or reload the currently viewing webpage. You can use "Control + R" in Windows and "Command + R" keys in Mac to reload the page. Alternatively, use F5 key in Windows to refresh the page in Chrome.
3. Bookmark Symbol
The empty star symbol that appears inside the right end of address bar is a bookmark symbol. You can click on this symbol and add the currently viewing webpage to your bookmarks or reading list. After bookmarked the page, you can see the empty star now changed to filled star symbol indicating the page is already bookmarked.
Note: In Microsoft Edge, the icon appears with an empty star with a + mark. You can click on it to add the page to your favorites.
4. Extensions Symbol
Chrome uses the puzzle piece symbol to indicate the extensions. It is a symbolic representation of extensions fitting to the browser app. You can find this symbol outside of the address bar in the right. Clicking on it will show all the installed extensions in the browser.
5. Three Vertical Dots
This three vertical dots symbol appears on top right corner of browser. hovering on it will show you the text as "Customize and control Google Chrome" and you can click on it to open a list of menu items of the app. As Chrome app does not have any top menu bar in Windows, you can press "Alt + F" keys to expand the menu items from this three vertical dots symbol.
6. + Symbol
The plus symbol is a most common meaning of adding an item. This appears next to the current active and means to open a new tab page. Remember, the new tab page is different than startup and home page and you can customize the new tab page as per your convenient. You can find the plus symbol inside a circle on a new tab page for adding a new shortcut.
7. X Symbol
X is the common meaning of closing the session. In Chrome, it appears on each tab and clicking on it will close that tab.
8. Left and Right Arrows
Left and right arrow symbols on the browser are back and forward arrows and useful to navigate back or forward in the browser. These arrow symbols look frozen and not accessible when launching Chrome or opening a new window. They will become active when you start browsing websites so that you can use them for navigate. In addition to navigation, you can also press and hold these arrow symbols to view the back or forward history of the sites you have visited.
9. Speaker Symbols
The speaker symbol showing on a Chrome tab indicates that the tab is playing a video and audio related content. You can click on the speaker icon to mute the tab and speaker icon will be changed with a crossline.
Note: Mic symbol in the search box is a voice input symbol that generally appears where voice input is supported.
10. Profile Icon
User or profile symbol shows beside the three dots symbol on top right corner of Chrome. You can change the appearance of the avatar under chrome://settings/manageProfile settings page.
11. Lens with + or –
Sometimes you will see a lens symbol with + or – inside the address bar. It indicates the browser window is zoomed in or out. You can click on the symbol and increase or decrease the zooming or reset the view the 100%.
12. Lens or Search Icon
Simple search or lens symbol indicates a search engine in Chrome. By default, Chrome uses Google as a search engine and you can use the address bar to enter your query and directly get the results from Google Search.
13. History Symbol
This symbol indicates the browsing history in Chrome. You can go to the chrome://history/ page and view all previously browsed webpage details.
14. Accessibility Symbol
A man spreading both hands in a general accessibility symbol also used in Chrome. You can go to chrome://settings/accessibility page and customize accessibility features in Chrome.
15. Shield Symbol
The shield symbol in Chrome means "Privacy and Security" related option. Though it commonly indicates security, it means both privacy and security in Google Chrome.
16. Key Symbol
A key symbol appears inside the address bar when you open a page with a login form. It indicates the page has a password and Chrome suggests saving the password using the key symbol. Similar to bookmark star symbol, the key symbol will show in bold when Chrome has a saved password for that webpage.
17. Palette Symbol
A palette symbol in Chrome indicates the appearance of the browser. You can change the customize the color, theme, font and other settings under Chrome appearance section.
18. Down Arrow with Horizontal Line
This is a symbol used to show "Downloads" in Google Chrome. It generally do not appear in the interface other than Chrome settings page. When you download a file, Chrome will show a circle progress bar in the status bar indicating the status of the file download.
19. Padlock Symbol
Chrome shows a padlock symbol, just before the website's address. It indicates the website uses a secured HTTPS connection and safe to carry out financial transactions. You can click on the padlock symbol to view the cookies, permissions used by the site and go to settings to change the options.
20. Translate Symbol
Chrome will show a translate symbol in the address bar when the page you are viewing is the default language of the browser. You can set the default browser language under chrome://settings/languages page.
21. Square Box with Arrow
This symbol is shown in Chrome next to hyperlinks. It indicates, clicking on the link will open the page in a new tab.
22. List Symbol
A small rectangle with a list of items is a Reading List symbol in Google Chrome. You can find this on bookmarks bar showing at the right end. If there is a red dot on this symbol, it indicates there are unread items in your Reading List.
23. Power Symbol
The power symbol is the one you see on CPU, monitor and other devices to switch it on. However, the same power symbol in Chrome indicates the startup settings page.
24. Gear Symbol
Gear is a standard symbol to indicate "Settings". Chrome will show the gear icon on in the tab when you open any settings page.
25. Install Symbol
The install symbol appear on Chrome address bar when you open a site with Progressive Web App (PWA) compatibility features. For example, you can open YouTube site and install it as an app from Chrome.